Exploring India's Golden Triangle: A Surprisingly Delightful Experience
---
The Golden Triangle, a renowned tourist circuit in Northern India, has often received mixed reviews. Despite the concerns about overtourism and suggestions to explore other parts of the country, I couldn't resist the allure of visiting iconic sites like the Taj Mahal. With apprehension, I embarked on a week-long journey through the Golden Triangle, expecting disappointment but hoping for the best.
To my pleasant surprise, my time in this region exceeded all expectations. Rather than feeling overwhelmed by crowds, I cherished every moment spent exploring the vibrant cities of Delhi, Agra, and Jaipur. Today, I'm thrilled to share my newfound appreciation for the Golden Triangle and provide tips on how you can have an equally wonderful trip.
In this comprehensive guide, I'll highlight the reasons why I fell in love with the Golden Triangle and offer insights to help you make the most of your visit. From architectural wonders to cultural immersion, there's much to discover in this captivating region of India. Join me as we embark on an unforgettable journey through the Golden Triangle.
Where is the Golden Triangle located in India?
---
The Golden Triangle is situated in Northern India, forming an almost equilateral triangle on the map. It includes three major cities: New Delhi, Agra, and Jaipur. New Delhi is positioned at the top, Agra at the bottom-right, and Jaipur at the bottom-left. The distances between these cities are approximately 233 km from New Delhi to Agra, 237 km from Agra to Jaipur, and 273 km from Jaipur back to New Delhi.
Most travelers usually start their journey by flying into New Delhi and then proceed to Agra and Jaipur. However, the direction of travel within the Golden Triangle can be flexible, as there are various transportation options available between each destination.
After exploring the Golden Triangle, you have the choice to either return to New Delhi for departure or continue your travels to other popular destinations in India. Rajasthan, Mumbai, Varanasi, and Goa are among the common next destinations for first-time visitors.
Overall, the Golden Triangle is conveniently connected by transportation networks, making it easily accessible for tourists to explore and experience the rich cultural heritage and historical wonders of these three captivating cities.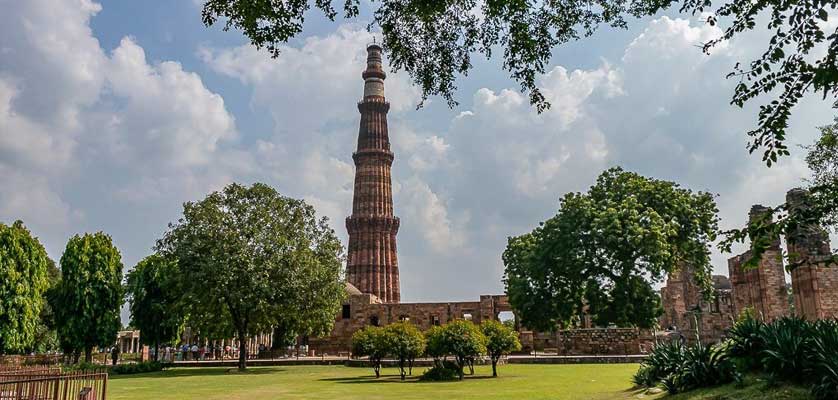 Why should you spend time in India's Golden Triangle?
---
The Golden Triangle is a popular choice for many travelers as it provides an ideal introduction to India. Here are some compelling reasons to spend time exploring this region:
Incredible Monuments: While the Taj Mahal steals the spotlight, the Golden Triangle is home to numerous remarkable structures that are equally breathtaking. Delhi boasts architectural wonders such as Jama Masjid, Humayun's Tomb, Lodhi Garden, and Qutub Minar. Agra showcases magnificent sites like Agra Fort and Itimad Ud Daulah Tomb. In Jaipur, you'll be amazed by the stunning Hawa Mahal, Amber Fort, and Jantar Mantar. Every city in the Golden Triangle offers a plethora of spectacular sights to explore.
Three Distinct Regions: By visiting the Golden Triangle, you get a taste of three diverse regions of India. Jaipur introduces you to the desert state of Rajasthan, famous for its vibrant culture and heritage. Agra is located in Uttar Pradesh, known for its religious landmarks and pilgrimages. Delhi, with its unique charm, provides an experience like no other. Exploring these cities allows you to immerse yourself in the distinctive flavors of each region.
Cultural Immersion and Chaos: The Golden Triangle offers an opportunity to experience the rich cultural tapestry of India. From the moment you arrive in Delhi, you'll be captivated by the bustling streets of Old Delhi, the ancient temples, the vibrant colors, and the delicious aromas of local cuisine. The chaotic yet enchanting atmosphere immerses you in the true essence of India.
Convenience and Accessibility: The Golden Triangle is well-developed for tourism, providing excellent accommodation options, a well-worn tourist trail, and reliable transportation services. English is widely spoken, making it easier for travelers to communicate and navigate. Whether it's booking train tickets online, using ride-sharing services like Uber, or relying on digital maps, exploring the Golden Triangle is relatively convenient and safe.
Options for Every Budget: The Golden Triangle caters to a range of budgets. Whether you're a budget traveler or seeking a luxurious experience, you'll find suitable options. From budget-friendly accommodations and affordable local eateries to high-end hotels and fine dining, the Golden Triangle offers choices that align with different budgets.
In summary, the Golden Triangle provides a perfect blend of iconic landmarks, regional diversity, cultural immersion, and convenience. It is an ideal starting point for discovering the wonders of India while offering a memorable and accessible travel experience.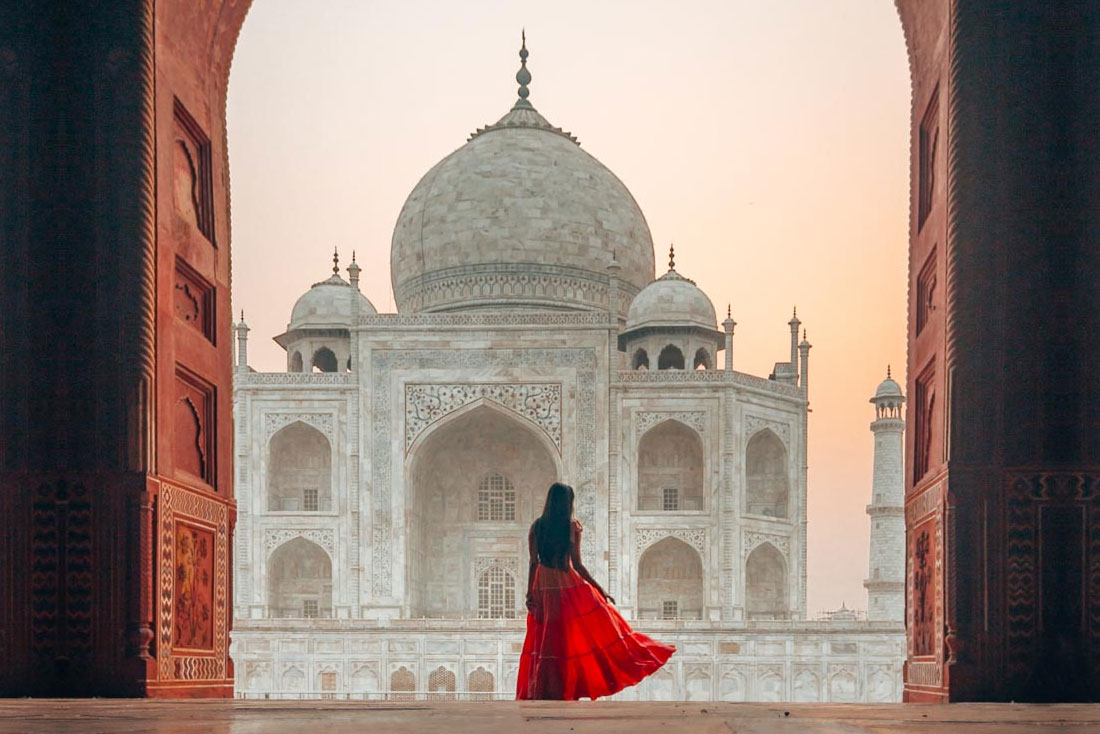 How long does it typically take to explore the Golden Triangle?
---
The recommended duration for exploring the Golden Triangle is typically between three and seven days, although a week is often considered the ideal minimum. Based on personal experience, spending seven nights and eight days in the region felt like the perfect amount of time.
A common itinerary includes four nights in New Delhi, one night in Agra, and two nights in Jaipur. However, depending on individual preferences and available time, some travelers may choose to extend their stay in a particular city, such as Agra, to allow for a more leisurely pace of travel. Nonetheless, seven days is generally regarded as an optimal duration to fully experience the highlights of the Golden Triangle.
Ultimately, the length of your visit to the Golden Triangle can be tailored to suit your interests and available time, ensuring that you have enough time to explore the major attractions, immerse yourself in the local culture, and appreciate the rich heritage of each city.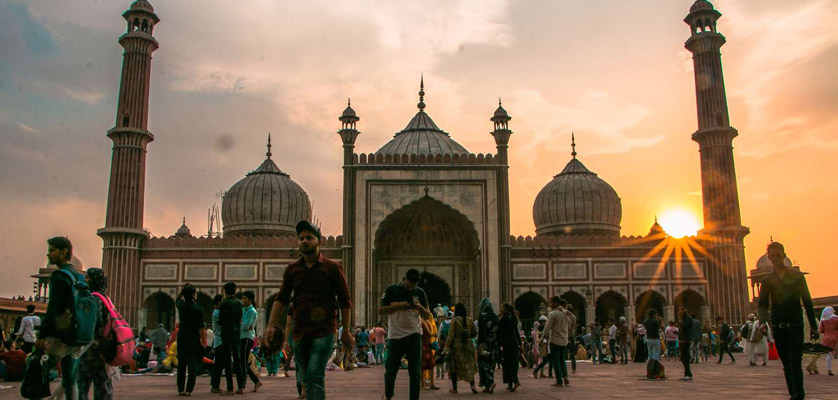 How can you get around the Golden Triangle?
---
To travel between cities in the Golden Triangle, there are a couple of recommended options:
Train: Taking the train is a convenient and popular choice. From New Delhi to Agra, you can book train tickets in advance through platforms like IRCTC Website. Trains like the Gatimaan Express offer a comfortable journey with amenities such as breakfast and water included in the fare. The train journey from New Delhi to Agra takes around two hours.
Hiring a Driver: Hiring a private driver is recommended for traveling between Agra and Jaipur, as there are several interesting sites to visit along the way. You can inquire about hiring a driver at your accommodation, and they can help arrange one for you. Negotiate the price and duration of the journey, considering stops at attractions like Fatehpur Sikri and Abhaneri. It's advisable to allow around eight hours for the journey, but the duration can be customized based on your preferences.
By combining train travel and hiring a driver, you can efficiently and comfortably explore the Golden Triangle, making the most of your time and enjoying the attractions between each city.
When is the best time to visit the Golden Triangle?
---
Determining the best time to visit the Golden Triangle depends on various factors. Here's an overview of the advantages and disadvantages of different seasons:
I personally chose to visit in early December, during the winter season, as the temperatures are pleasant during this time. The advantage of visiting in winter is that the temperatures are manageable, with daytime temperatures reaching around 23°C/73°F and dropping to around 15°C/60°F at night. The comfortable temperatures make it easier to navigate the attractions without feeling excessively hot or sweaty.
However, one significant disadvantage of visiting during this time is the smog. Northern India, including the Golden Triangle, experiences high levels of pollution due to factors such as crop burning, vehicle emissions, construction dust, and local fires. The smog, particularly during the cooler months, can result in a dense haze that affects visibility and can impact health. It's important to be aware of this and take necessary precautions.
Additionally, fog can be an issue, especially during winter mornings. The Taj Mahal, for example, is often shrouded in fog during sunrise. To mitigate this, some visitors choose to visit the Taj at sunset instead.
Ultimately, the best time to visit the Golden Triangle depends on personal preferences and priorities. It's recommended to consider factors such as weather, air quality, and the desired experiences (e.g., avoiding extreme heat or heavy crowds).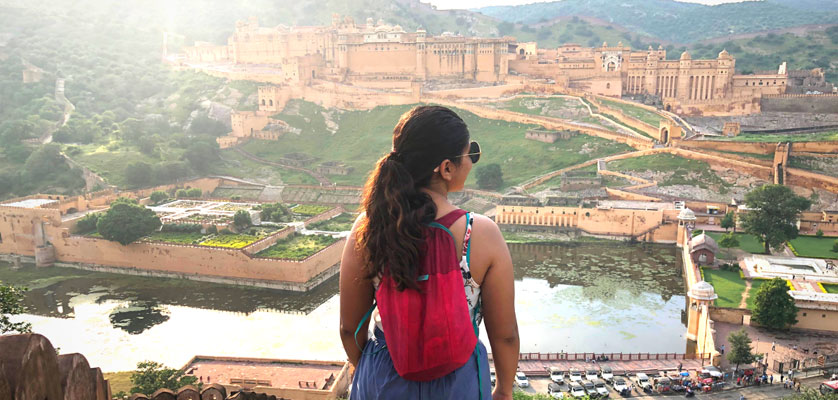 What about visiting the Golden Triangle during other times of the year?
---
April, May, and June are the hottest months in the Golden Triangle, with temperatures soaring as high as 45°C (113°F) during the day. It is generally advisable to avoid visiting during this period as the extreme heat can make exploring the region quite challenging. However, one advantage of traveling during these months is encountering fewer tourists, which can be appealing for those seeking a less crowded experience.
July to September is the monsoon season in the Golden Triangle. While this period brings a risk of flooding and disruptions due to heavy rainfall, it also offers the benefit of fewer tourists. The rain can clear the skies and make for stunning photography opportunities, but it's essential to be prepared for potential interruptions to your travel plans.
Overall, the period from October to March is considered one of the best times to visit the Golden Triangle. During these months, temperatures are generally pleasant, and the weather is favorable for exploring the attractions. However, it's worth noting that smog can still be a concern during this time, particularly in urban areas. Despite this, October to March offers a good balance of comfortable temperatures and manageable tourist crowds.
If you are looking for an ideal month to visit, February could be a great choice. The temperatures are warm and pleasant, and there tends to be slightly less pollution compared to January and December. Additionally, the number of tourists is typically slightly lower during February.
Ultimately, the best time to visit the Golden Triangle depends on your personal preferences regarding weather conditions, crowd levels, and tolerance for potential challenges such as smog or rain.
Should you take a tour when visiting the Golden Triangle?
---
In my opinion, taking a tour is not necessary when exploring the Golden Triangle.
The travel experience in the Golden Triangle is straightforward, safe, and enjoyable. The region attracts numerous tourists of all ages, creating a welcoming and less intimidating atmosphere than one might expect. With a well-developed tourist infrastructure, it's easy to navigate the Golden Triangle independently.
Rather than opting for a multi-day tour, I suggest considering day tours while you're on the ground. These can provide valuable insights and unique experiences without the need for a long-term commitment. For example, you can join a street food tour like the one I took with Rajasthan Tour Driver in Jaipur. Such tours allow you to discover local cuisine, gain confidence in trying street food, and enhance your overall cultural immersion.
By exploring the Golden Triangle at your own pace and participating in day tours that interest you, you can have a more personalized and flexible experience, tailored to your preferences.
How should you spend your time in the Golden Triangle?
---
Here's a detailed itinerary for a seven-day trip to the Golden Triangle:
Day One: Arrive in New Delhi
Explore South Delhi and unwind after your journey. Take a walk in one of the local parks and immerse yourself in the neighborhood's atmosphere. Consider joining a street food tour to get introduced to Delhi's culinary scene.
Day Two: Explore Old Delhi
Visit the Red Fort, Jama Masjid, and Gandhi's memorial in Old Delhi. Experience the vibrant streets and capture the essence of the city's chaos and liveliness.
Day Three: Explore New Delhi
Discover New Delhi's attractions, including Agrasen ki Baoli, India Gate, Humayun's Tomb, and Lodhi Gardens. Take your time to explore the historic monuments, stroll in the park, and enjoy the vibrant street art in nearby Lodhi Colony.
Day Four: Explore South Delhi
Visit the Lotus Temple, Qutub Minar, and indulge in a luxurious cinema experience at PVR Directors Cut. Take your time to appreciate the architecture and historical significance of these landmarks.
Day Five: Agra
Take the Gatimaan Express train from Delhi to Agra. Upon arrival, hire a rickshaw driver to take you on a tour of Agra. Visit Agra Fort, the Baby Taj (Itimad Ud Daulah Tomb), and enjoy a viewpoint to capture stunning photos of the Taj Mahal.
Day Six: Travel from Agra to Jaipur via Fatehpur Sikri and Abhaneri
Start early and visit the Taj Mahal at sunrise if you missed it the previous day. Then, drive to Jaipur with stops at Fatehpur Sikri and Abhaneri. Explore the deserted city of Fatehpur Sikri and marvel at the impressive Chand Baori stepwell in Abhaneri.
Day Seven: Explore Jaipur
Begin your day by visiting Amber Fort early in the morning to beat the crowds. Continue to Jaigarh Fort and enjoy panoramic views. Visit Hawa Mahal, City Palace, and Jantar Mantar in the old city. If time permits, head to Nahargarh Fort for a stunning view of Jaipur, especially during sunset.
This itinerary provides a comprehensive overview of the Golden Triangle's major attractions. However, feel free to adjust it based on your preferences and time constraints. Enjoy exploring the cultural riches of the region!
Alternate Golden Triangle destinations worth considering?
---
If you have additional time or prefer to explore beyond the main cities, there are several alternative destinations you can include in your itinerary: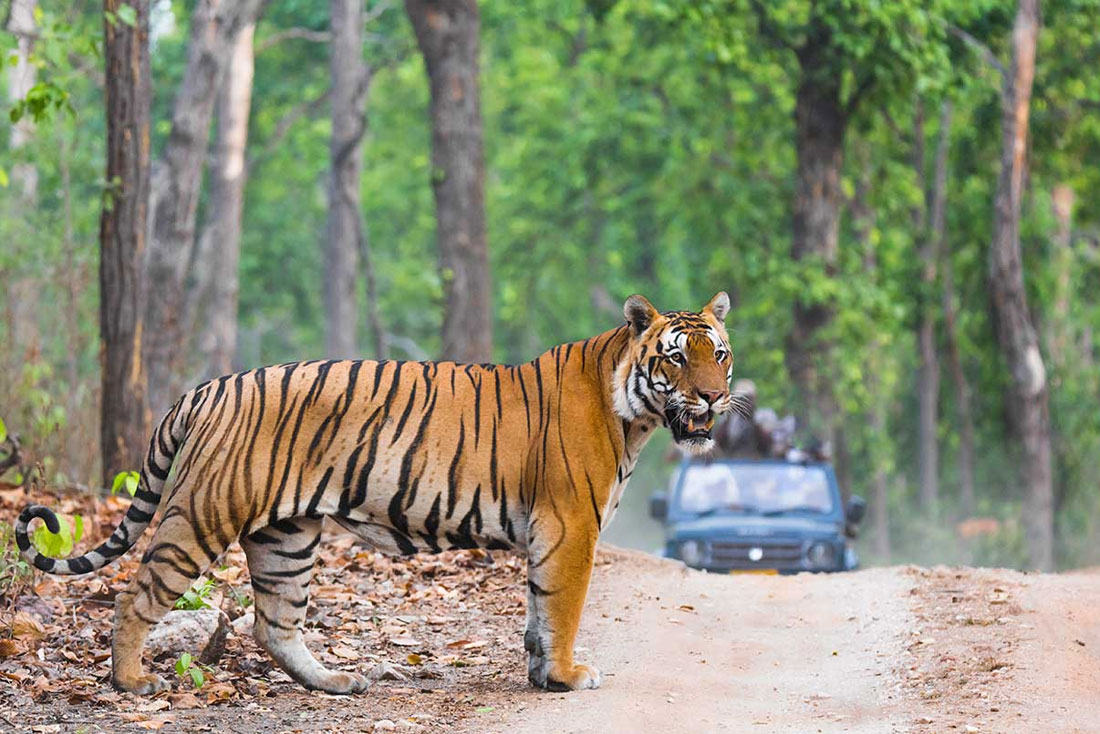 Ranthambore National Park: Situated between Agra and Jaipur, this wildlife reserve offers the opportunity to spot wild Indian tigers on safari. It was once a royal hunting ground and is now a renowned tiger conservation area. Spending a few days here increases your chances of encountering these majestic creatures in their natural habitat.
Keoladeo Ghana National Park: Located close to Agra, this UNESCO World Heritage Site is a paradise for birdwatchers. Known for its diverse bird species, including migratory birds, it's an ideal stop for nature enthusiasts. You can incorporate a visit to this park during your drive from Agra to Jaipur.
Sariska National Park: Situated near Jaipur, Sariska National Park is known for its growing population of leopards and tigers. It offers an opportunity to explore the wilderness and encounter these magnificent big cats. Adding a visit to Sariska National Park can provide a thrilling wildlife experience.
Mathura and Vrindavan: If you choose to hire a driver between Delhi and Agra, you can make stops in Mathura and Vrindavan. Mathura is the birthplace of Lord Krishna and is steeped in Hindu mythology. Vrindavan is known for its beautiful temples dedicated to Lord Krishna. These sacred towns offer a chance to immerse yourself in spiritual and cultural experiences.
By including these alternative destinations in your Golden Triangle itinerary, you can add diversity to your trip and explore different facets of India's rich heritage and natural beauty.
What are some travel tips and advice for visiting the Golden Triangle?
---
Use Uber or Ola for transportation: Uber and Ola are convenient and reliable options for getting around the Golden Triangle. Uber allows you to pay through the app, while Ola requires cash payment. Both services offer competitive prices and can save you the hassle of negotiating with rickshaw drivers.
Book train tickets : Booking train tickets through the IRCTC website is another convenient option for securing your train travel in India. IRCTC (Indian Railway Catering and Tourism Corporation) is the official online platform for train ticket bookings in India. You can visit their website and create an account to book your train tickets in advance, up to four months ahead of your travel date. This allows you to choose your preferred class, seat, and train, and make the payment using your debit card. Booking through IRCTC saves you time and eliminates the need to stand in long queues at train stations or depend on travel agents. It's a convenient and reliable way to plan your train journeys in the Golden Triangle and across India.
Consider Redbus for bus travel: If you prefer buses over trains, Redbus is a trusted platform for booking bus tickets in India. The buses are often cheaper than trains and provide an affordable option for budget travelers. Ensure you check the seat map in advance to select a suitable option.
English is widely spoken: English is commonly spoken in the Golden Triangle, making communication easy for tourists. Most people involved in tourism-related activities, such as hotel staff and tour guides, can converse in English.
Check attraction opening days: Some attractions, including the Taj Mahal, may be closed on certain days. It's essential to research and plan your visit accordingly to avoid disappointment. Mondays are often when museums and attractions are closed.
Get a local SIM card: Getting a local SIM card in India is a straightforward process. Airtel stands in the arrivals area at the airport can assist you in acquiring a SIM card. This provides affordable data and local call rates, allowing you to stay connected during your trip.
Bargain but don't overly stress: Haggling is common in India, but keep in mind that prices are often low. Spending excessive time bargaining over a few rupees may not be worth the effort. Remember, the locals often rely on the income more than you do as a traveler.
Pay by card for discounts: Many tourist attractions in India offer a small discount if you pay by card instead of cash. While the discount may not be significant, it can accumulate over time and save you some money. Most attractions accept foreign debit cards.
Prepare for pollution: Pollution levels can be high in the Golden Triangle, especially during certain times of the year. Consider buying an N95 mask in advance to protect yourself from harmful pollutants. Ensure the mask fits snugly and filters out fine particles.
Be cautious around stray dogs: India has a high prevalence of rabies, so it's important to be cautious around stray dogs. Avoid contact, including petting or playing with them, as even minor interactions can transmit the disease. Seek immediate medical attention if bitten or scratched by a dog.
Watch out for loose drain covers: Pay attention to the ground while walking as some drain covers may be loosely placed and pose a risk if stepped on. Stay vigilant to avoid any accidents.
By following these travel tips, you can enhance your experience and make the most of your visit to the Golden Triangle.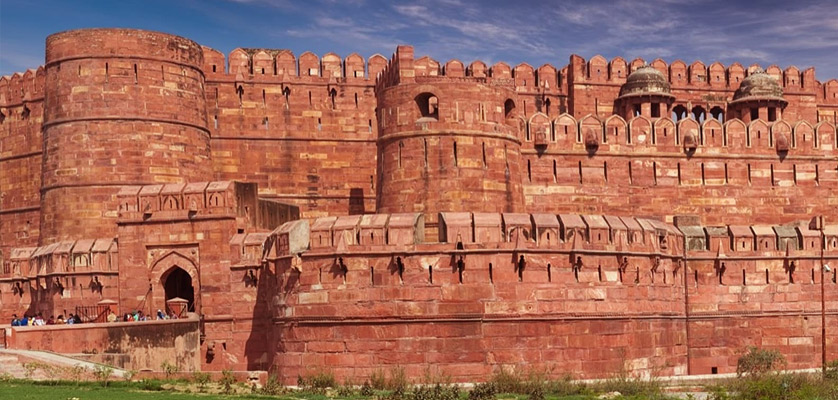 Top Tips for Women's Safety while Traveling in India
---
India can offer a safe and enjoyable experience for women travelers. Here are some tips to enhance your safety: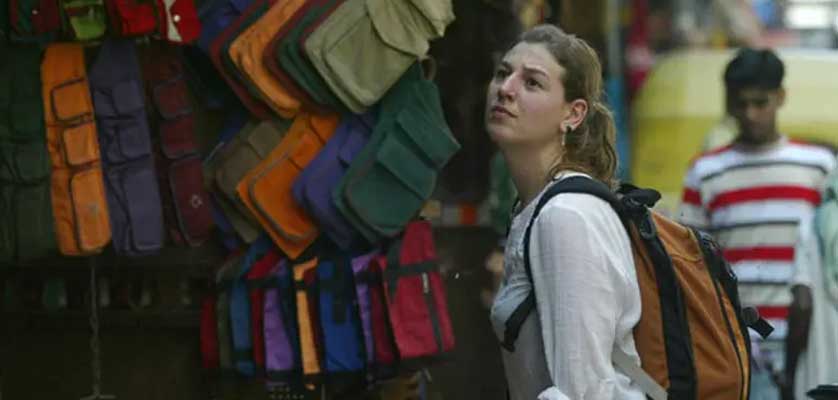 Positive Experiences: Women travelers often receive respect and warmth from locals in India. Embrace the hospitality and engage with local women and teenage girls who can provide insights and support.
Photo Requests: While it's common for teenage boys to ask for photos, consider setting boundaries. You can decline requests or agree to take photos only with families and teenage girls, ensuring your comfort.
Women-Only Facilities: Take advantage of women-only carriages on the Delhi Metro and join smaller queues at attractions designated for women. These options offer more comfort and security.
Local Support: Locals, especially when traveling alone, may check on your well-being and offer assistance if needed. Don't hesitate to reach out to them or nearby authorities if you feel uncomfortable or unsafe.
Basic Safety Practices: Dressing conservatively, sticking to well-lit areas at night, and keeping your belongings secure are essential. Never compromise your safety for saving money and trust your instincts.
Assertiveness: In case of harassment, confidently express your disapproval by raising your voice. The presence of nearby locals often discourages such behavior, and they may come to your aid.
Accommodation Choices: Opt for homestays with positive reviews from solo women travelers. Arrange for pick-up services, especially when arriving at night, to ensure a safe arrival.
Remember, while personal experiences may vary, being prepared and cautious can contribute to a safer and more enjoyable journey in India.
Dealing with Digestive Issues in India
---
Concerns about "Delhi Belly" or food poisoning are common among travelers to India. While experiences may vary, here are some tips to help minimize the risk of digestive issues: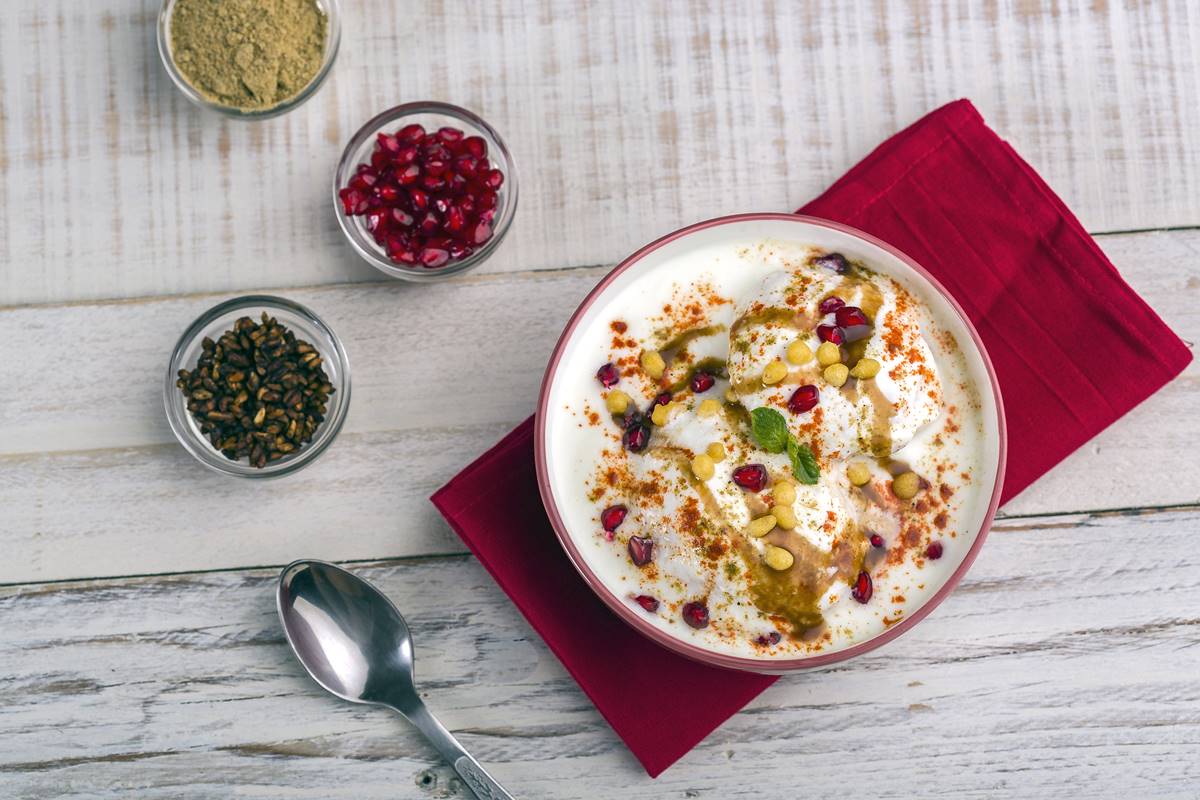 Vegetarian Diet: Consider adopting a vegetarian diet while in India. Most locals follow a vegetarian lifestyle, and sticking to vegetarian food can reduce the chances of consuming contaminated or improperly cooked meat.
Food Safety Practices: Choose restaurants and street food vendors carefully. Look for busy places with high turnover, as this often indicates fresh food. Avoid raw or unpeeled fruits and vegetables, and opt for cooked or peeled options instead.
Hand Hygiene: Practice good hand hygiene by washing your hands frequently with soap and water, especially before eating. If soap and water are not available, use hand sanitizers with at least 60% alcohol content.
Utensil Sterilization: If you have concerns about the cleanliness of utensils at restaurants, you can use hand sanitizer to sterilize them before using. This can help minimize the risk of contamination.
Pudin Hara: Pudin Hara, which contains peppermint oil, is known for its digestive properties. It is available in capsule form and can be helpful in alleviating stomach discomfort. Consult a healthcare professional or pharmacist for appropriate usage guidelines.
Stay Hydrated: Drink bottled or purified water to stay hydrated and avoid dehydration, which can exacerbate digestive issues. Use bottled water even for brushing your teeth.
It's important to note that these precautions may reduce the risk but not eliminate it entirely. Pay attention to your body, trust your instincts, and seek medical attention if necessary.
Exploring Beyond the Golden Triangle: Incredible Destinations in India
---
While the Golden Triangle is a fantastic starting point, there's so much more to discover in India. With its vast size and diverse attractions, the country offers a wealth of captivating destinations beyond its popular cities. Here are some recommendations for your next adventures: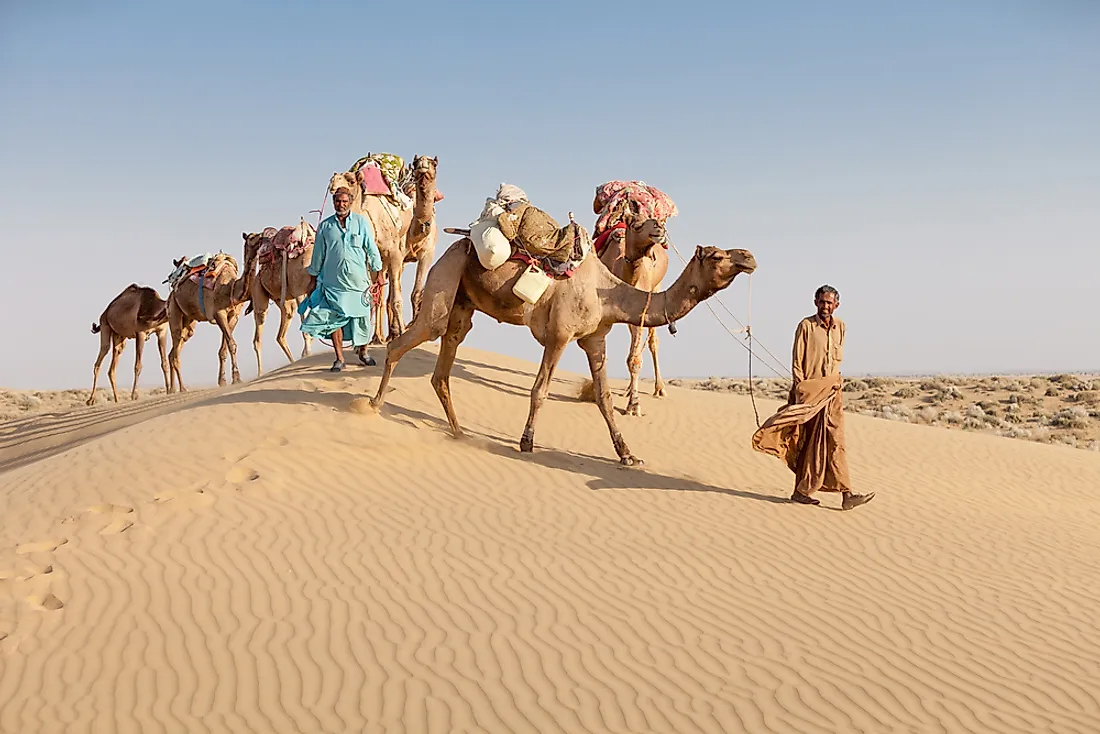 Rajasthan: Extend your journey by exploring the vibrant state of Rajasthan. After Jaipur, venture to enchanting cities like Bundi, Pushkar, Udaipur, Jodhpur, and Jaisalmer. Each city boasts its own unique charm, splendid architecture, and cultural treasures, providing an immersive experience into Rajasthan's rich heritage.
Mumbai: Embark on a train journey to Mumbai, a dynamic metropolis that offers a contrasting experience to Delhi, Agra, and Jaipur. Dive into the city's energetic atmosphere, visit iconic landmarks like the Gateway of India, explore bustling street markets, and savor the diverse culinary delights on offer.
Varanasi: Delve into the spiritual heart of India with a visit to Varanasi. Situated on the sacred banks of the River Ganges, this ancient city enthralls visitors with its centuries-old temples, mystical ghats, and mesmerizing Ganga Aarti ceremony, where devotional songs and fire rituals are performed.
Goa: If you're seeking a relaxing beach getaway, head to Goa. Known for its palm-fringed beaches, vibrant nightlife, and Portuguese influence, Goa offers a perfect blend of relaxation and cultural exploration. Indulge in water sports, explore colonial architecture, and savor delicious seafood.
Kerala: Experience the natural beauty of Kerala, a state blessed with serene backwaters, lush tea plantations, and picturesque hill stations. Cruise along the tranquil backwaters of Alleppey, enjoy a rejuvenating Ayurvedic massage, or embark on a wildlife safari in Periyar National Park.
Northern Mountains: For a scenic retreat, head north to explore the majestic Himalayan mountains. Visit popular hill stations like Shimla, Manali, and Dharamshala, where you can enjoy breathtaking landscapes, go trekking, or immerse yourself in the tranquility of Buddhist monasteries.
Remember, India is a vast and diverse country, so choose destinations that align with your interests and allocate enough time to fully immerse yourself in their beauty and culture.
The Golden Triangle: An Unmissable Journey in India
---
If you're contemplating whether to embark on a journey through the Golden Triangle in India, let this guide sway your decision. The allure and wonders of this iconic route make it an experience that shouldn't be missed.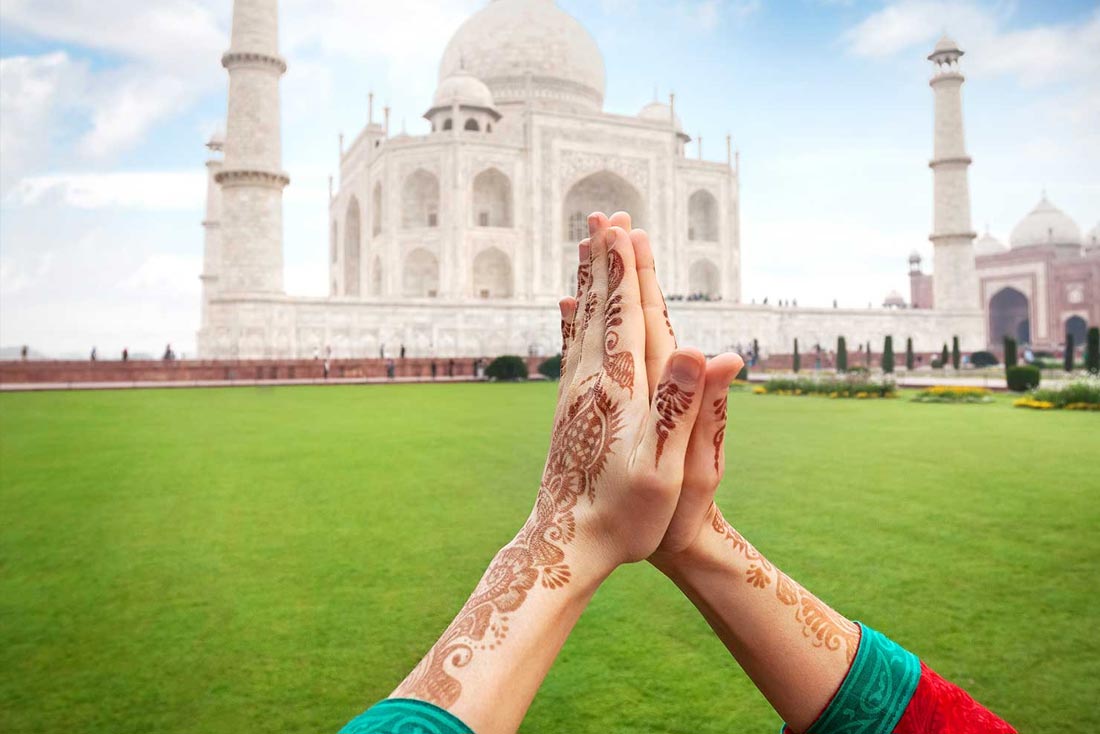 Immerse yourself in the rich history and culture of Delhi, marvel at the architectural masterpiece that is the Taj Mahal in Agra, and be enchanted by the vibrant colors and royal heritage of Jaipur. This trio of cities offers a captivating glimpse into India's past, showcasing its architectural splendor, bustling markets, and warm hospitality.
By giving yourself ample time to explore, you'll create lasting memories and have a truly remarkable trip. However, don't rush away from India immediately after completing the Golden Triangle, as there is so much more to discover in this incredible country.
Extend your journey to uncover the treasures of Rajasthan, with its magnificent forts and palaces, or venture south to experience the tranquil backwaters of Kerala. Head to the spiritual city of Varanasi to witness ancient rituals along the banks of the sacred Ganges, or escape to the serene beaches of Goa. The northern mountains beckon with their awe-inspiring landscapes and peaceful hill stations.
India's diverse offerings are bound to captivate and inspire you, leaving you with a deep appreciation for its rich heritage, stunning landscapes, and vibrant culture. So, embark on the Golden Triangle adventure and allow it to be the gateway to a broader exploration of this extraordinary land.
Remember, India is a vast country with countless hidden gems waiting to be discovered. Give yourself the chance to experience its wonders beyond the Golden Triangle, and you'll be rewarded with a journey of a lifetime.
Just fill in the form here with all necessary details and we will provide you the perfect, tailor-made itinerary at the best possible price, one of our travel experts will contact you shortly.
Recent Posts