Jaipur Garh Ganesh Temple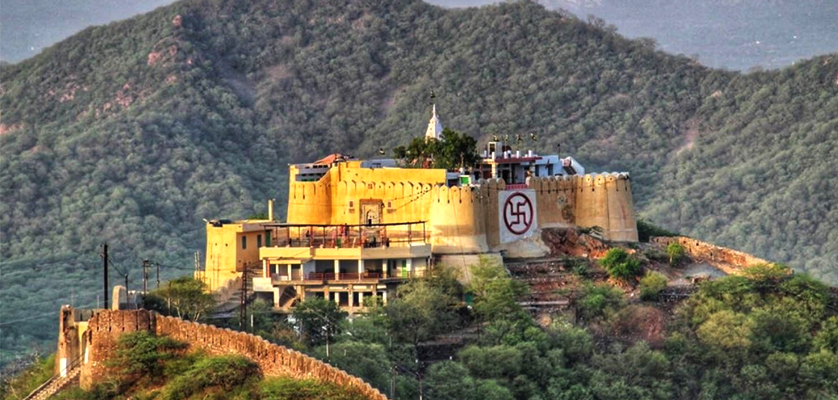 The Garh Ganesh Temple is a spiritual location that many visitors visit during their stay. It is situated near the apex of the Aravalli Hills. The temple is devoted to Lord Ganesha, and it is claimed that Ganesha dwells in the shape of a tiny kid named Purushakriti at this temple.
Another interesting feature of this temple is that the image of Ganesha here does not have a trunk because he is in his toddler form.
The Audhchya family looks after all of the temple's works and preparations with great care. On the first Wednesday after Diwali, a festival known as Anna-Koot is observed, special rites are held in the temple grounds. The Paush Bade, which is celebrated on the final Wednesday of the Paush month, is another event hosted here. During this time of year, a considerable number of worshippers visit the temple .
Maharaja Sawai Jai Singh I built the Garh Ganesha temple while conducting the Ashwamedha Yagya. He built the shrine and the location where the statue of Lord Ganesha will stand. Following this, the city of Jaipur was discovered. The deity's statue was placed in such a way that the monarch could view it via binoculars from his palace in Jaipur.
Jain Temple of Chulgiri is a magnificent Jain holy spot surrounded by the Aravali range. On the northern extremity of the Jhalana Range, there is a well-known Jain temple of Digambara shrine. Siddha Bhoomi is another name for the Chulgiri temple. Indrajeet and Kumbhakaran (Ravana's son) are claimed to have visited these temples for meditation and a sense of emancipation. This temple is well-known not just in India, but also around the world.
Every year in May, a large event (festival) is conducted here, similar to how a festival called Panch Kalyanak was staged in May 1982.
The origins of Jaipur's Chulgiri temple
The Chulgiri Jain temple is a renowned sanctuary that was founded in 1953. Jain Acharya Shri Desh Bhushan Ji Maharaj visited this location and found it to be a very calm place for his penance. So he chose this site for his mortification, and after a few months, he decided to erect a Jain temple here, giving these hills the name "Chulgiri." The quiet and peaceful environment around you stimulates your religiosity.
The Chulgiri temple's architecture
The foundation of the Chulgiri Jain temple at Jaipur was a task in and of itself because it was erected amidst the Aravalli hills.
The main temple is built on a hill with 1000 stairs leading up to it. The temple's awe manifested itself in 1966 when three superb white stone statues were shown. These three statues are of three of the most well-known Tirthankars, Shree Parshavnath, Mahaveer Swami, and Neminath.
It also has one of the best Jain libraries in the world. This magnificent artwork was cut out of white stone, and a 65-foot-tall dome was built to cover it.
This magnificent monument was installed in a 75 by 65-foot space. Standing in front of such a magnificent idol, you sense a god-like presence. The idol is well proportioned and designed with distinctive art and flair.
Abhaneri is a tiny hamlet in the Dausa region of northern Rajasthan, 95 kilometers from Jaipur. The village's current name, 'Abhaneri,' is said to be a mispronunciation of 'Abha Nagri,' meaning the 'city of light.'
King Raja Chand of the Gurjar dynasty founded this settlement in the 9th century AD.
This Rajasthani hamlet is famous for its post-Gupta or early medieval structures, Chand Baori, and Harshat Mata shrine.
Abhaneri is also well-known for its traditional dances like Ghoomar, Kalbelia, and Bhawani. Continue reading to learn more about Abhaneri and its attractions.
Panna Meena ka Kund is said to be a 1000-year-old step well. The water from this well, which was built during the Meena Dynasty, is utilized in most Hindu rites. It was erected in an old manner by a Brahmin to catch water during the rainy season.
This stair is well-connected to a well-known narrative of Rajputs and Meena warriors. Rajputs and Meena warriors, as well as Rajputs, used to battle for Amer's throne.
The architecture of Panna Meena ka Kund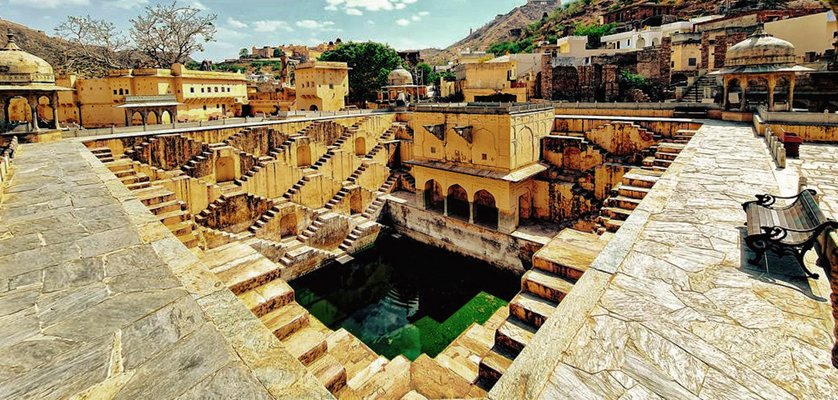 Panna Meena ka Kund has an outstanding architectural style. The nicest part about this location is that the steps used to go down cannot be utilized to get upstairs again. It would be difficult to appreciate the rationale of these actions if you were new to this location.
This stair, built in a crisscross pattern, astounded everyone, and it is the main reason why the bulk of people visit this magnificent spot every year.
Sagar Lake in Jaipur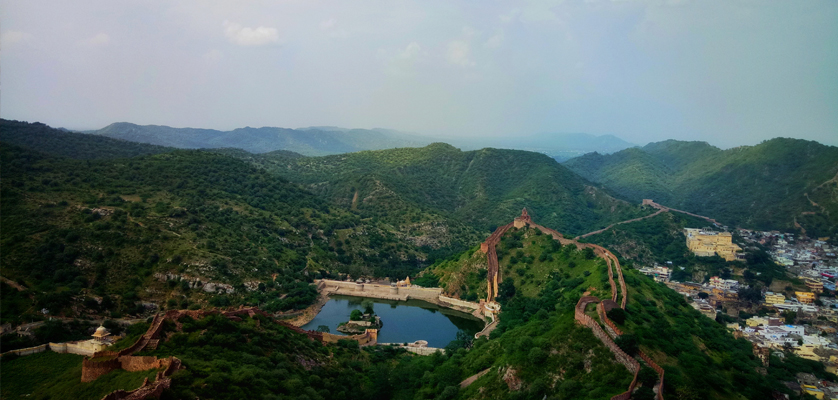 Sagar Lake Jaipur is an artificial lake in Jaipur that is encircled by the Nahargarh hills. The area spans 300 acres, and this fictitious lake was created in the 18th century by Maharaja Man Singh II to build a dam across the Darbhawati River for irrigation purposes and built by Maharaja Man Singh in the region of 1596 AD.
Jaipur's Monkey Temple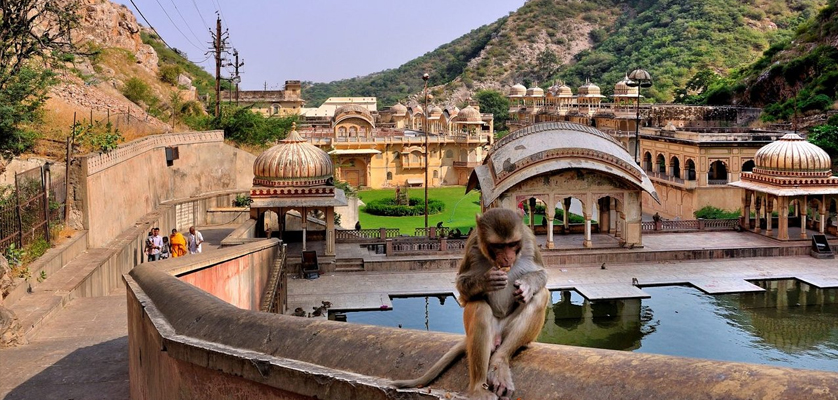 The Galtaji temple, located approximately 10 kilometers from Jaipur in the city of Khania-Balaji, is a Hindu shrine that attracts visitors from all across the country.
This site contains several temples, and one of its unique features is a natural spring that runs downwards from the hilltop. The water from this spring feeds several sacred water tanks, and pilgrims visiting the temple bathe in this holy water. The temple has seven holy water tanks or Kunds, the most important of which is the Galta Kund. This type of water is thought to be unlike any other, making it even more exciting for people to observe. The temple is also known as the Monkey Temple since numerous monkeys are walking about within the compound.
This well-known Jaipur temple is devoted to Lord Hanuman, often known as the Sun God.
This magnificent Hindu sacred temple is composed of pink sandstone and seems more like a castle than a place of worship. Because the temple is located in the Aravalli Hills,
The temple's surroundings also provide a magnificent environment with lush greenery on all sides. You can also see little temples devoted to Lord Rama and Lord Krishna being erected within the complex.
The temple's walls are attractively painted and embellished with curving pillars and rounded domes. Every year on the festival of Makar Sakranti, a significant number of devotees visit the temple to take a plunge in the holy waters.
Patrika Gate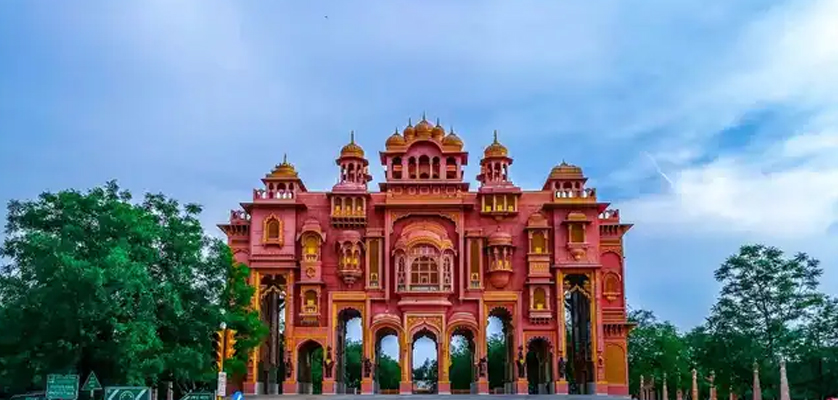 The Patrika Gate provides tourists with an insight into the culture of Rajasthan, India's northernmost state, of which Jaipur is the capital. Representations of temples, forts, palaces, and Jaipur emperors are presented along its columns and pillars to provide an insight into the city's past. Weddings, conflicts, and everyday life are all shown.
Gates are an architectural heritage in Jaipur. Patrika Gate, which was built centuries later, retains the architectural history and is sometimes referred to be the city's ninth gate.
Jagat Shiromani Temple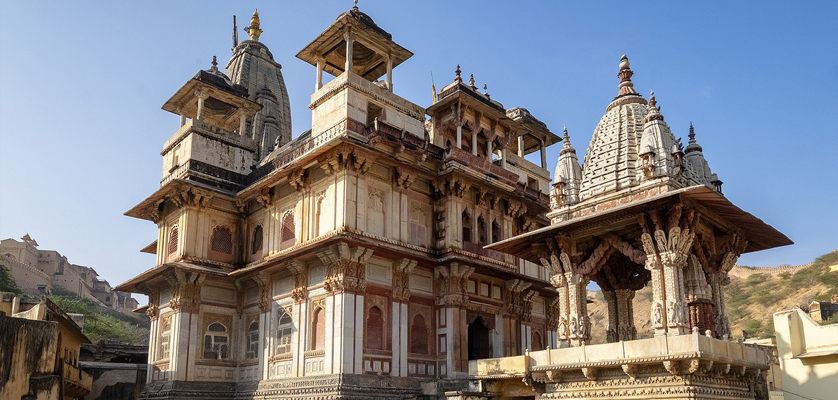 Meera Bai Temple is another name for the Jagat Shiromani Temple in Amer, near Jaipur. It is one of Amer's most stunning and ornate temples. It's a UNESCO World Heritage Site in the category of "Hill Forts of Rajasthan." Amer Fort is the most popular attraction in Jaipur.
Shri Kankawati Ji, Maharani of Maharaja Man Singh I, built this temple in memory of her loving son Maharaja Kumar Jagat Singhji in 1601, and it emanates a strong spiritual atmosphere and faith.
This temple, dedicated to Lord Krishna and his follower saint poetess Mira Bai, is recognized for its majesty and art shown in its construction.
The wonderfully ornamented toran or bracketing greets you at the entryway. During your journey to Jaipur, make time to visit this lovely temple for a spiritual retreat.
The Sisodia Rani Ka Bagh.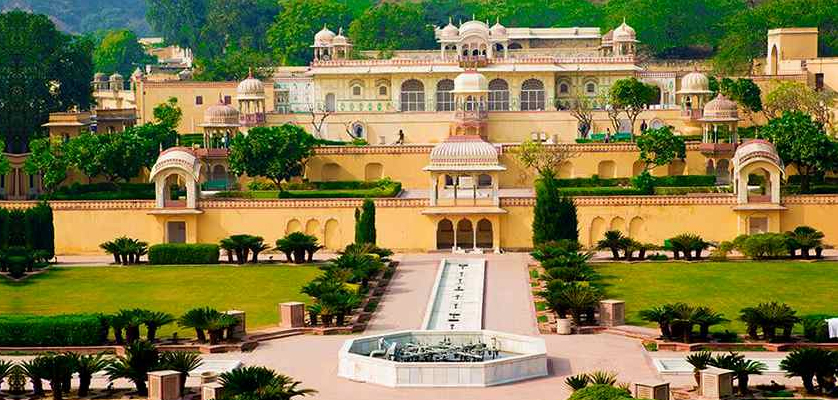 Maharaja Sawai Jai erected the palace garden as a love present for his second queen, 10 kilometers from Jaipur on the Jaipur-Agra route. The historic garden is the largest, most intriguing, and most spectacular of Jaipur's gardens. Aside from its lush green trees and floral beds, the exquisite Charbagh-styled park is known for its multi-layered castle, pavilions, shrines, murals, frescoes, sceneries, paintings, and fountains.
The Rajasthan government and tourist agency developed the Elephant Village near Jaipur's Amber Fort. The Elephant Village was established for two major reasons:
To offer adequate housing for the Mahavats' families who cared for elephants and elephants employed in tourist rides in Amber Fort
To care for elephants.
The Elephant Village, nestled in the foothills of the Aravalli mountains, is one of the most popular destinations for animal lovers in Jaipur.
Fort Bhangarh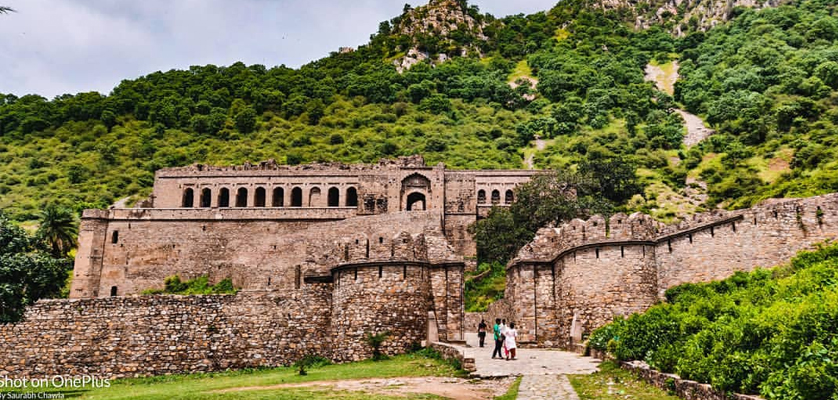 The majestic fort of Bhangarh is situated in the slopes of the Aravalli. Raja Madho Singh, the younger brother of the famed Mughal commander Man Singh of Amber, built the fort in the 17th century. Apart from the royal palace, Bhangarh had around 9,000 dwellings until 1720, when it rapidly declined in population.
The fort's grounds contain vestiges of majestic Havelis, temples, and disused marketplaces, demonstrating the fort's opulence during its heyday. The Bhangarh fort in Rajasthan, even if it is in ruins, is nonetheless lovely since it rests at the base of a hill surrounded by tranquil and lush greenery. Visit the fort to witness the remnants of a once-mighty empire.
Masala Chowk in Jaipur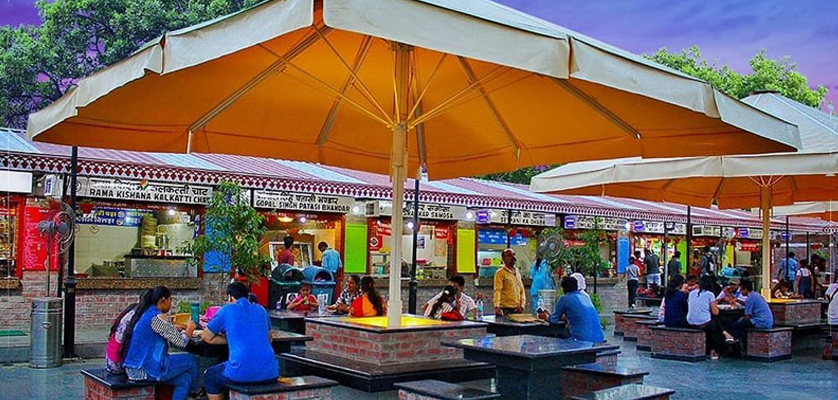 Jaipur genuinely is the state's Food Capital, since it provides a diverse range of cuisines. The inhabitants of Jaipur are genuine foodies, and the city is a foodie's delight. Masala Chowk Jaipur shows the passion for cuisine perfectly. You must be familiar with this popular Jaipur culinary place. Masala Chowk has effectively ruled over the hearts of all Jaipur residents. Masala Chowk in Jaipur began with the goal of bringing all of Jaipur's finest street cuisine to one location. It is an open-air food court with fantastic seating arrangements that have made it a popular hangout for individuals who enjoy indulging in delectable treats.
Amar Jawan Jyoti is a memorial located in Vidhyut Nagar near Taj Ram Bagh Garden in Jaipur. The memorial was erected to commemorate the valor of Jaipur's illustrious martyrs and warriors.
This memorial is also known as the Flame of the Immortal Soldiers, and its construction is similar to that of India Gate.
It was founded in 1971 during the struggle for the 'Liberation of Bangladesh.' The primary goal of building Amar Jawan Jyoti is to honor the Indian warriors who died in the service of the nation.
Indira Gandhi, India's prime minister at the time, appointed Amar Jawan Jyoti.
It's a black marble pedestal with an overturned rifle on top of it. The main draw of Amar Jawan Jyoti is the presence of torches that are always lit at the four corners of the building.
Block printing in Bagru village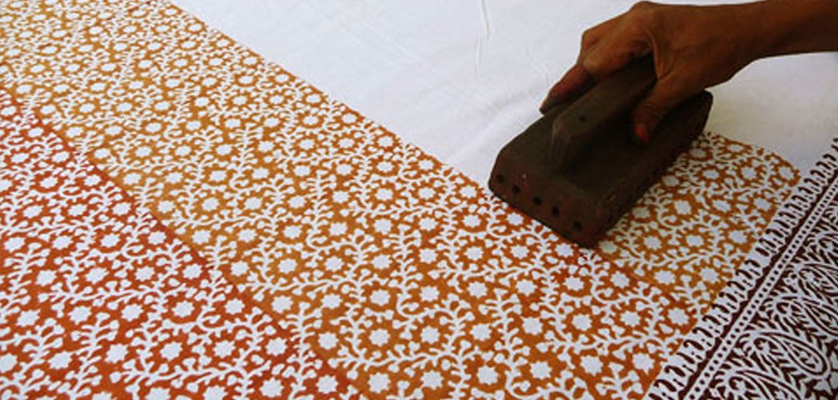 Bagru, in Rajasthan, is still called a village — and it is because its community is structured in an archaic fashion based on inherited duties and customs. However, it, like many other Indian villages, has been engulfed by growing urbanization. The village of 30,000 inhabitants, straddling the highway to Jaipur, is densely packed with two- and three-story concrete structures that obscure any sense of the environment. Chiapas, a caste of printers who continue to stamp lengths of cotton cloth with color using hand-carved woodblocks, may still be found in home studios spread across.
While printing designs on cloth most likely started in China some 4,500 years ago, hand-blocked fabric reached its pinnacle of visual expression in the Indian subcontinent.
Indians held unrivaled knowledge of the secrets of natural plant dyes, notably mordants (metallic salts that both create color and allow it to adhere to fabric).
Dabu, a type of mud resist-printing that permits portions of a pattern to remain dye-free, thrived here as well. A set of mordant and resist stamping and dyeing combinations enabled Indian printers to create exceptionally intricate patterns desired from Southeast Asia and Mughal rulers' palaces to the far-flung cities of Western Europe
Raj Mandir Cinema
On Bhagwan Das Road, it is close to Panch Batti. close to the iconic Panch Batti crossing on Bhagwan Das Road, the confluence of the walled city and contemporary Jaipur
Shri Mehtab Chand Golcha envisioned a cinema theatre that would honor Jaipur's rich architectural legacy while also providing a beautiful experience for Bollywood moviegoers.
It is one of Asia's largest movie halls.
The 9 stars on the outside represent the 9 gemstones, which are the primary employment of the current owners of Rajmandir. Chandeliers adorn the cathedral's towering ceilings. The lights shine like stars in the sky, illuminating the hall and ceilings.
Just fill in the form here with all necessary details and we will provide you the perfect, tailor-made itinerary at the best possible price, one of our travel experts will contact you shortly.
Recent Posts