Discover North India's Charming Boutique Hotels
---
Embark on an extraordinary journey with our carefully curated collection of the finest boutique hotels in North India. These exceptional accommodations have been chosen based on their popularity, guest feedback, and our team's rigorous quality testing. Our discerning guests, who value charisma over standard amenities, seek a departure from the ordinary. With no budget limitations, they yearn for distinct experiences that linger in memory. These hidden gems include a range of options, from charming villas, cozy treehouses, and regal palaces to serene camps, quaint bungalows, rustic cottages, and storied forts. Each of these unique havens offers a tranquil escape from the typical hustle and bustle, promising a rejuvenating getaway in the lap of North India's natural and cultural splendor.
1. Suryagarh: Luxury Hotels in Jaisalmer, Rajasthan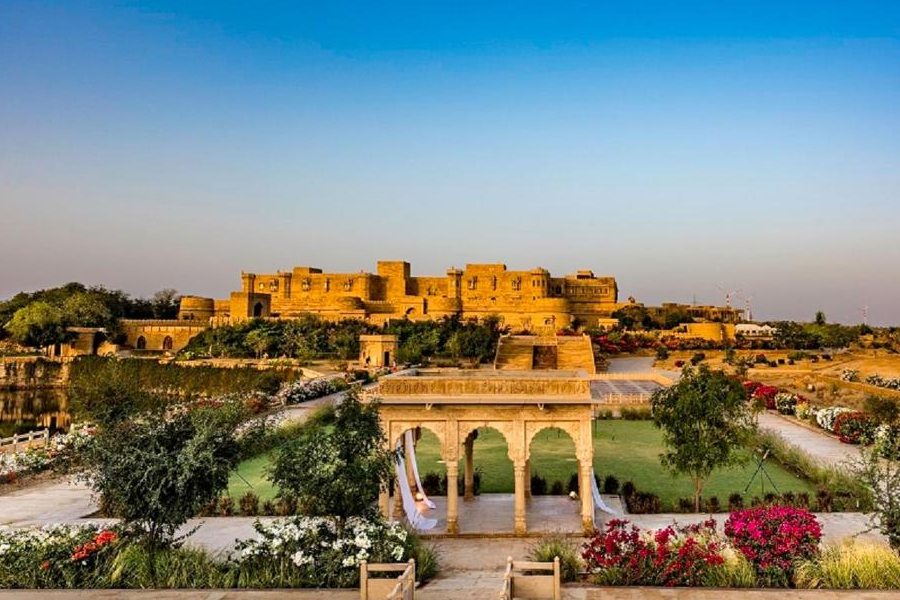 Suryagarh, a lavish retreat in Jaisalmer city, nestled near the iconic fort, artfully preserves our rich heritage while presenting it through a contemporary lens, offering an awe-inspiring stay. Set amidst the vast expanse of the Thar Desert, the property stands as a modern-day fortress, its sand-colored façade adorned with sharp-edged architecture, ornate turrets, graceful arches, and elegant colonnades. Immense spaces house traditional embellishments of intricate carvings and vibrant hues, a heartfelt homage to the vibrant Rajasthani culture, evoking a sense of liberation and serenity.
Whether relaxing in the central courtyard or amidst a serene lakeside garden, this opulent haven provides the perfect backdrop. It serves as an idyllic starting point for desert exploration, as well as an oasis for indulging in rejuvenating spa rituals and savoring exquisite dining encounters. Suryagarh promises a luxurious escape, inviting you to delve into the splendors of the desert or simply bask in refined tranquility.
---
2. Samode Palace
Experience the enchantment of Samode Palace, a haven of exclusivity and discretion that has graced royalty, luminaries, artists, and the discerning traveler. Greet the serene dawn or savor a cocktail on the terrace, serenaded by folk melodies. Your fingers trace the tales of ancient murals on uneven walls. Luxuriate in a soothing spa massage or surrender to the embrace of your sumptuous bed. Samode Palace's spellbinding allure captivates you.
This architectural masterpiece marries regal Indo-Saracenic design with Indian and Mughal influences. 475 years of history enveloped in contemporary luxury and Samode's signature hospitality create an immersive sensory celebration.
Indulge in accommodation that redefines comfort, each room a masterpiece of elegant furnishings. Four-poster beds adorned with sheer drapes and intricate carved couches beckon relaxation. Flowers dance in courtyards, painted lounges, and charming prints, infusing romance into every corner.
Dining is a symphony of flavors, offering Royal Indian delicacies and delectable Asian-European fusion. Activities abound, from leisurely strolls to serene swimming pools and rejuvenating spa journeys. Samode Palace is an eternal promise of enchanting weddings and celebrations, where timeless moments come alive against a backdrop of regal grandeur.
---
3. Rohetgarh Fort Hotel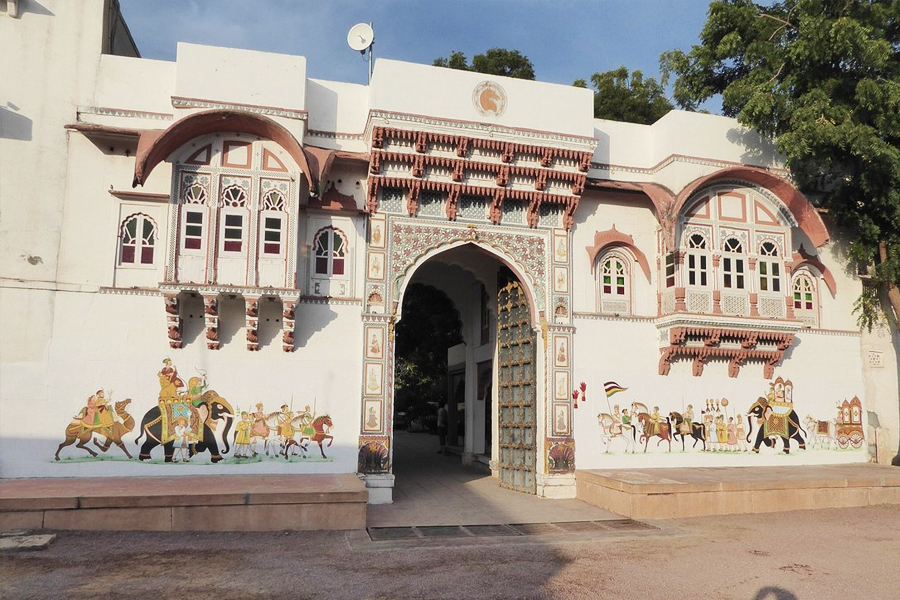 Nestled amidst the tranquility of rural landscapes, Rohet Garh Hotel stands as a cherished family-owned heritage haven. This captivating retreat graces the shores of a serene lake, its ambiance steeped in history. Manicured gardens embrace the property, surrounding a crystalline swimming pool adorned with four charming pavilions.
Culinary delights await at Rohet Garh, where traditional flavors paint a vivid palate. Dine al fresco by the poolside, serenaded by the melodies of folk musicians. Verandas and terraces in the lounge offer enchanting garden vistas, inviting relaxation and contemplation.
Immerse yourself in a spectrum of experiences. Embark on a village safari, delving into neighboring hamlets. Gallop through the hotel's expansive grounds on horseback, embracing the essence of the locale. Engage in culinary workshops that unlock the secrets of traditional gastronomy. Rohet Garh Hotel is a sanctuary of heritage, where each moment weaves a tapestry of cherished memories.
---
4. Jaipur Samode Haveli
Samode Haveli, a central boutique extension of Samode Palace, rests just a short 15-minute drive away from Jaipur's heart. Once a cherished residence of a prosperous family and a favored refuge for past regional rulers, this haveli retains its historical essence, now adorned with discreet grandeur.
An affectionately restored hand-painted hall offers an inviting space for savoring authentic Rajasthani cuisine, a testament to the haveli's enduring charm. The open courtyard sets the stage for enchanting candlelit al fresco dining, a symphony of flavors beneath the sky.
When the allure of Jaipur beckons, immerse in its famed pink hues. Yet, within the haveli's embrace, indulge in leisurely interludes by the exquisitely tiled pool, where daybeds invite repose. Impeccable service ensures your serenity. After all, what is a vacation without moments of pure relaxation?
---
5. Fateh Garh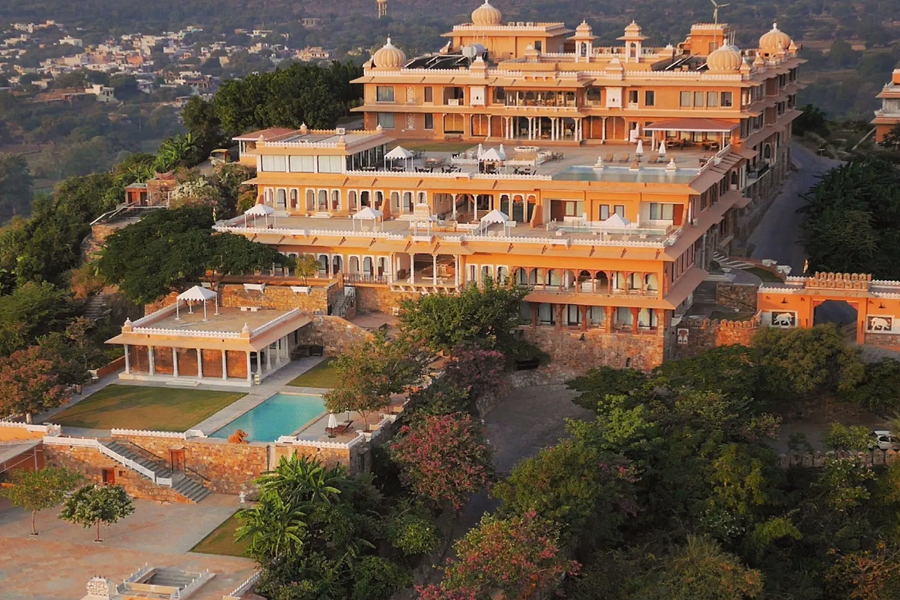 Discover one of the globe's most alluring swimming pools, where majestic marble Buddhas preside over your invigorating plunge, offering captivating vistas of the City of Lakes.
Perched atop a hill, Fateh Garh emerges as a splendid rebirth of a palace, meticulously crafted from remnants of a former regal edifice. It seamlessly blends grandeur and serenity within its contemporary décor and architectural finesse. The palace's noble proprietors showcase a remarkable fleet of vintage automobiles, accompanied by amiable purebred canines, and share an enchanting grasp of astrology, guiding you through the mysteries of the celestial realm. Enjoy an extraordinary escape, where every element converges to create an experience of opulence and tranquility, crowned by the celestial presence of the marble buddhas.
---
6. Deogarh Mahal
Experience the enchantment of Deogarh Mahal, a palace straight out of a fairytale where former royalty graciously serve as your amiable hosts. This restored boutique gem, adorned with whimsical turrets, invites you to wander through its impressive corridors and balconies that overlook Deogarh village. The palace's architecture is a visual treat, with its captivating charm and plenty of nooks to explore.
Beyond the grand gates, embrace the warmth of the villagers and embark on rural adventures in vintage jeeps, uncovering the unexpectedly lush countryside with its shimmering lakes.
Within the palace's embrace, find all the expected luxuries – a refreshing swimming pool, a well-equipped indoor gym, and inviting tennis courts. As night falls, be enthralled by Rajasthani entertainment, where skilled dancers and musicians present captivating performances, often featuring impressive pot and sword dancing. Deogarh Mahal seamlessly marries history, luxury, and local vibrancy, crafting an unforgettable experience for every guest.
---
7. Khem Vilas
Discover the allure of Khem Villas, a distinctive boutique retreat nestled in North India. Located on the fringes of Ranthambore National Park, it serves as an ideal haven for traditional wildlife safaris, often offering the chance to spot majestic tigers on the journey between Agra and Jaipur.
Exuding luxurious charm through understated simplicity, the lodge seamlessly integrates with its lush surroundings. Thatched roofs, teak and rattan furnishings, and abundant greenery create a natural, soothing ambiance. Alongside cottages, the option to luxuriate in a tented stay awaits. Following invigorating morning and evening jeep safaris into the wilderness, unwind at the therapeutic spa or partake in rejuvenating yoga sessions.
An eco-conscious oasis, Khem Villas offers a delectable vegetarian culinary experience, crafted with care from its own organic vegetable garden. Immerse yourself in nature's embrace while relishing the harmonious blend of tranquility and adventure.
---
8. Jas Vilas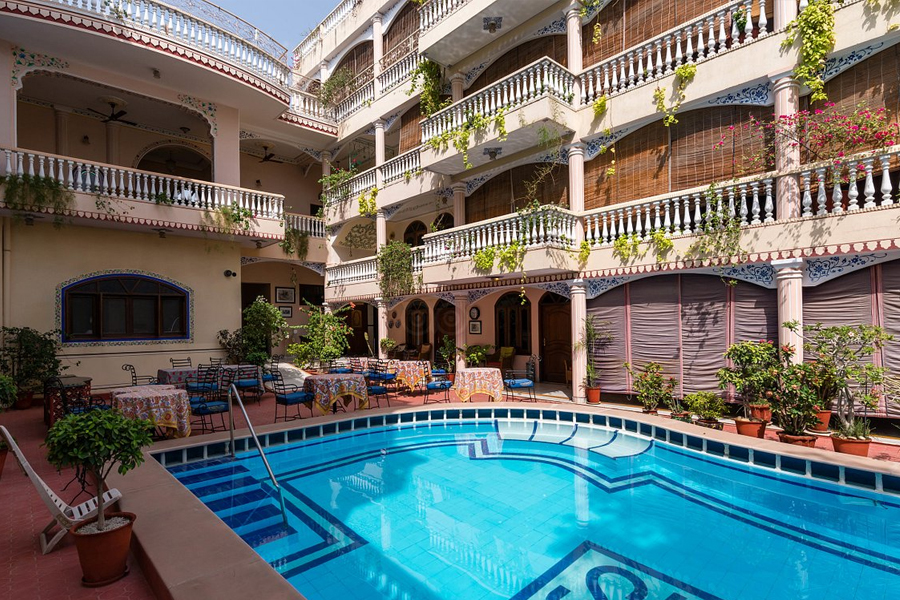 Nestled in the heartwarming embrace of The Jas Vilas, a delightful homestay curated by an amiable couple, every guest's experience is meticulously overseen. The accommodations, while elegantly simple and reasonably priced, resonate with a rich historical aura. Positioned in the serene Jaipur suburbs, this heritage retreat offers respite from the city's hustle, ensuring a tranquil escape.
A glistening outdoor pool takes center stage, encircled by a meticulously nurtured tropical garden, beckoning hours of relaxation after morning explorations. The essence of romance lingers during al-fresco evening meals, where candlelight dances by the poolside. The Jas Vilas, a cherished haven, strikes a harmonious chord between comfort, heritage, and serenity, creating cherished memories for every guest.
---
9. Ajit Bhawan Palace
Nestled in the heart of Jodhpur's blue-hued realm, Ajit Bhawan Palace Hotel stands as a lovingly restored heritage treasure. Radiating timeless charm, the property exudes the regality of Rajasthan, adorned with a splendid assortment of artifacts that echo an era of elegance. Amidst this homage to history, a contemporary touch graces the rooms, seamlessly bridging the gap between past and present.
The expansive outdoor pool sprawls like a whimsical embrace, adding a touch of enchantment to the surroundings. A spacious courtyard offers a serene vantage point overlooking a tropical garden, inviting moments of repose. And not to be surpassed by other palatial havens, a captivating vintage car collection takes center stage, adding to the allure of this exquisite abode. Ajit Bhawan Palace Hotel encapsulates a symphony of heritage and modernity, an exquisite retreat for those seeking a harmonious blend of the two.
---
10. Shahpura House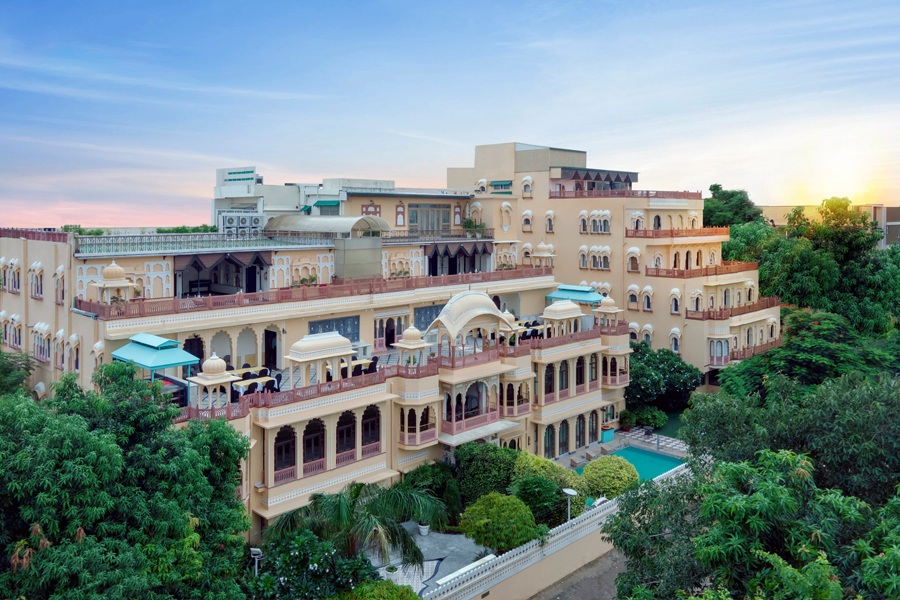 Nestled in Jaipur's pink embrace, Shahpura House stands as an enchanting and delightfully eccentric boutique palace. A treasure trove of nooks and crannies, the palace is a living testament to resplendent Rajasthani history. Domes, arches, frescoes, hand-painted murals, and opulent gilded furnishings adorn every corner, inviting you into a world of bygone grandeur.
Vibrant rooms mirror the palace's exuberance, each boasting a unique color scheme that infuses white bedsheets and teak four-poster beds with lively hues. The rooftop unveils a realm of al-fresco dining, where flavors dance beneath the open sky. A refreshing dip in the swimming pool offers respite from a day's adventures, completing the experience. Shahpura House is a captivating haven, where every moment unveils a delightful surprise, leaving you with cherished memories of Jaipur's splendor.
Just fill in the form here with all necessary details and we will provide you the perfect, tailor-made itinerary at the best possible price, one of our travel experts will contact you shortly.
Recent Posts