Bapu Bazaar Jaipur
The Pink City of Jaipur is a treasure trove of shopping opportunities if you're looking for Jaipur's famous market for shopping jewelry with a rural or bohemian flair. However, there are plenty of shopping opportunities, and you'll be able to bring home a large number of souvenirs that represent Rajasthan's ethnicity. Every corner in the Pink Bazaar Jaipur is adorned with ethnic handlooms, artefacts, and handicrafts, ranging from gems and jewelry to textiles.
What can you get at Bapu Bazar in Jaipur?
This location is one of the best local market in Jaipur and home to a plethora of beautiful and colorful products. Sanganeri Print, bagru print, traditional block print, and bandhani work are available in beautiful colors on authentic and traditional kurtis, bedsheets, Jaipuri quilts, textiles, skirts, and T-shirts. The lifeblood shops in Bapu bazar Jaipur is gemstone bangles and jewelry, kundan meena, chunky neck bits, earring, bracelets, and anklets.
There are numerous choices in Mojari (traditional Rajasthani leather boots) as well as other comfortable and flat footwear, all of which are reasonably priced. There are numerous handicraft pieces such as puppets, bandhanwars, wall hangings, white metal artefacts, and home décor that give a home a special and distinct look. It is one of the best wholesale market in Jaipur.
Bapu Bazar is one of the best places to go if you want to buy something nice and traditional. If you ever have the opportunity to visit Jaipur, I strongly advise you to do so. It also has it sown portal for Bapu bazar Jaipur online shopping.
Johari Bazaar
Johari bazar Jaipur shops is one of Jaipur's most well-known shopping destinations. In Hindi, the term 'Johari' means 'Jeweller.' The market is lined with countless shops that deal with exclusive jewelry that represents the city's rich Rajasthani community.
The market's streets are lined with jewelry, enticing you to buy at least a small souvenir before returning home. This Jaipur famous bazaar or market, which is adorned with precious and semi-precious stones, is a must-see during your visit to this lovely city.
What can you get at Johari Bazaar in Jaipur?
Jewellery
This famous Jaipur market is known for its enticing jewelry made of gold, diamonds, rubies, emeralds, and silver. Each piece is meticulously designed to resemble traditional Rajasthani 'Thewa' and 'Kundan' jewelry. You will find a lot of craftsmen with their workstations, known as Gaddis, when walking through the by-lanes of Johari Bazaar. They have been making beautiful pieces of jewelry since time immemorial.
Another well-known lane, 'Haldiyon ka Rasta,' is known for its jewelry, silverware, junk jewelry, gems, and other treasures. The lanes of Johari Bazaar, Jaipur market clothes which are dotted with numerous stores, are bustling with vendors calling out to tourists and selling beautiful accessories.
Fabrics
Johari Bazaar, the best Jaipur dress market is also a great place to find lehengas, elegant Mojaris or Jutis (leather sandals), and sarees in vibrant Bandhej with glistening stonework or gemstones. There are also hundreds of shops selling excellent tie-dye fabric and material (typical of Rajasthan), Bandhani suits and fabrics, clothing materials, and much more. Jaipur Saree Kendra, Rooplaxmi, Rana Saree Emporium, and Rattan Deep are just a few of the well-known saree shops in the market. It is one of the cheapest cloth market in Jaipur.
You can choose from a wide range of utterly magnificent fabrics in Johari Bazaar, from bridal wedding trousseaus to casual wear traditional outfits. It is the go-to Jaipur best shopping places.
Hawa Mahal Market
Looking out the windows of the wind palace or market near Hawa Mahal Jaipur, your gaze is drawn to the shops along the side streets. You can't help but be attracted to the shops and end up in the rich market known as the Hawa Mahal Market, no matter how hard you try to avoid it.
You just go on an accidental shopping spree with hundreds of shops lined up one after the other. It is one of the biggest shopping bazaars in Jaipur.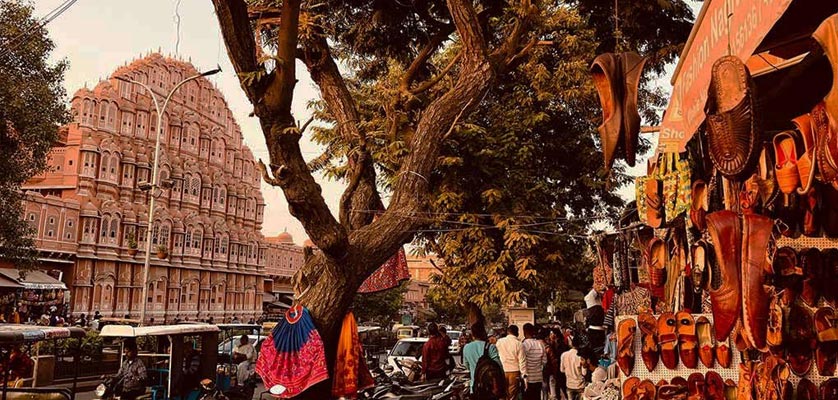 Goat leather bags are the most distinctive commodity on the market. While some say the bags are made of genuine camel leather, the majority are made of goat leather. From small slings to large travel bags, the Hawa Mahal Jaipur best market for shopping offers a wide range of bags in various sizes and shapes to best fit your needs.
Those who enjoy street markets in Jaipur's popular hand block printing will enjoy a special treat at the store. There are a variety of sellers who have boxes full of blocks intended solely for printing. Get your hands on some beautifully carved blocks and try your hand at printing on your own.
You've probably heard of the Jaipuri Razaiyan. This is the best bazaar in Jaipur to obtain one for yourself. The 250-year-old Kadarbaksh Razaiyan has exquisite razayian with beautiful hand block prints of various designs in-house for you.
There are several shops in the market that sell kurtis with Sanganeri prints. Gulab Chand is one of the most well-known of them. If you enjoy dressing up your little girl, you must pay a visit to Hawa Mahal Market, the best clothing market in Jaipur where you will find sets of lehenga cholis that will suit even little girls as young as 3-4 years old.
How much have we heard the phrase "Incredible India?" Hawa Mahal Market's small souvenirs demonstrate how awesome we are. It is one of the best shopping market in Jaipur.
Many chatwalas can be found while strolling through the market to feed your hungry tummies in the middle of your shopping spree. You can also take a seat at Wind View Café, which is located directly across from the Hawa Mahal.
Make sure you leave time to visit the Hawa Mahal Bazaar the next time you visit the Taj Mahal; the market obviously has a lot to offer.
Just fill in the form here with all necessary details and we will provide you the perfect, tailor-made itinerary at the best possible price, one of our travel experts will contact you shortly.
Recent Posts