Pushkar Fair 2023: The World's Largest Camel Fair
Immerse yourself in the vibrant hues of Pushkar Fair, the world's largest camel fair held annually between October and November. Beyond its origins in camel and livestock trading, this seven-day extravaganza has evolved into a cultural spectacle. Camel and horse races, cultural performances, and unique competitions like 'matka phod' and the 'longest mustache' draw thousands of tourists. The fair's global appeal is evident in attractions like the bridal competition and an exhibition football match between the local Pushkar Club and foreign tourists. Explore the charm of Rajasthan's heritage and traditions at Pushkar Fair, where the desert comes alive with color, culture, and the enchanting spirit of one of the world's most significant cattle fairs.
Dates and Location:
Dates: November 20th to November 28th, 2023
Location: Pushkar, Rajasthan, India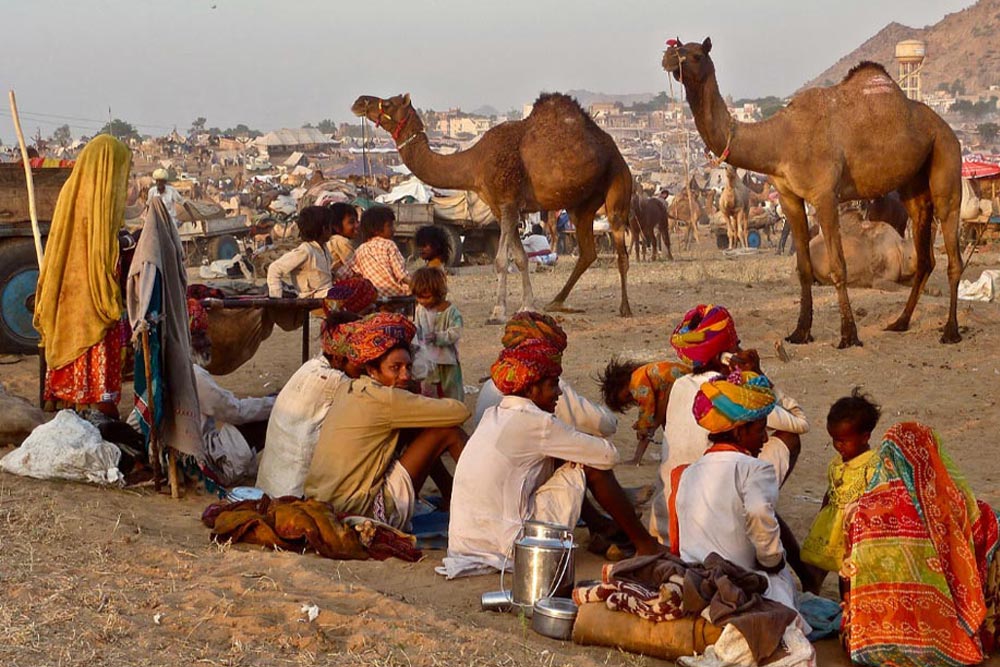 Unveiling the Charms of Pushkar Fair 2023: A Tapestry of Culture and Adventure
Discover the magic of Pushkar Fair 2023, where nearly 50,000 animals converge for the world's largest camel fair. Beyond the vibrant marketplace, indulge in the enchantment of Camel and Horse Safaris, offering a majestic exploration of the rugged Indian desert during the captivating moments of sunrise and sunset.
For a truly unforgettable experience, take to the skies with a hot air balloon ride, providing a bird's-eye view of the mesmerizing desert city. Witness the fair unfold below, creating memories that last a lifetime. Immerse yourself in the authenticity of rural India by spending time with locals, gaining deep insights into their traditions and way of life.
As the fair continues to weave its cultural tapestry, it has earned a prestigious spot in Rajasthan Tourism. Pushkar Fair 2023 invites you to embark on an adventure where tradition meets modernity, and the vast Indian desert becomes a canvas for unforgettable experiences.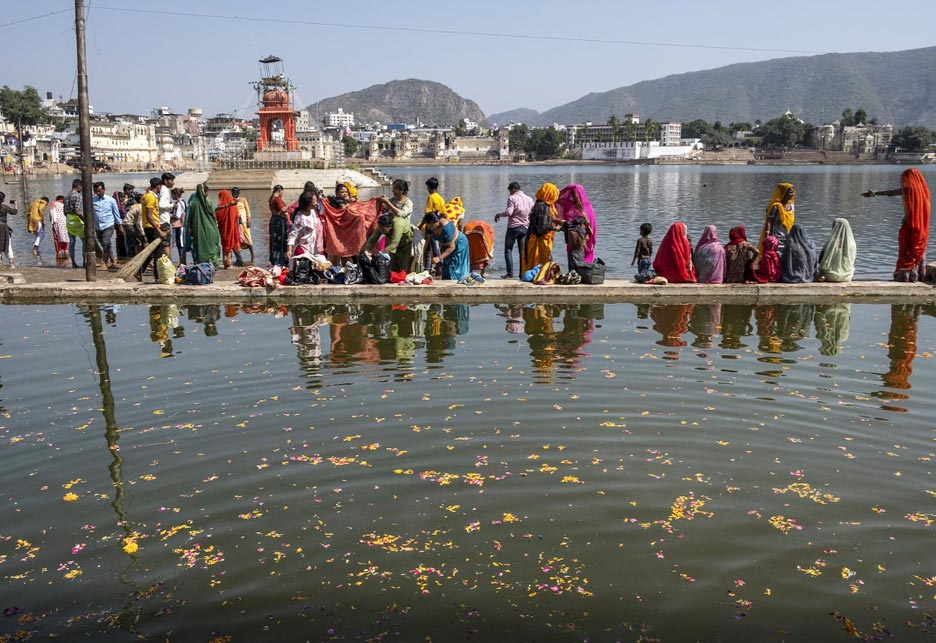 Embracing Tradition: Pushkar Fair 2023 on Kartik Purnima
Experience the spiritual allure of Pushkar Fair, an annual celebration coinciding with the holy Kartik Purnima. Held on the full moon day in the Hindu lunar month of Kartik, this auspicious occasion draws pilgrims from distant lands to partake in the sacred ritual of taking a dip in the holy waters of Pushkar Lake and offering prayers to Lord Brahma.
Adding to the mystical ambiance, the Pushkar Camel Fair unfolds during the winter, providing a respite from the scorching summer heat. Visitors can leisurely stroll through the fair, taking in the mesmerizing sights of rolling dunes and vibrant festivities without succumbing to fatigue.
As the sun sets over Pushkar, the air is filled with a sense of reverence and joy. The fair becomes a vibrant tapestry of traditions, offering a unique blend of spirituality and cultural richness. Pushkar Fair 2023 beckons, inviting all to immerse themselves in the sanctity of Kartik Purnima and the enchanting beauty of Rajasthan.
Where Tradition Meets Tranquility: Pushkar Camel Festival in Rajasthan's Heart
Journey to the heart of Rajasthan for the Pushkar Camel Festival, a cultural extravaganza celebrated in the picturesque town of Pushkar. Nestled on the edge of the Thar Desert, this holy town exudes charm and spirituality, making it the perfect backdrop for one of the most iconic events in India.
Pushkar, a small town with immense cultural significance, comes alive during the festival, offering a unique blend of tradition and tranquility. The town's proximity to the Thar Desert adds to its allure, creating a captivating setting for the world's largest camel fair.
As you explore the narrow lanes and vibrant markets of Pushkar, you'll discover the essence of Rajasthan's heritage. The Pushkar Camel Festival isn't just an event; it's an immersive experience in a town where every corner echoes with the stories of ancient traditions and a deep connection to the desert landscape. Join us in Pushkar, where the past and present converge in a celebration like no other.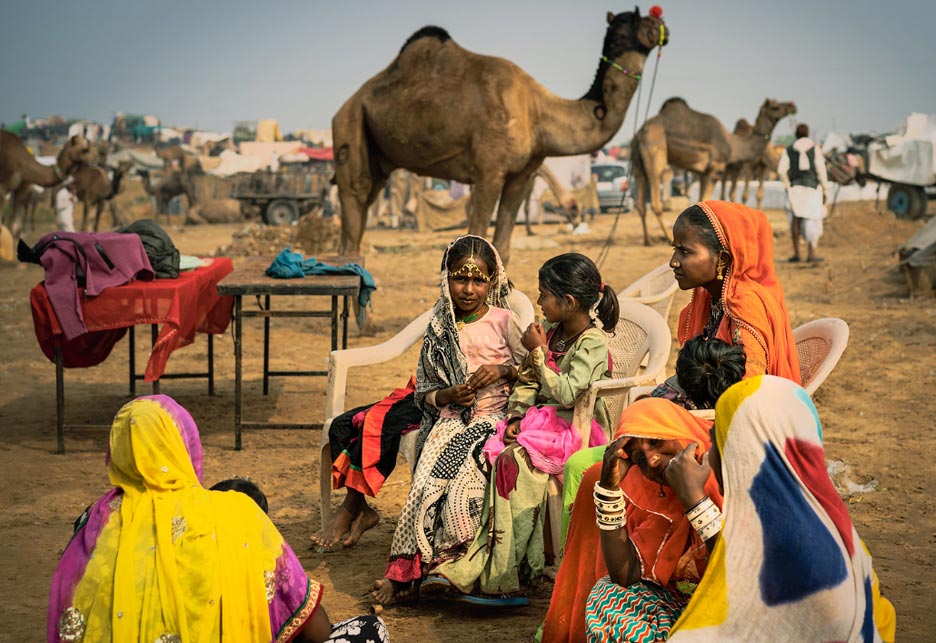 Dive into Spirituality: Pushkar Fair's Sacred Waters
Pushkar Fair isn't just a colorful spectacle; it's a divine journey. During this event, pilgrims flock to Pushkar Lake, seeking spiritual blessings through a sacred dip. Timed with the full moon, this ritual is believed to wash away sins and bring good fortune. Experience the religious fervor and serenity as devotees immerse themselves in the tranquil waters, creating a sacred ambiance that transcends the ordinary. Join the pilgrimage to Pushkar Fair for a brief yet profound encounter with spirituality amidst the vibrant festivities.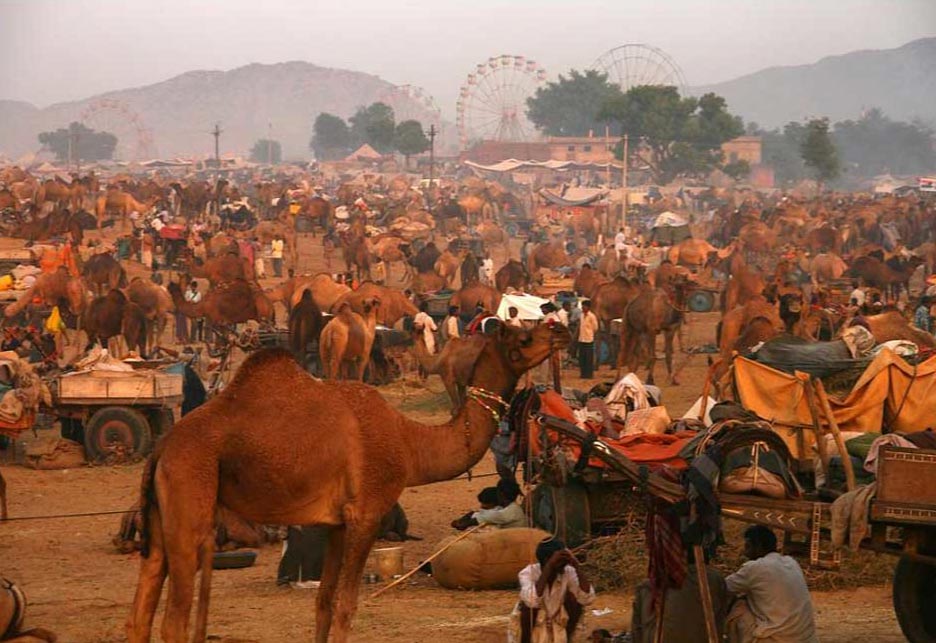 Unraveling the Festivities: A Closer Look at Pushkar Fair Celebration
Experience the grandeur of the Ship of the Desert, as camels take center stage at Pushkar Festival 2023. Adorned in vibrant attire, washed, and embellished with clothes, jewelry, silver bells, and bangles, they captivate onlookers in a mesmerizing parade. Don't miss the highlight – the Camel Beauty Contest, adding an extra layer of elegance to the festivities.
Camel Races and Thrilling Contests: Engage in the exhilarating world of camel races and captivating contests at Pushkar Fair. Witness the unique spectacle where camels transform into clown cars, providing both entertainment and excitement. Brave individuals climb aboard these spirited camels, creating a lively and unforgettable experience.
Souvenir Extravaganza: Explore the bustling souvenirs stalls at Pushkar Fair, where a diverse crowd of pilgrims, camel traders, and tourists converge. Immerse yourself in the vibrant atmosphere as you shop for treasures in local markets. From brassware and Rajasthani garments to camel saddles, these souvenirs offer a piece of the rich cultural tapestry.
Rajasthani Jewelry and Artistry: Discover the allure of Rajasthani jewelry, a display of chunky silver designs adored by local women. Whether your preference is silver or gold, the fair showcases traditional forms like rakhri, gajra, jod, Bala, gokhru, bajubandh, and timaniyan. Indulge in the artistic richness of rural jewelry unique to the small town of Pushkar.
Famous Rajasthani Artisanal Delights: Explore the diversity of Rajasthani craftsmanship at Pushkar Mela. From pottery to necklaces crafted with glass beads from Nagpur, Jodhpuri printed textiles, and other goods from Ajmer, the fair attracts cattle traders and farmers seeking saddles and leather whips. Immerse yourself in the vibrant colors, aromas, and traditions of this enchanting Indian festival.
Entertainment Extravaganza: Experience a sensory feast with musicians, dancers, acrobats, magicians, and snake charmers gracing the fair. Delight in temple dancing, folk and classical music, and peruse the arts and crafts bazaar. Don't miss the mustache competition, a highlight where men showcase their facial tresses, adding a touch of tradition to the festivities.
Hot Air Balloon Adventure: Elevate your Pushkar Fair experience with a hot air balloon ride. Glide over the festivities and witness the desert landscape bathed in the golden hues of sunrise. Tour companies offer exhilarating flights, providing a unique perspective of the camel fair. Additionally, indulge in the International Hot Air Balloon Festival organized during the fair, adding a touch of glamour to the cultural celebration.
---
Reaching Pushkar is convenient with various transportation options:
By Road:
Reach Ajmer, the nearest major city.
A 30-minute drive from Ajmer to Pushkar offers scenic mountain pass views.
Regular buses connect Ajmer and Pushkar.
By Train:
Ajmer has a railway station, just 11 km from Pushkar.
A passenger train departs at 9.50 a.m. and arrives in Pushkar at 10.50 a.m.
By Air:
Jaipur Sanganer and Kishangarh airports are the closest.
Jaipur Airport is 150.9 km away, and Kishangarh Airport is 41 km away.
Taxis are available, but rates may increase during the festival
Note: Negotiate taxi fares, especially during the festival when prices might double.
---
Things to do at the Pushkar Camel Fair
While the Pushkar Mela mainly exhibits camels and livestock as the world's largest cattle fair, its other events and features steal the spotlight. These additions elevate the overall fair experience, leaving visitors with delightful memories.
---
Exploring the Delights: Must-Do Activities at Pushkar Camel Fair
Indulge in Luxury: The Pushkar Glamping Experience - Experience the best of glamping at Pushkar Fair with Sky Waltz Camp. Choose from air-conditioned or non-air-conditioned tents for a comfortable stay. Enjoy captivating performances by renowned fusion maestros from across the globe.
Up in the Sky: Hot Air Ballooning at Pushkar Fair - Embark on the thrilling adventure of hot air ballooning at the Pushkar Fair. Witness the lively activities from a bird's-eye view, providing a unique and unforgettable experience. This exhilarating activity is a must-try, making the Pushkar Fair a top destination. Additionally, indulge in various adventurous activities such as paramotors, quad biking, and horse riding.
Cattle Extravaganza: A Highlight of Pushkar Festival in Rajasthan - The cattle fair takes center stage at the Pushkar Festival in Rajasthan, featuring owners showcasing their diverse livestock – camels, horses, cows, goats, and sheep, all bedecked in vibrant attire for buying and selling.
Artistic Treasures at Pushkar Camel Fair: Handicrafts Galore" Bring home exquisite handicrafts from the Pushkar Camel Fair. Explore makeshift stalls offering saddle straps, saddles, beads, and cowrie strings. Women can discover a variety of traditional silver ornaments, bead necklaces from Nagpur, patchwork garments, printed textiles from Ajmer, and classic footwear. The fair is a vibrant showcase of Rajasthani craftsmanship.
Experience Royalty: Elevated Seating at Pushkar Camel Fair - Indulge in regal comfort at the elevated sitting arena of Pushkar Camel Fair. This special tent viewing gallery, equipped with modern amenities, offers a splendid view of brightly adorned camels and horses. Watch riders dressed in vibrant traditional Rajasthani attire, adding a touch of royalty to your fair experience.
Running in Harmony: Experience the Pushkar Fair Half Marathon - Participate in the Harmony Half Marathon, a highlight of Pushkar Mela. Starting from Dargah Ajmer Sharif and concluding at Pushkar Stadium Ground, this run offers a unique and energizing way to engage in the vibrant atmosphere of the fair.
Choosing Your Retreat: Accommodation at the Pushkar Fair
When attending the Pushkar Fair, securing lodging is crucial for foreign and outstation travelers. Options like the accessible Limra Swiss Tents, approximately 13 km from Pushkar or 150 km from Jaipur, offer comfort and convenience.
Facilities at Swiss Tents include spacious beds, elegant furniture, private sitting areas, attached baths, and more. Additional amenities cover travel assistance, currency exchange, and entertainment options. Dining is a delight with a range of delectable Indian dishes prepared by skilled chefs. Ensure a memorable stay amid the vibrant festivities of Pushkar.
---
Immerse in Tradition: Pushkar Camel Fair 2023
Embark on a cultural journey at the Pushkar Camel Fair 2023 for an authentic Indian experience. Engage with rural life, interact with locals, and witness the vibrant festivities. Ensure a seamless stay by booking from our diverse collection of hotels in Pushkar, ranging from modern luxuries to authentic tent experiences.
Extend your exploration of Rajasthan with our curated Jaipur, Udaipur, and Jodhpur tour packages. Book your travel plans with us for a comfortable and hassle-free journey through the enchanting landscapes of Rajasthan.
Just fill in the form here with all necessary details and we will provide you the perfect, tailor-made itinerary at the best possible price, one of our travel experts will contact you shortly.
Recent Posts