Rajasthan is famous for its deserts, nobility, and forts. But, as you marvel at the majestic beauty and grandeur of its forts and palaces, there is one spot that may entirely transform your experience. We dare you to visit Bhangarh Fort in Jaipur, Udaipur, Jodhpur, or Pushkar, which is one of India's most outrageously haunted places.
Bhangarh Fort is located in the princely state of India's Alwar district. The name Bhangarh Fort is not for the faint of heart, since it is located on the outskirts of the famed Sariska Tiger Reserve in the area. It is listed as one of the most haunted places in India and the globe, and simply hearing the story, let alone seeing it, may give you goosebumps. The Bhangarh Fort has a long history, having been established in the 17th century in Rajasthan. It is still a famous tourist site.
Raja Bhagwant Singh, the Kachwaha monarch of Amber, erected the Bhangarh Fort in 1573 AD for his younger son Madho Singh. Madho Singh's brother was the famous Man Singh, who served as Akbar's commander. Chatr Singh, Madho Singh's son, succeeded him. Ajab Singh, Chatr Singh's son, erected the fort of Ajabgarh.
Abhaneri stepwell-
Chand Baori, also known as the Abhaneri Step Well, is a stepwell in the Abhaneri hamlet near Jaipur, which is a popular tourist site. Abhaneri Step Well is regarded as an architectural marvel by many national and international visitors that visit it.
The stepwell is approximately 30m (100ft) deep and is one of India's deepest and largest step-wells. Because of Rajasthan's dry environment, step-wells are fairly widespread. The stepwell, which is located in the eastern dryer portions of Rajasthan, was created largely to store water.
Abhaneri stepwell not only holds water, but it is also beneficial for groundwater collecting. This wonderful and peculiar feature of Abhaneri Step Well distinguishes it as one of a kind in India.
The Abhaneri Step Well is recognized as one of the most beautiful step wells in the world. The stepwell's distinctive structural construction, along with its unusual design.
The architecture of Abhaneri stepwell –
The step well's geometrical setting is so unusual that it has never been seen before in contemporary times. The Abhaneri Step Well is 100 feet deep and requires around 3,500 steps to reach the bottom. The stepwell features steep stairs on three sides and galleries on two stories on the fourth.
A total of 3,500 stairs are built horizontally, rather than straight on all three sides. The fourth side, which faces the stepwell, holds several Lord Ganesh and Mahisasurmardini statues and functions as a pavilion with some beautifully carved jharokhas. The stairs of Abhaneri Step Well have a very mysterious appearance, with shadows falling on them and sunshine playing its game.
Sariska place famous for-
Sariska National Park, located in the Aravalli highlands, was designated a wildlife sanctuary in 1955 and a Tiger Reserve under Project Tiger in 1979. Because of its remarkable natural beauty and bio variety, the park is a popular destination for nature and animal enthusiasts.
By organizing a visit to the park, you may enjoy a nature stroll, wildlife photoshoot, jeep/camel safari, and a luxurious stay in a wildlife lodge in Sariska National Park. Sariska is a nature paradise away from the hustle and bustle of the city, where you can unwind and spend some quality time in a tranquil environment.
Alwar is the destination of the Fairy Queen's trip. Fairy Queen, the world's oldest operating engine and a national treasure of India, conducts a train from the Delhi encampment to Alwar in Rajasthan. The engine was manufactured in 1855 and purchased from a British business by the Eastern Indian Railways. The train that uses this engine is now a tourist attraction.
The history of Alwar and its roots may be traced back to 1500 BC. It is nestled in the verdant slopes of the Aravalli range and is home to majestic palaces and forts from a bygone period. The deep valleys and dense forest cover of the hills provide a safe refuge for numerous kinds of birds, such as the grey partridge and white-throated kingfisher, as well as mammals, like the Bengal tiger and golden jackal.
Ajmer, sometimes written Ajmer, is a city in the state of Rajasthan in northern India. The settlement is located on the lower slopes of Taragarh Hill, which has a castle on its peak.
Ajayadeva, an 11th-century Rajput monarch, created Ajmer. In 1193, it was captured by the Slave dynasty of the Delhi Sultanate.
Ajmer is located in the state of Rajasthan, in a valley surrounded by the historic Aravalli Range. Ajmer was called from Ajay Meru, which means "Invincible Mountain," and refers to the Taragarh hill on whose slope Ajmer is located.
It is a historic city that has received assistance from the Indian government's Yojana Scheme. It is located west of Jaipur. Ajmer Sharif and Adhai Din ka Jhonpra are two renowned tourist destinations in the city of Ajmer.
Pushkar is one of India's oldest cities. Pushkar is a popular destination for thousands of visitors and worshippers traveling to Rajasthan. Pushkar, at 510 meters in elevation, is flanked on three sides by hillocks. The 'Nag Pahar,' or Snake Mountain, creates a natural boundary between Ajmer and Pushkar.
The essence of the famed Pushkar rose, known as 'the rose garden of Rajasthan,' is sold all over the world. Pushkar is a fascinating city since it has an amazing mythical background as well as a legacy of ageless architectural heritage.
According to tradition, Lord Brahma, who is said to be the creator of the Universe, placed a lotus on the ground, causing an instant lake to form. He, therefore, chose to call the town Pushkar after the flower, thus the name.
The city of Pushkar is home to the world's only temple devoted to Lord Brahma. A trip to Pushkar is considered by Hindus to be the ultimate pilgrimage that must be made to achieve salvation.
Ranthambore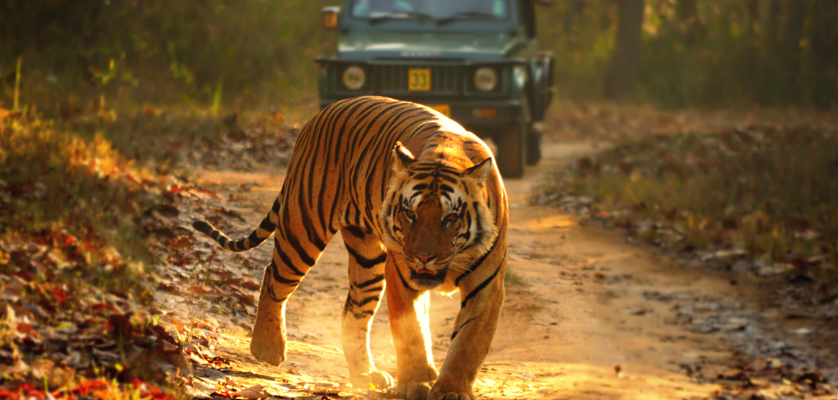 National Park is a wildlife enthusiast's dream. It is well-known for its National Park and Tiger Reserve, but these are not the only attractions that draw visitors to Ranthambhore. Ranthambhore is more than just a popular natural environment because of its enthralling landscapes, palaces, and royal remains.
Kesroli is a tiny hamlet in Rajasthan's Alwar District. It is 155 kilometers from Delhi on the Delhi-Jaipur National Highway.
Kesroli's origins may be traced back to the Mahabharata's Matsya Janapada. Tourists can visit the Buddhist Vihara at Viratnagar in addition to the Hill Fort of Kesroli. Apart from its Hill Fort, the settlement of Kesroli is also known for its beautiful green environment and is popular with travelers.
The Yaduvanshi Rajputs are said to have erected the 14th-century Kesroli Fort, which climbed to a height of 150-200 feet. It is one of Rajasthan's oldest historic sites. Kesroli village is a fantastic choice for amateur zoologists and ornithologists who wish to learn about India's biodiversity.
Mandawa,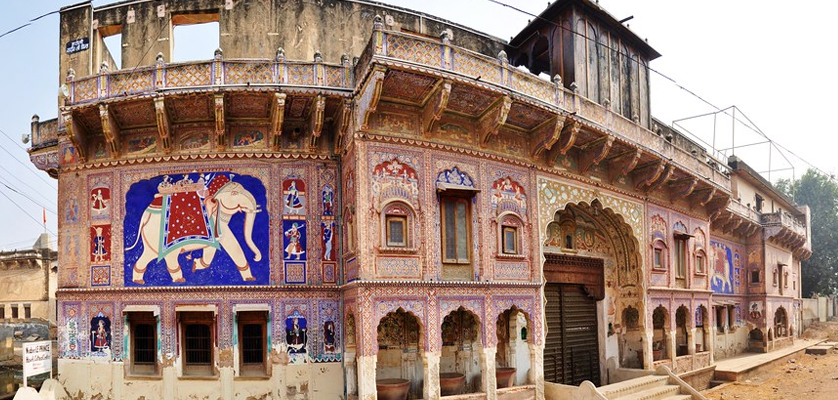 located around 190 kilometers from Jaipur, is a highly happening village in Rajasthan identified as an early palace that completes the Shekhawati tourism map. In the middle of the 18th century, Mandawa was designated as a thikana. Mandu Jat had previously been mentioned as the founder of the Mandawa village. He initially created a Dhani (hamlet) and dug a well here, which he finished on savan badi 5 samvat 1797. Originally known as 'Mandu ki Dhani,' 'Mandu ka bas,' or 'Manduwas,' it was then shortened to 'Manduwa,' 'Mandwa,' and ultimately 'Mandawa.'
Salasar Dham in Jaipur-
Salasar 'DHAM,' Located In Rajasthan's Churu District, Is A Religious Destination On The Jaipur-Bikaner Highway. The Salasar Temple Is Considered 'Swayambhu' (Self Creation) And Is 'SHAKTI STHAL' (Place Of Power).
Salasar Balaji Is Part Of The Religious Circuit That Includes Ranisati Dadiji Mandir (Jhunjhunu), Khatu Shyam Ji (Khatu), And Salasar Balaji.
These three important pilgrimage sites are close to one another and attract millions of visitors each year. The 165-kilometer drive from Jaipur takes around two and a half hours, with plenty of refreshment stops along the way. It is also close to Sikar (57 km), Lakshmangarh (31 km), and Sujangarh (27 Km).
History of Bharatpur-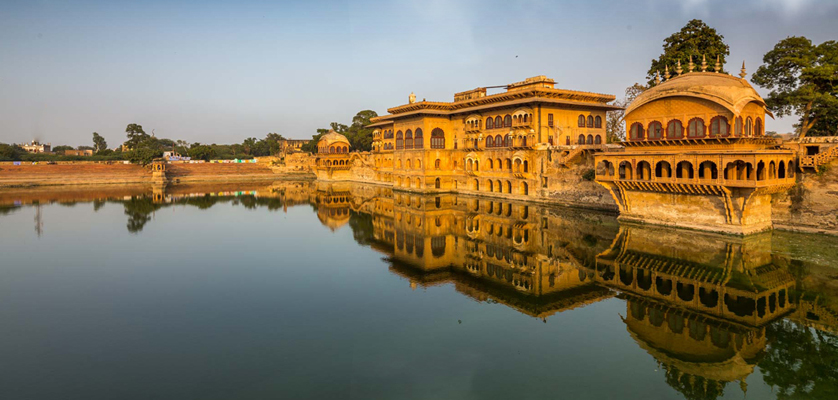 Bharatpur's history stretches back to the 5th century BC when the Matsya monarchy flourished here. The Pandavas' allies in the Mahabharata conflict were the Matsyas. According to legend, the name Bharatpur derives from Bharat, Lord Ram's younger brother. Laxman, the other brother, was awarded the most coveted position as the family god of Bharatpur's royal dynasty. His name can also be seen on state seals and coats of arms.
The brave Maharaja was eager to expand the city and is attributed to the construction of the various forts and palaces that dot the country, notably the Pleasure Palace Complex at Deeg.
Keoladeo Ghana National Park, one of the world's best-known bird-watching locations, is also located in Bharatpur (KNP). The then-ruler erected embankments that permitted flooding of this area, converting it into a marsh, 250 years ago.
This 29 square kilometers man-made wetland, named for the dense jungle that encircled an ancient Shiva Temple, is well-known for migrating species like ducks, geese, waders, raptors, flycatchers, and others.
Avid birders and ornithologists go to the park in the winter to see and study the feathered beauties. KNP, which has over 370 recognized species, used to be home to the Siberian crane. It's a UNESCO World Heritage Site.
Just fill in the form here with all necessary details and we will provide you the perfect, tailor-made itinerary at the best possible price, one of our travel experts will contact you shortly.
Recent Posts