Though historical splendour is at the heart of Jaipur's tourism(places), the city also offers religious sites, architectural marvels, and even an ancient astronomical observatory. In your first-day itinerary of places to visit in Jaipur on a two-day tour, we've included a little bit of everything. Since all of these locations are within the area, you can easily visit all of them and spend a vital amount of time doing so.
Jaipur's City Palace
The magnificent City Palace, located in the heart of Jaipur, transports you to a time of royal grandeur and magnificence. The palace features a striking fusion of Rajput and Mughal architectural styles, making it one of Jaipur's must-see attractions. You'll be transported to another world once you step inside, with sprawling halls, courtyards, parks, royal homes, art galleries, and more. There's also a museum that gives visitors a look into the royal lifestyle. You can see the royal garments worn by Maharaja Sawai Man Singh II and Maharaja Sawai Madho Singh I at the museum.
Jaipur's Hawa Mahal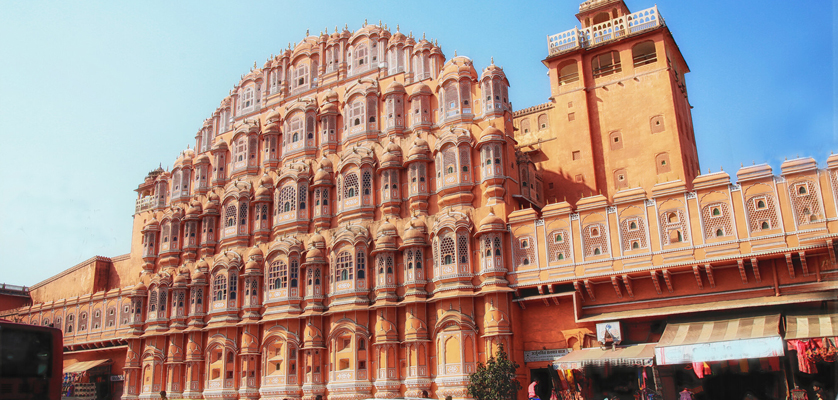 When you think of the Pink City, the Hawa Mahal is the first thing to mind. Built by the great Maharaja Sawai Pratap Singh in the year 1799, it is an iconic landmark in the region. The fact that this five-story building has 953 small windows is one of its distinguishing features. The pyramidal structure's lattice of windows allows breeze to flow into the inner chambers. As a result, even when it's scorching outside, the Hawa Mahal's interiors have a cooling impact. From the Hawa Mahal's top, you can get a great view of the Jantar Mantar and the City Palace.
Jaipur's Jantar Mantar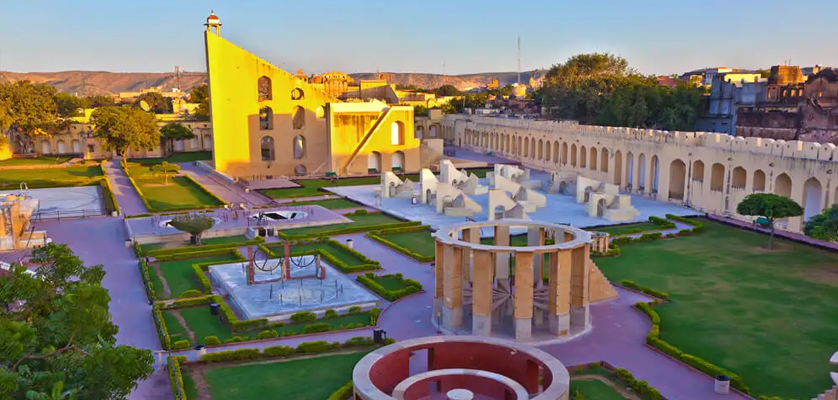 Have you ever questioned how people in the bygone eras used to measure time or keep track of heavenly bodies' movements or even predict eclipses? All of these questions have their answers in Jantar Mantar. It was founded in 1734 as an astronomical observatory. This observatory, designed by Maharaja Sawai Jai Singh II, houses nineteen architectural astronomical instruments. The stone sundial, which is the world's largest of its kind, is the most prominent of them all. This UNESCO Heritage Site is a heaven for astronomy enthusiasts and certainly deserves to be on your list of tourist temptations to visit in Jaipur in two days sightseeing.
Jaipur's Albert Hall Museum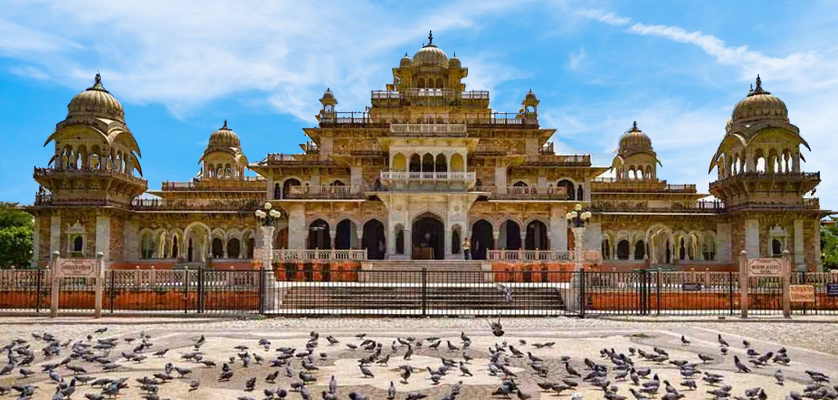 The Albert Hall Museum is not only Rajasthan's oldest museum; it is also a fascinating place that provides a glimpse into Jaipur's rich history and heritage. The museum's hall is an impressive building in and of itself. The State Museum of Rajasthan houses a fascinating collection of artifacts such as sculptures, paintings, crystal works, ivory pieces, carpets, metal objects, and jewellery. An Egyptian mummy, one of the few mummies kept in India, is one of the museum's highlights.
Jaipur's Birla Mandir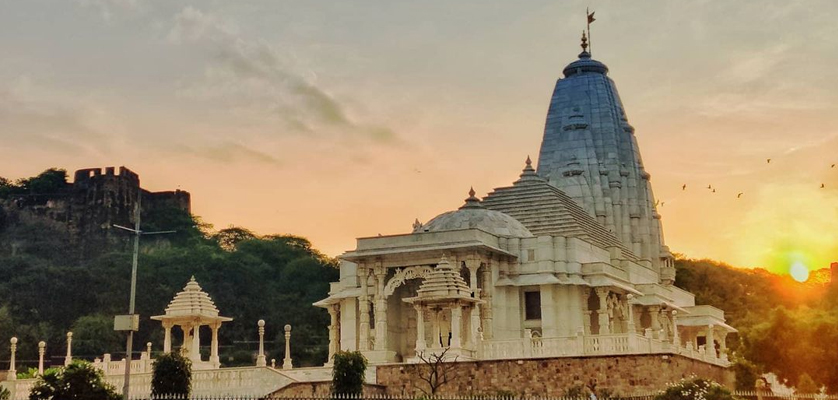 The Birla Mandir in Jaipur is the ideal mix of grandeur and serenity. The temple is also known as the Laxmi Narayan Temple because it is dedicated to Goddess Lakshmi and Lord Vishnu. The dazzling white marble building, set against the lush green backdrop of Moti Dungri Hill, paints a picture of breathtaking beauty. The temple architecture is beautiful in and of itself. It is one of Jaipur's grandest temples, with scenes and quotations from the Bhagavad Gita adorning its walls. Under the night sky blanket, this white marble temple takes on a mystical appearance when illuminated in the evening.
What more excellent way to get a sense of Jaipur's grandeur than to visit some of the city's most prominent forts? That's why we've built the second half of your 2-day Jaipur itinerary around the city's majestic forts and a few other must-see sights. Here's what we suggest for your second day in Jaipur:
Jaipur's Amer Fort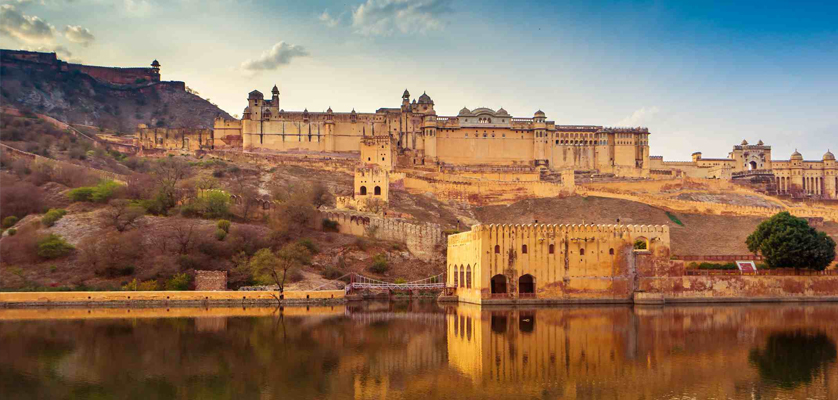 Jaipur's sights journey will be incomplete without a stop at the magnificent Amer Fort and Palace. Amer Fort, the most abundant of Jaipur's forts, embodies architectural brilliance and royal splendour. The fort's opulent palace is constructed on four floors. The Sheesh Mahal, or Palace of Mirrors, is one of the fort's most famous attractions. This magnificent structure is adorned with a mosaic of gleaming mirrors and glass inlaid along the walls and ceiling. You can also get an elephant ride or shop for souvenirs inside the fort.
Jaipur's Jaigarh Fort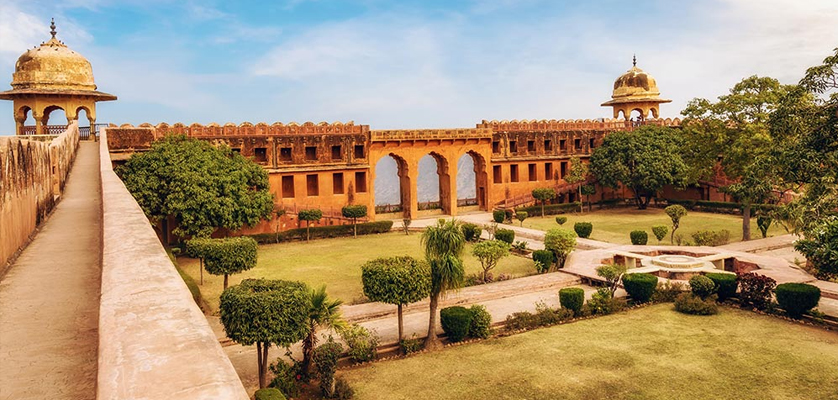 Jaigarh Fort, perched atop the Cheel ka Teela or Hill of Eagles, is one of Jaipur's most interesting attractions. The opulent fort features courtrooms, triple arch gateways, temples, parks, an armoury chamber, and a central watchtower with spectacular views of the surrounding countryside. The Jaivana cannon is the fort's biggest attraction. It once held the record for holding the world's largest cannon on wheels. It still stands proudly inside the Jaigarh Fort today.
Jaipur's Nahargarh Fort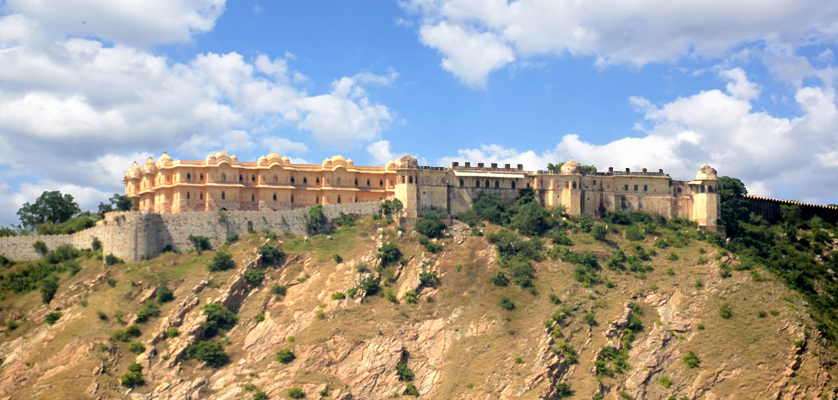 For nearly 300 years, the Nahargarh Fort has stood watch over Jaipur. Along with the Jaigarh Fort and the Amer Fort, it was once part of Jaipur's incredible defensive ring. This fort was used as a hunting retreat by the Jaipur royal family. The fortification walls of Nahargarh Fort reached beyond the fortification walls of Jaigarh Fort, linking the two forts. A visit to Nahargarh will also provide you with stunning views of Jaipur.
Jaipur's Jal Mahal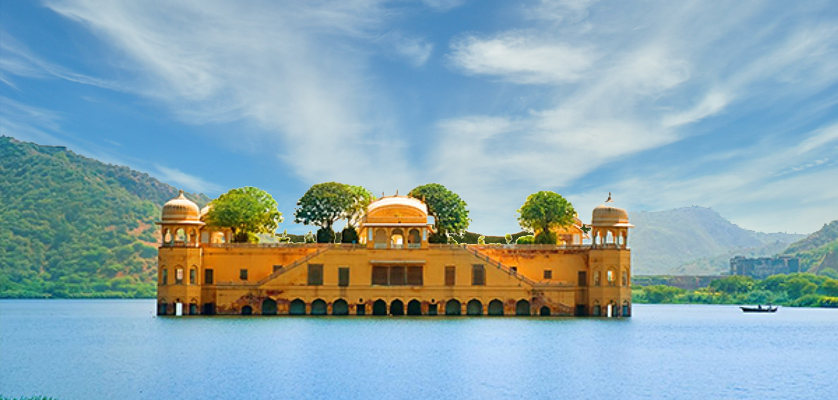 Jal Mahal, a grand five-story palace in the middle of the Man Sagar Lake, is another jewel in Jaipur's crown. When the lake is complete, however, four of these stories remain submerged. Just the palace's top storey is visible above the water, giving the impression that it is floating on the lake. The architecture of the palace is in the Rajput style. It was once the king of Jaipur's duck hunting retreat. Visitors are currently barred from entering the Jal Mahal. However, you can appreciate its elegance by taking a leisurely boat ride on Man Sagar Lake and seeing the palace up close.
Jaipur's Bapu Bazar
It's a felony to leave Jaipur without indulging in some soulful shopping. Bapu Bazar is one of Jaipur's most lively and colourful shopping districts. This busy market sells a broad range of typical Rajasthani products and objects you can take home with you. Local handicrafts, brass works, textiles, leheria stoles, lac jewellery, block printed bedspreads, sandalwood figurines, you name it, you'll find it.
Jaipur does also have a plethora of tourist-drawing attractions. Many of these sights can be enjoyed on a two-day trip through the district. To the most of your experience in the city, check out our blog on places to visit in Jaipur at night. But go ahead and make the Pink City red, and have a nice time doing it.
Isarlat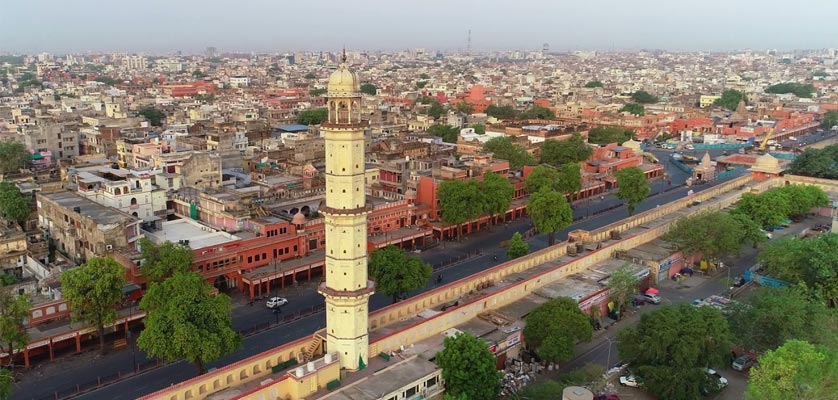 Ishwari Singh, Sri Sawai Maharaja, was born in February or March 1722. He was the eldest descendant of Sawai Jai Singh ll of Jaipur, who was also married to Sisodia princess of Mewar, probably on Maharani Chandra Kanwar's condition's son would be king. However, the Maharana of Mewar did not approve of Sawai Jai Singh ll's desire for Ishwari Singh to be king.
Soon after, conflicts between Sawai Ishwari Singh and Sawai Madho Singh, Maharaja Jai Singh's son from Maharani Chandra Kanwar Ji, lead to war on the throne. The first war between the brothers took place in 1744 when Sawai Ishwari Singh was proclaimed King by Mughal King Muhammad Shah, and the Marathas backed Sawai Madho Singh. In 1747, Sawai Ishwari Singh defeated Sawai Madho Singh with the help of the Mughals in the first battle.
Just fill in the form here with all necessary details and we will provide you the perfect, tailor-made itinerary at the best possible price, one of our travel experts will contact you shortly.
Recent Posts