About Jhalana leopard safari
The Jhalana Leopard Reserve, also known as Jhalana Safari Park, is India's first leopard reserve, located in Jaipur, Rajasthan. It is surrounded by the Aravali Hills, India's oldest mountain range. In 2017, Jhalana was designated as a leopard reserve. The reserve covers 20 square kilometers and Leopard Safari at Jhalana. Jhalana is at a distance of Maximum 8-9 km from Jaipur Pink City And is home to a diverse range of flora and fauna.
The Jhalana Sanctuary in Jaipur is renowned for its leopard population and a variety of other wildlife. The forest was formerly the hunting grounds of Rajasthan's Maharajas. Leopards and other species such as common langurs, desert foxes, and others are often seen in this sanctuary. This park also has one of the most beautiful sunrises and sunset views, and views of the Aravalli mountain range. The leopard population has been well-preserved, resulting in a substantial rise in the number of leopards in the park.
Currently, the Jhalana Leopard Conservation Reserve is home to over 30 leopards and five cubs! Striped Hyenas, Indian civets, desert cats, and forest cats, desert foxes, jackals, porcupines, jungle rats, monitor lizards, mongooses, Sambar deer, spotted deer (chital), Blue Bull (Nilgai), and several snakes can all be seen in addition to leopards. You can also go to Shikaar Audhi, the three-story hunting lodge of Jaipur's royal families. It's situated in the heart of the leopard reserve! There's an animal-spotting platform there, as well as views of the sunrise and sunset.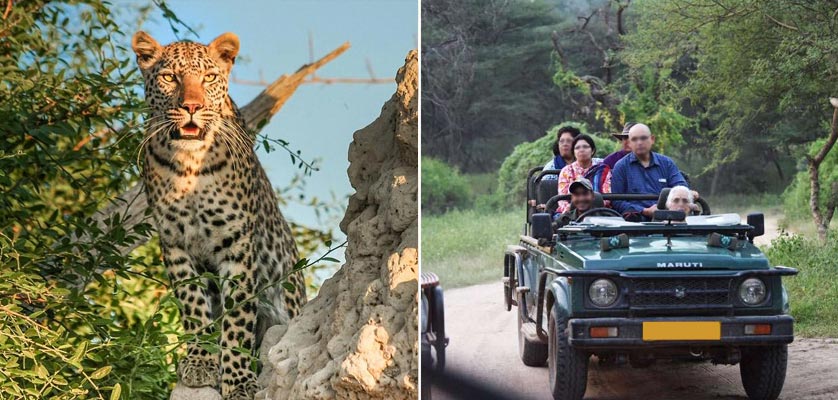 Jhalana Safari first opened its doors to tourists in 2016. Jhalana safari park is the perfect place to see a leopard because it has a large and healthy population. It can happen within the first 5 minutes of entering the park. Because of their diurnal existence, Leopards can be seen throughout the day, and they are unafraid of jeeps and humans in their natural environment. Jhalana safari park quickly gained popularity among nature lovers and is now a well-known destination for wildlife tourism worldwide. The park, which is nestled in the foothills of the majestic Aravali hilly terrain, is a wonderful gateway to an adventure-filled holiday amongst the raw nature, as well as an unforgettable sighting of exotic wild animals.
Aspects to Consider
Leopard safari in the natural habitat of Jhlana's leopards.
During the safari, you will be guided by a professional naturalist.
A safari in a versatile 4x4 vehicle around the sanctuary.
A Shikaar Audhi to showcase the breathtaking sunrise and sunset views, as well as the Aravallis.
Around 35-40 Leopard in Jhalana,
Jhalana leopard Safari it is 100% safe also for Children
JHALANA LEOPARD RESERVE FLORA AND FAUNA:
Flora in Jhalana Leopard Reserve: The Jhalana Leopard reserve landscape is dominated by narrow valleys of the Aravallis and sharp cliffs of hills. The tranquility and captivating natural surroundings of the Jhalana forest are extremely calming and a pleasure for the mind. Such diverse wildlife in such a densely populated area distinguishes this land as a distinct and special destination for nature lovers.
Jhalana is a deciduous forest with a dry climate. Since trees shed their leaves in the dry season and turn lush emerald during the monsoons, the forest remains dry for most of the year. Plants like juliflora (Prosopis juliflora) and khejri dominate the Jhalana trees (Prosopis cineraria). The fast-growing juliflora was originally planted to provide local villagers with firewood. Other grasslands and forests, on the other hand, are not supported by trees. More local flora varieties, such as dhak (Butea monosperma), salar (Boswellia serrata), dhonk (Anogeissus pendula), and kumta, can be found in the slanting valleys (Acacia Senegal).
Fauna In Jhalana Leopard Reserve: Obviously, the majestic Leopard is the prime and most covered mammal of this Jhalana Leopard Reserve, which is also the top predator of the region and who comes first in the food chain of the Jhalana forest reserve. Although the Leopard is considered to be a nocturnal, solitary, shy, and seldom seen hunter with masterful stealth hunting skills, leopards in the Jhalana National Park are diurnal, similar to tigers in Ranthambore and Sariska, making it one of the most visited reserve forests by Leopard lovers.
Leopards, Indian civets, desert cats, and jungle cats are among the other big cats found at the Jhalana Leopard Park. Other animals such as the Striped Hyena, desert foxes, jackals, porcupines, jungle rats, monitor lizards, mongooses, Sambar deer, spotted deer (chital), Blue Bull (Nilgai), and several snakes find food and shelter in this area.
Jhalana Leopard Reserve is home to a plethora of endangered bird species, making it a birdwatcher's paradise. Jhalana National Park is home to various birds, including the Indian Pitta, Dusky Eagle, Owl, Spotted Owlet, and others.
JHALANA LEOPARD RESERVE'S BEST TIME TO VISIT:
The Jhalana Leopard Reserve (India's first leopard reserve) is open to tourists for safari tours all year, including during the monsoon season, from January 1 to December 31 each year, depending on the season's entry timings. During the monsoon season, most of the country's protected reserves are closed, but there's plenty to make up for it.
While one can enjoy the Jhalana Leopard Safari and marvel at the magnificent Leopard at any time, the months of November to April are considered the best for visiting Jhalana Reserve because the weather is pleasant and nature is in full bloom, enhancing the forest's beauty.
GETTING TO THE JHALANA LEOPARD RESERVE:
By Air: The Jaipur International Airport is just 6 kilometers from the Jhalana Leopard Reserve, around a 15-minute drive from the airport. Numerous domestic and international flights link the pink city of Jaipur to cities all over India and the world. To get to Jhalana Safari Park, take a taxi, cab, or bus from Jaipur airport.
By Rail: The Jhalana Leopard Reserve is located near the Jaipur Junction Railway Station. It is approximately 11.7 kilometers from the park. The station is a well-known tourist destination with direct trains from major Indian cities such as Udaipur, Delhi, and Mumbai. You can either hire a taxi or take the local bus to get from the station to Jhalana.
By Road: A direct road passes through the Jhalana forest reserve, linking it to Mumbai, Ahmedabad, Udaipur, Kota, and others, which are further linked to India's major cities. If you choose a direct road trip from Delhi, Mumbai, or Udaipur, you will have no trouble reaching Jhalana. To get to Jhalana, you can either drive yourself or take the state bus.
---
About Ranthambore national park
It is one of India's largest and one of the most famous national parks, and is one of Rajasthan's top wildlife tourism destinations. Ranthambore is situated in Rajasthan's Sawai Madhopur district, just 180 kilometers from Jaipur (the nearest airport is Jaipur International Airport) and 110 kilometers from Kota. Sawai Madhopur is the closest railway station to Ranthambore. The ten zones of Ranthambore National Park are best for tiger sightings, with zones 1-5 being the best.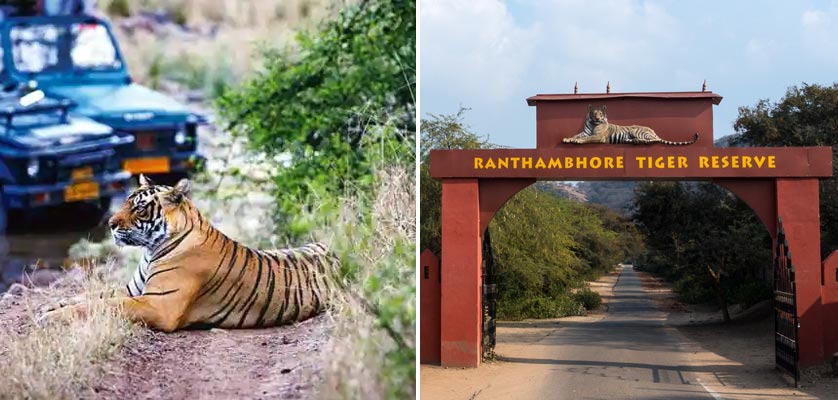 The park is considered one of India's best wildlife reserves. It is best described as a tiger-friendly land that proudly preserves India's most famous tigers, characterized by distinctive marks on their bodies and ruling territories. The dense vegetation provides the best conditions for the tiger to search for his prey in stealth, and it is the only national park in India where mother and cub tigers can be found in large numbers.
Ranthambore National Park: A Quick Tour
The reserve was first established by the Indian government in 1955 as the Sawai Madhopur Gaming Sanctuary.
In 1973, it was designated as one of India's Project Tiger Reserves.
Ranthambore became a national park in 1980.
Sawai Mansingh Sanctuary and Keladevi Sanctuary were established in the nearby forests in 1984.
Sawai Mansingh and Kaladevi Sanctuaries were added to the tiger reserve in 1991.
The Ranthambore National Park is famous for its tiger population and is one of the best places in India to see these magnificent predators in their natural habitat. It is the only reserve in the area where visitors can easily see tigers at any time. It is one of the reasons why tiger tours are so popular in the region.
Ranthambore's wildlife
Leopard, nilgai, wild boar, sambar, hyena, sloth bear, and chital are among the major wild animals. It also supports a diverse range of trees, plants, birds, and reptiles. With over 270 different species of birds, the reserve also has a flourishing bird community.
The tiger population was 26 in 2005, which was significantly lower than the reserve's estimated tiger population of 44 in 1982. A survey conducted by non-government resources reported that 34 adult tigers were registered in Ranthambore in 2008. More than 14 tiger cubs have been registered, bringing huge praise to the conservation efforts and the wildlife management authority for the Ranthambore Tigers' well-being.
More importantly, tigers in Ranthambore are today's heroes because they have their name and identity, as well as distinct distinguishing marks. Ranthambore tigers are world-famous with their local pet names, including Machali (T-16), Dollar (T-25), Sitara (T-28), Bina One, Bina Two, and many others. Thanks to the emotional experiences of wildlife experts, photographers, and jungle officials. With such a rise in Ranthambore's number, some of the tigers have been moved to nearby reserves such as Sariska Tiger Reserve. The tigress sisters (Bina One and Bina Two) have recently relocated as an example.
Ranthambore is an excellent place to live if you want to:
There are 40 different types of mammals.
320 different bird species
Reptiles (40 species)
a pair of amphibian species
Butterflies (50 species)
300 different plant species
Ranthambore has a variety of lodging options.
Since Ranthambore is one of India's most popular wildlife destinations for domestic and foreign visitors, the lodging options are excellent. This wildlife destination offers a wide range of lodging options, from 5 stars to budget to tented accommodation, to suit visitors' needs. Every hotel and resort in Ranthambore provides adequate amenities to its visitors.
When is the best time to visit Ranthambore?
The key tourist season in Ranthambore National Park in November to March, when all of the safari gates are open. During monsoon, which is from July to mid-October, Ranthambore Park is closed, but tourists can still visit since a few gates are partially open. Summer is the most fitting time to visit Ranthambore for wildlife photographers, as tigers leave their caves searching for water, and the chances of seeing a tiger are higher.
How do you get to Ranthambore?
By Air: The closest airport to Ranthambore is Jaipur, which is 180 kilometers away from the reserve.
By Rail: Sawai Madhopur railway station, on the Delhi-Mumbai trunk line, is approximately 11 km from Ranthambore National Park.
By Road: Ranthambore is easily connected by road. To get to Sawai Madhopur, it is best to hire a car or taxi. Just 1.5 kilometers separate you from the Kota-Ranthambore mega highway.
Ranthambore's Tourist Attractions
Trinetra Ganesh Temple is the oldest Ganesh shrine in Rajasthan, and it is located within the famous Ranthambhore Fort. King Hammeer, who dreamed of Lord Ganesha before discovering an idol of him with three eyes (Trinetra) in the fort, founded this famous temple in Ranthambhore.
Ranthambore Fort is a 13-kilometer drive from Sawai Madhopur Railway Station and is an ancient fort. The Ranthambore Fort, which was established in 944 AD and was originally known as "Ranath Bhawar Garh," which means "a place of Rajput warriors," was the home of the most famous Ranthambore tigress, Machali, who died a few years ago. Tiger fans, especially those who admired Machali, the "Queen of Ranthambore," came to this fort in particular to see her mighty and royal movements. She was renowned for her courage and for extending her territories by beating the other Ranthambore tigers.
The Kachida Valley is situated on the reserve's outskirts and features various outcrops and low hills. Tourists will go on a Jeep Safari to explore the Kachida Valley area and have a great time. It is the only place where the Panther population of Ranthambore National Park can be identified. They avoid going into the main area of the jungle to avoid encountering tigers. Aside from that, there are a lot of beers here.
The Jogi Mahal is a fort that is considered one of the must-see attractions in Ranthambore National Park.
Popular Nearby Tourist Attractions
Jaipur: It is the most popular tourist destination in Rajasthan, Jaipur, the capital city of Rajasthan, attracts many visitors due to its magnificent architectural splendors such as the City Palace, Jal Mahal, Hawa Mahal, Amber Fort, Nahargarh Fort, and others. Jaipur, located 180 kilometers by road from Ranthambore, is the ideal destination for a change of pace. Tourists can also learn about colorful cultures and customs to get a better understanding of India.
Agra: Whose name conjures up images of the Taj Mahal, has always drawn many visitors from all over the world. A visit to the Taj Mahal as part of an India tour is a must for all, as it is India's embodiment of Mughal architecture. The city of love is only 247 kilometers from Ranthambore Tiger Reserve, so if you want to spend some romantic time with your partner, Agra is the best choice.
Bharatpur: Another enticing destination for wildlife enthusiasts and those who appreciate the value of a comprehensive wildlife tour in India, Bharatpur is the land of the birds, with about 400-600 different bird species to discover. The Bharatpur Bird Sanctuary, aptly dubbed "paradise for ornithologists," is located 237 kilometers from Ranthambore. It is the most desirable place to see large flocks of migratory birds and the ideal sanctuary to see the popular Siberian Crane during the winter.
---
About the Sariska Wildlife sanctuary
In the Alwar region of Jaipur, Sariska National Park, Rajasthan, is one of the most visited national parks in the world. This national Park, located about 107 kilometers from Jaipur, spans an unfathomable 800 square kilometers of land and is managed by the Rajasthan government. The Park is divided into sections of deciduous trees, farms, rugged scenery, and cliffs.
The Sariska National Park surrounds the 'Siliserh Lake' and the 'Jai Samand Lake,' which are home to various crocodiles, water snakes, and other land and water creatures. Although that there are few tourist attractions in the vicinity of Sariska, the National Park serves as an unspoiled retreat for visitors looking for peace and endless stretches of diverse vegetation in Jaipur, Rajasthan.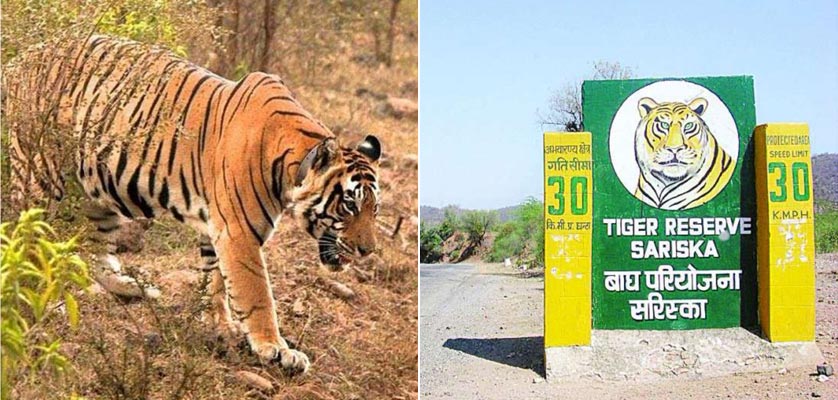 The sanctuary also contains the ruins of ancient Garh-Rajor temples dating from the 11th century. A 17th-century fort on Kankwari's hilltop also offers a beautiful view of soaring vultures and eagles. Several carnivores live in Sariska Park, including the Wild Dog, Jungle Cat, Hyena, Jackal, Leopard, and Tiger. Sambar, Nilgai, Chausingha, Chital, Wild Boar, and Langur are among the herbivorous species they eat.
Safari Times in Sariska National Park
In the Sariska Tiger Reserve, safaris are performed in two different time slots, with different timings in the winter and summer.
- A Winter Safari
Safari is conducted twice a day, in the morning and evening. The safari timings for both slots in the winter are as follows:
Morning Safari: 6.30 a.m. to 10.30 a.m.
Evening Safari: 2:00 p.m. – 6:00 p.m.
- A Summer Safari
During the summer, the safari is also held twice a day, in the morning and evening. The following are the summer safari times in Sariska National Park:
Morning Safari is: 6 a.m. to 10 a.m.
Evening Safari is: 2.30 to 6.30 p.m.
When is the best time to go to Sariska National Park?
The best time to visit Sariska National Park is in October and continues through June. Apart from that, the Sariska National Park is closed to tourists from July to September. However, if you want to go for wildlife photography or anything similar, the area is open all year.
You may do the same by booking a 'hide' in one of the water holes, which provides an excellent opportunity to see Sariska National Park's wildlife. However, you must first obtain permission from the Forest Reception Office.
Flora
The forests of Sariska National Park are dry deciduous, with Dhok being the most common tree type, with mild to direct inclines accounting for more than 90% of the tree cover. The edges on steep dry slants bolster Salar. In valley beds, Khair and Cheela can be found. Bamboo only grows to a limited extent in wet and cool areas. Aam, Jamun, Arjun, and Bahera, which grow in clammy despondency on nallah banks, grow to enormous proportions.
Ber and Adusa make up the majority of the land distribution. Great grain species include Zizyphus and Grewia. Dhok's dried and fallen leaves aid herbivores in surviving the summer months when the grain is scarce. The woods turn a dark green color during rainstorm months and are fully dry by late spring.
Fauna
The National Park is home to a diverse range of wildlife. Forest carnivores include the Jaguar, Hyena, Jackal, and Jungle Cat. Caracals and wild dogs are seldom seen. Sambhar, Chital, Wild Boar, Nilgai, Hare, and Porcupine are among the prey population. In terms of creature distribution, Sariska National Park is special. The wild animals in this area seem to have chosen their territories - their boundaries. Kundli for Chitals, Sambhar, and Tarunda and Kalighati for Nilgai are best observed from Slopka. The Pondupole Nallah is home to four-horned antelopes known as Chausingha. Chausingha is the only Indian buck with four horns on the planet.
Sariska is also known for the Sariska National Park Safari, which allows visitors to see Langurs and Rhesus monkeys daily. Talviksh is the center of Rhesus's basic population, and it is possible to see many of them at once. Pandupole, Slopka, and Kalighati all have large populations of langurs.
When it comes to bird species, you can see grey partridge, sand grouse, crested serpent eagle, woodpecker, horned owl, tree pie, bush quail, and several others, totaling 225 species.
History of the Sariska National Park Safari
The forest of Sariska, which the Aravallis surround, is mentioned in the Mahabharata. It is where the Pandavas spent their final year of exile, according to the epic. It was also here that Lord Hanuman defeated the great Bhima. There is a shrine devoted to Lord Hanuman here as evidence.
Sariska has attracted the attention of many rulers over the years, and Maharaja Jai Singh II constructed the Kankwari Fort here. The Maharaja of Alwar used the Sariska jungles as a hunting ground until hunting was outlawed in 1955. It was designated as a wildlife reserve, and the Sariska Tiger Reserve was established in 1978.
What is the best way to get to Sariska National Park?
- Air: The Jaipur Airport is the closest airport to Sariska National Park. The distance between the airport and the Park is 122 kilometers, and it can be traveled by road or train. There are direct bus and taxis from the airport to Alwar, where the Park is situated.
- Rail: The closest rail station is Alwar railway station, which is 37 kilometers away from the Park. This railway station has direct connections to several major cities, including Delhi, Mumbai, and Jaipur.
- Road: Sariska National Park is well-connected by road, with several bus and taxi services operating along the route. Private and government buses or taxis are available from all of Rajasthan's major cities.
Jeep Safari
A jeep safari is the only way to see Sariska National Park. It is a 3-hour expedition led by knowledgeable guides. Each trip can accommodate at least six people and will run from 6 a.m. to 10 a.m. and from 2 p.m. to 6 p.m.
Jeep safaris are perfect for exploring the Park's vast expanse as well as seeing the magnificent wildlife that calls it home. It is also the perfect way to get some of the best photos of these magnificent creatures.
Canter Safari
A Canter Safari, which takes place in open vans called canters, is another way to see the Park. It is the best way to see all of the Park's zones, particularly if you're traveling in a large group.
This safari takes about 20 people and takes them to all four zones of the Park. The hours are 6 a.m. to 10 a.m. and 2 p.m. to 6 p.m.
It is suggested that you book your safari ahead of time, as demand for these safaris is strong, especially during peak seasons. Safaris are timed differently depending on the season.
At Sariska, you can stay in Wildlife Camps.
Staying in the beautiful Sariska Wildlife Camps, which are exquisite holiday destinations, allows you to get up close and personal with nature and is located near the Sariska Tiger Reserve, you will discover an unseen, enchanting part of Sariska.
The resort has all of the latest conveniences, allowing visitors to spend more time with their loved ones.
Sariska Wildlife Camps' tent stays are completely fitted with modern amenities, have canvas walls, and are placed in complete solitude, allowing you to spend quality time with your loved ones.
The resort has enough room to unwind, allowing you to relax in the lap of nature, with a swimming pool, gazebos, sitting area, and more.
The resorts are just 16 kilometers from the Sariska Tiger Reserve.
Check-in time is 11 a.m., and check-out time is 10 a.m.
Just fill in the form here with all necessary details and we will provide you the perfect, tailor-made itinerary at the best possible price, one of our travel experts will contact you shortly.
Recent Posts