Jaipur is, without a doubt, an intriguing city with a plethora of attractions dotting its terrain. There's a captivating combination of sights and scenes out there, from magnificent palaces and forts to stately temples and busy bazaars. However, how can you squeeze all of the enchantment and mystery that this city has in store for you into your itinerary if you only have two days to explore the grandeur of Jaipur? Don't worry, we've got you covered. Simply reserve a room at one of Jaipur's greatest hotels and prepare to go on a magnificent tour of the city and its splendour. Here is a list of locations to visit in Jaipur in two days that we've put together.
Day 1 Itinerary –
While historical magnificence lies at the heart of Jaipur's tourism, the city also offers religious sites, architectural marvels, and even an ancient astronomical observatory. In your first-day itinerary of sites to visit in Jaipur on a two-day vacation, we've included a little bit of everything. Because all of these locations are within the city, you can easily visit all of them and spend a significant amount of time doing so. Start your day at 9 am.
1. City Palace
The magnificent City Palace, located in the centre of Jaipur, transports you to a time of imperial grandeur and splendour. The palace has a stunning blend of Rajput and Mughal architectural styles, making it one of Jaipur's must-see attractions. You'll be taken to another planet as you step inside, with huge halls, courtyards, gardens, royal homes, art galleries, and more. There's also a museum that gives visitors an insight into the royal lifestyle. At the museum, you may observe the regal costumes worn by Maharaja Sawai Man Singh II and Maharaja Sawai Madho Singh I.
Hours: 9:30 a.m. to 5:00 p.m., seven days a week
Fees: INR 190 (Indians); INR 500 (Foreign Nationals)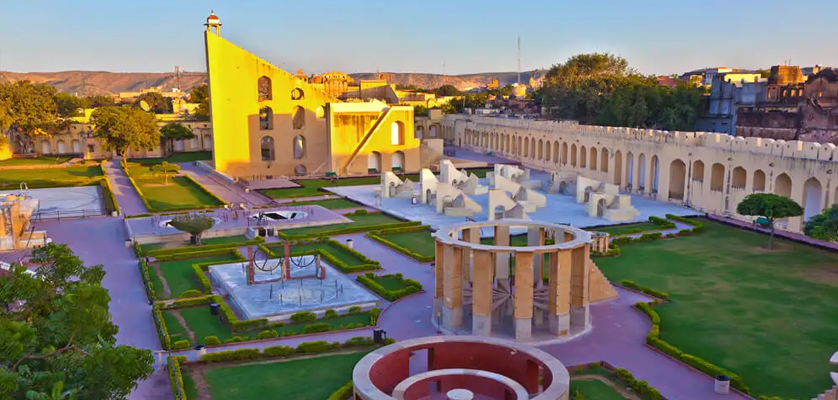 2. Jantar Mantar
Have you ever wondered how humans in the past measured time, kept track of heavenly bodies' motions, or even predicted eclipses? All of these questions have their solutions in Jantar Mantar. It was established in 1734 as an astronomy observatory. This observatory, built by Maharaja Sawai Jai Singh II, comprises nineteen architectural astronomical equipment. The stone sundial, which is the world's largest of its kind, is the most famous of them all. This UNESCO World Heritage Site is a paradise for astronomy aficionados and absolutely deserves to be on your list of tourist sites to visit in Jaipur in two days.
Hours: 9:30 a.m. to 4:30 p.m., seven days a week
Fees: INR 50 (Indians); INR 200 (Foreign Nationals)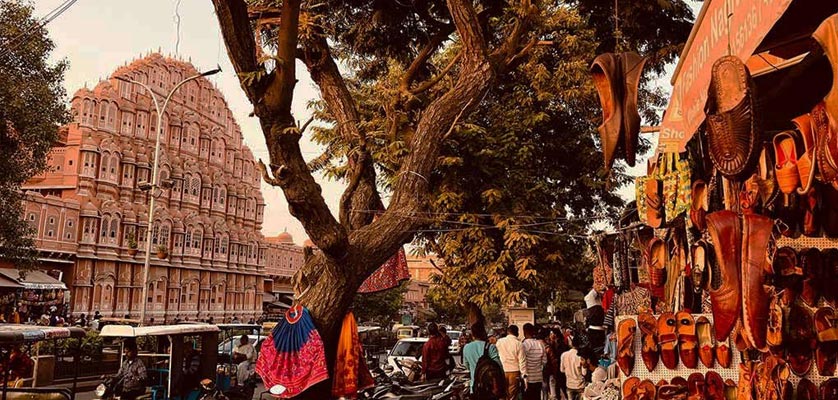 3. Hawa Mahal
When you think of the Pink City, the Hawa Mahal is the first thing that springs to mind, isn't it? Built by Maharaja Sawai Pratap Singh in 1799, it is an important monument in the city. The fact that this five-story tower has 953 little windows is one of its distinguishing qualities. The pyramidal structure's mesh of windows allows breeze to flow into the interior chambers. As a result, even when it's scorching outside, the Hawa Mahal's interiors provide a cooling effect. From the top of the Hawa Mahal, you can get a great view of the Jantar Mantar and the City Palace.
Hours: Monday through Friday, 9:00 a.m. to 4:30 p.m.
Fees: INR 50 (Indians); INR 200 (Foreign Nationals)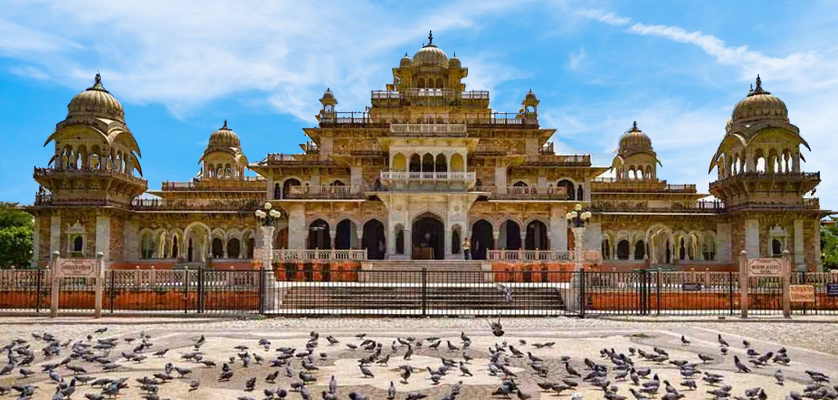 4. Albert Hall Museum
The Albert Hall Museum is not just Rajasthan's oldest museum; it is also a fascinating venue that provides a window into Jaipur's rich history and tradition. The museum's hall is an outstanding edifice in and of itself. The State Museum of Rajasthan houses an interesting collection of antiquities such as sculptures, paintings, crystal works, ivory items, carpets, metal objects, and jewellery. An Egyptian mummy, which is one of the rare mummies housed in India, is one of the museum's highlights.
Hours: 9:00 a.m. to 5:00 p.m., 7:00 p.m. to 10:00 p.m.; seven days a week
Fees: INR 50 (Indians); INR 150 (Foreign Nationals)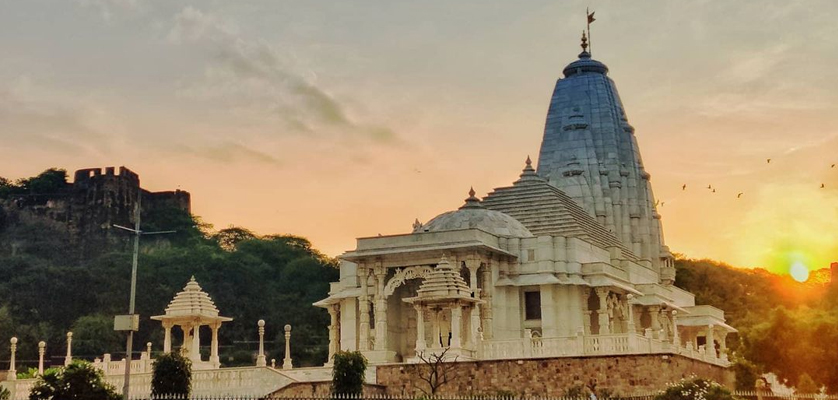 5. The Birla Mandir
The Birla Mandir in Jaipur is the ideal combination of grandeur and serenity. The temple is also known as the Laxmi Narayan Temple since it is devoted to Goddess Lakshmi and Lord Vishnu. The magnificent white marble building, set against the lush green backdrop of Moti Dungri Hill, offers a vision of breathtaking beauty. The temple building is beautiful in and of itself. It is one of Jaipur's biggest temples, with pictures and lines from the Bhagavad Gita adorning its walls. Under the cover of the night sky, this white marble temple takes on a bizarre appearance when lighted in the evening.
Hours: 6:00 a.m. to 12:00 p.m., 3:00 p.m. to 9:00 p.m.; seven days a week
---
Day 2 Itinerary
What better way to get a sense of Jaipur's grandeur than to tour some of the city's most iconic forts? That's why we've built the second half of your 2-day Jaipur itinerary around the city's spectacular forts and a few other must-see sights. Here's what we recommend for your second day in Jaipur: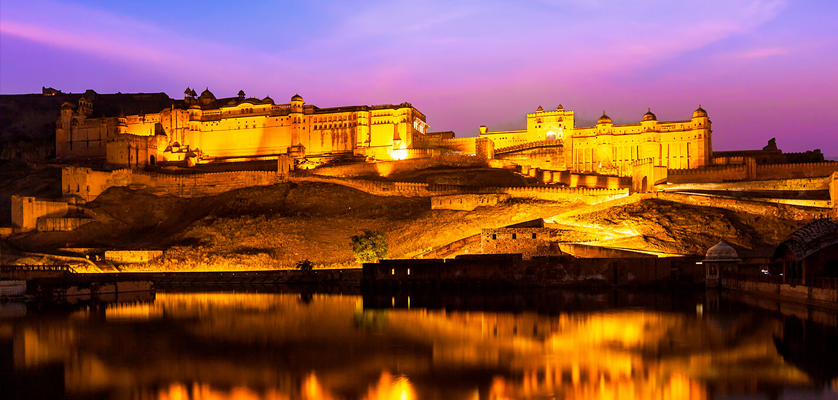 1. Amber Fort
A journey to Jaipur's sights would be incomplete without a stop at the magnificent Amber Fort and Palace. Amber Fort, the most sumptuous of Jaipur's forts, exhibits architectural brilliance and regal majesty. The fort's opulent palace is built on four floors. The Sheesh Mahal, or Palace of Mirrors, is one of the fort's most popular attractions. This magnificent structure is adorned with a mosaic of gleaming mirrors and glass placed across the walls and ceiling. You may also take an elephant ride or browse for goods within the fort.
Hours: 10:00 a.m. to 5:00 p.m., seven days a week
Fees: INR 100 (Indians); INR 550 (Foreign Nationals)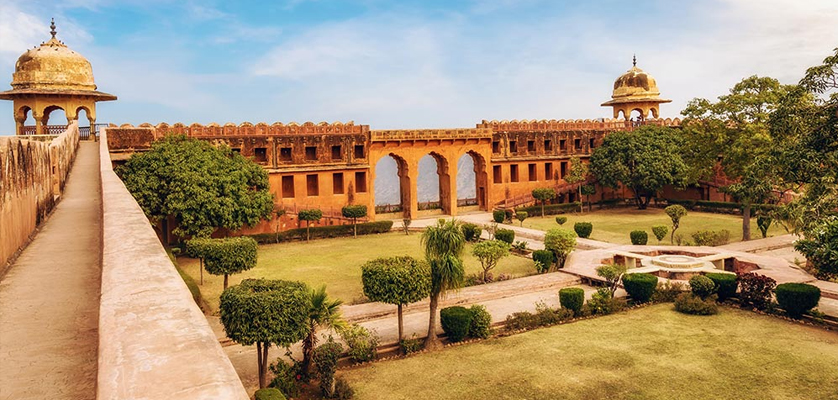 2. Jaigarh Fort
Jaigarh Fort, perched atop the Cheel ka Teela or Hill of Eagles, is one of Jaipur's most remarkable attractions. The opulent fort has courtrooms, triple arch entrances, temples, gardens, an armoury chamber, and a central watch tower with spectacular views of the surrounding area. The Jaivana cannon is the fort's major attraction. It formerly held the record for being the world's biggest cannon on wheels. It still stands proudly inside the Jaigarh Fort today.
Hours: Monday through Friday, 9:00 a.m. to 4:30 p.m.
Fees: INR 35 (Indians); INR 85 (Foreign Nationals)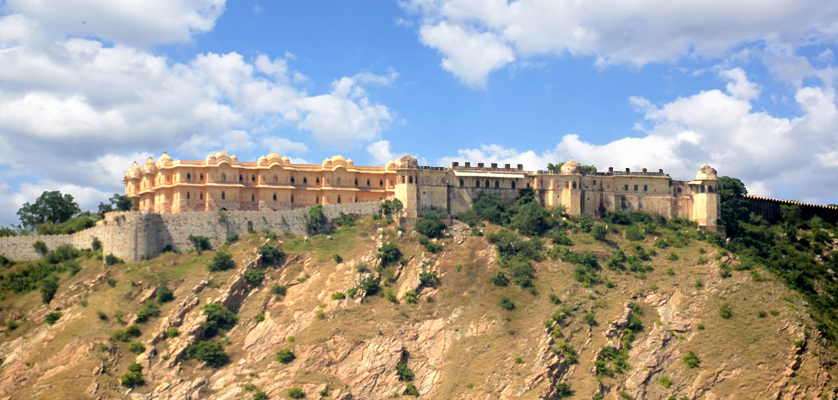 3. Nahargarh Fort
Jaipur's Nahargarh Fort is a popular tourist destination. The beautiful stronghold, perched high in the Aravali mountains, offers an unrivalled perspective of the busy city below. The fort is known for being an architectural marvel as well as one of Jaipur's top sunset sites.
Nahargarh, together with Amer Fort and Jaigarh Fort, contributed to build a defensive wall surrounding the ancient Royal City in the past. I can only presume that wild tigers formerly inhabited the same mountains because the name 'Nahargarh' means Tiger Fort in English. It's easy to imagine the scenario when you sit atop the old fort's walls. After all, Jaipur was once a desolate desert metropolis.
The sole benefit to Jaipur's pollution, it must be acknowledged, is that it makes for a spectacular sunset. As the sky lit up in pink and orange colours, the sun seemed hazy and otherworldly. People were clambering onto the fort's walls to capture a shot by this time. Security officers monitor the area, telling people to come down, but that doesn't stop people from snapping a photo at one of Jaipur's most Instagrammable spots. You can access the fort's attractions between the hours of 10 a.m. and 6 p.m. if you arrive during those times. A castle, a sculpture gallery, and a wax museum are among the attractions. Otherwise, you may watch the dawn or sunset from the fort's perimeter.
Time: 10:00 a.m. to 5:30 p.m.; every day of the week
Fees: INR 50 (Indians); INR 200 (Foreign Nationals)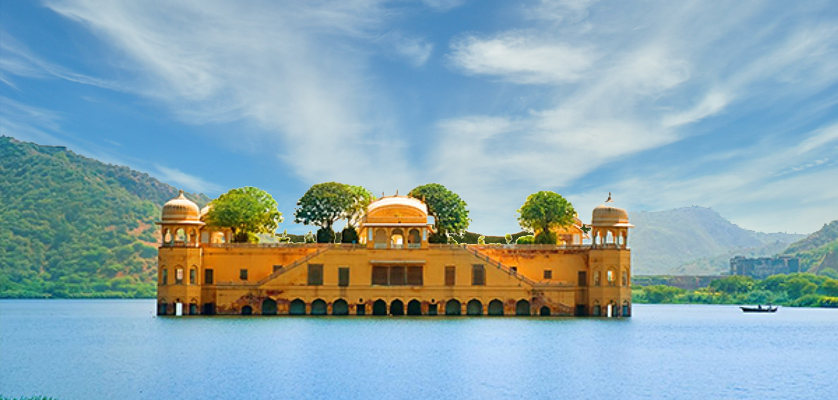 4. Jal Mahal
Jal Mahal, a beautiful five-story palace in the centre of the Man Sagar Lake, is another jewel in Jaipur's crown. When the lake is full, however, four of these storeys stay submerged. Only the top floor of the palace is visible above the water, giving the appearance that it is floating on the lake. The architecture of the palace is in the Rajput style. It was previously the king of Jaipur's duck hunting resort. Visitors are now barred from entering the Jal Mahal. However, you can appreciate its splendour by taking a leisurely boat trip on Man Sagar Lake and seeing the palace up close.
Hours: 6:00 a.m. to 6:00 p.m., seven days a week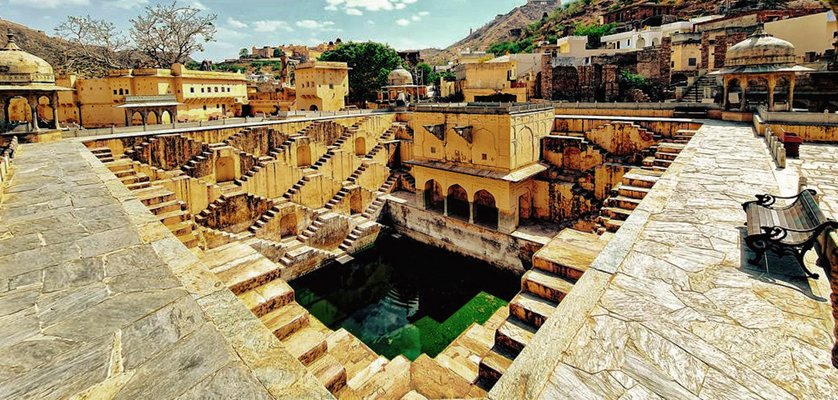 5. Panna Meena ka Kund
I adore the stepwells that can be seen across northern India. The symmetrical stairwells are stunning! The majority of remaining stepwells were once used for both recreation and water storage. This was due to the fact that the well's base gave refuge from the noon heat, which was amplified if the well was covered. Social gatherings and religious rites were also held in stepwells.
All of the wells are beautiful and charming in their own way, but Panna Meena ka Kund is the only one we visited that was not built of grey stone. If you go in the morning, you may find it in the midst of Amer town, next to Amber Fort, approximately a 20-minute drive from central Jaipur.
Where to stay in Jaipur?
Since it is a 2-days trip, the most affordable option will be staying at a 1-night hotel and spend two days exploring the beautiful pink city.
Where to stay in Jaipur?
Since it is a 2-days trip, the most affordable option will be staying at a 1-night hotel and spend two days exploring the beautiful pink city.
Just fill in the form here with all necessary details and we will provide you the perfect, tailor-made itinerary at the best possible price, one of our travel experts will contact you shortly.
Recent Posts