2 days in Jaisalmer may not seem like a lot of time, but if you utilize your time correctly, you can see most of the city's highlights. You can spend less time planning and more time seeing the city with the help of our guide. We present all of the finest locations to see in Jaisalmer in our 2-day itinerary and guide. The 'Golden City' of Jaisalmer is brimming with rich culture, fascinating history, and enigmatic allure. This, paired with the abundance of fun things to do in Jaisalmer, makes it a must-see on any Rajasthan itinerary. From camel safaris and star-gazing to touring the city's medieval forts, Jaisalmer is a playground for thrill-seekers.
1. Jaisalmer Fort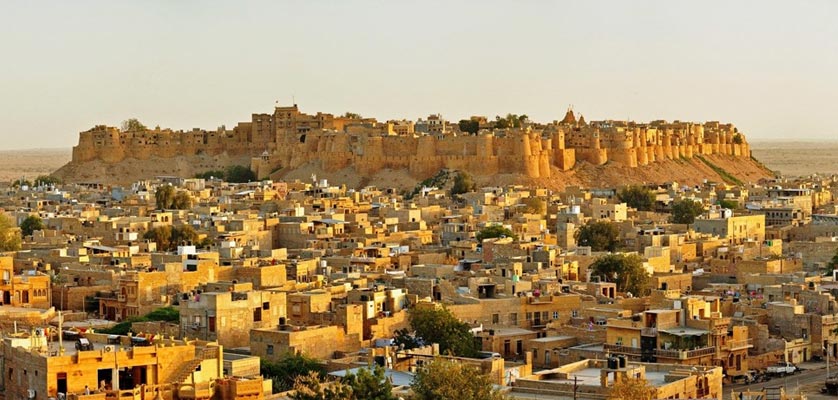 Jaisalmer Fort is the city's landmark, with a magnificent golden edifice visible from miles away. This fort is unique in that it is one of the world's only inhabited forts. Not only do the sandstone walls contain dwellings, but also businesses, restaurants, temples, and even hotels. Despite these recent additions, the fort nevertheless has the atmosphere of a medieval city. You'll feel like you've gone back in time as you walk within the castle walls.
One of the historical things to do in the golden city is to explore the fort, and you never know where the labyrinth of lanes will lead you. Cool rooftop bars, amazing city views, talented artists, and creepy fortune tellers can all be found within the fort. It is also absolutely free to participate. This is a significant selling factor considering the high cost of
most attractions in Rajasthan.
2. Tour of the Havelis on Foot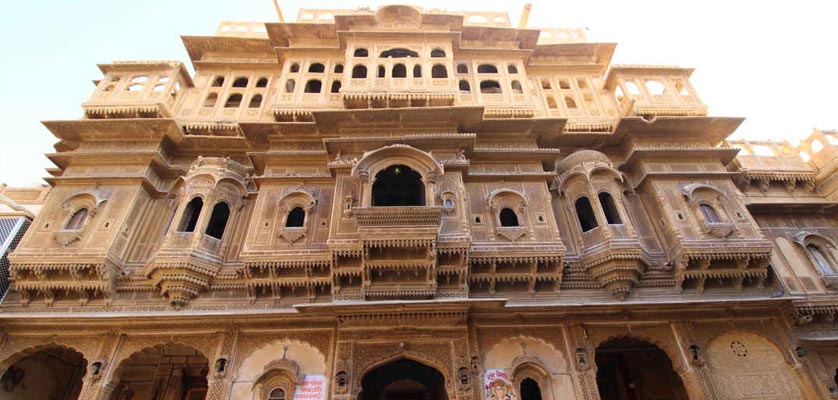 Havelis are what we call mansions in the West, and the city of Jaisalmer has a lot of these structures. These opulent structures are a marvel of superb artistry and craftsmanship in true Rajasthani style. Patwon Ki Haveli is Jaisalmer's largest and most important haveli. It was once the residence of a wealthy merchant and is now a renowned tourist destination in the city. The complex sandstone artwork is stunning and well worth seeing in Jaisalmer. We were content admiring the masterpiece from the outside, despite the fact that admission to the interior is only a nominal charge.
3. Gadisar Lake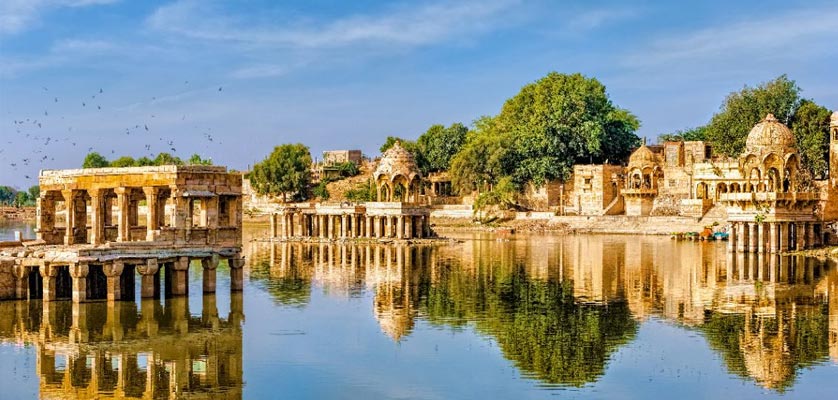 Gadisar Lake is one of the more tranquil spots to visit on this Jaisalmer itinerary. The lake is supposed to be spiritual, and the religious temples that appear to float in the water give off a serene vibe. At daybreak, many locals and visitors alike come here to contemplate. Otherwise, it's a pleasant place to read a book or simply relax in the calm that such
surroundings afford. Peddle boating is another pleasant sport you may do on the lake. A 30- minute boat excursion for a two-person boat costs only 100 IDR and allows you to explore the lake at your leisure. It's a soothing experience that also gives you a chance to observe the 'floating' temples up close.
4. Roof Hopping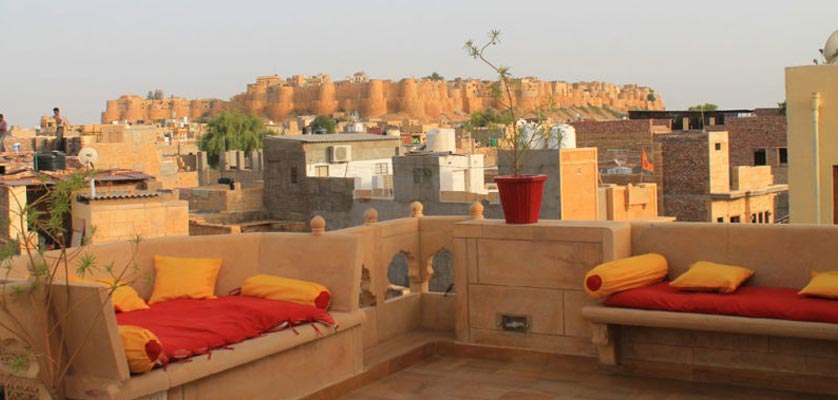 Jaisalmer's cityscape is brimming with unique rooftop bars and eateries. Each one provides breathtaking vistas of the Golden City. Every day, we made an attempt to try a different one. It's such a nice feeling to kick back after a long day, have an ice-cold beer, and watch the sunset. Pleasant Haveli, Kuku Coffee Shop, and Free Tibet Restaurant are among our favorite rooftops; but, there are so many fantastic alternatives both inside and outside the fort that you can't go wrong.
5. Thar Dessert
A camel safari is one of the most important things to do when visiting Jaisalmer, which is bordered by the magical Thar desert. It's no surprise that people go from all over the world to partake in this beautiful experience, which includes camel rides through the sand dunes and nights spent under the Milky Way. The overnight camel safari is highly recommended if you can afford to stay another night in Jaisalmer. However, with trips ranging from half a day to three days or more, there is something for everyone, regardless of their schedule or money. In any case, we strongly advise you to take a camel safari a priority during your two days in Jaisalmer, as it is one of India's most unique experiences.
6. Khaba Fort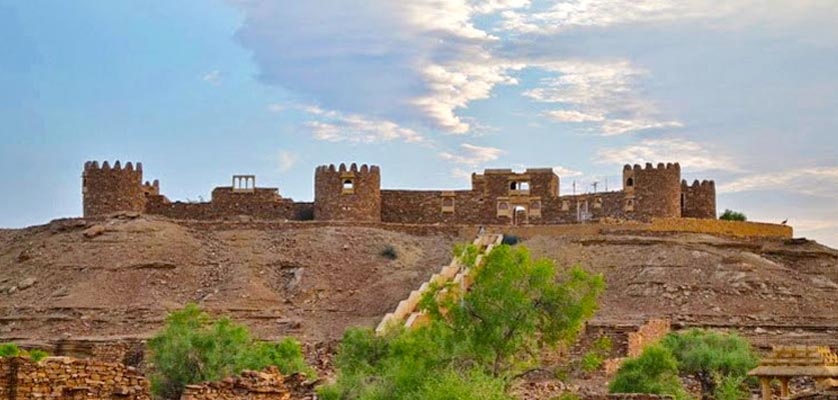 When visiting the Golden City, Khaba Fort isn't one of the most popular sights, but its fascinating history makes it one of the most interesting. The fort and the nearby town were built in the 13th century. Both were strangely abandoned some 200 years ago by the Paliwal Brahmins who once lived there. It is reported that the villagers cast a spell prohibiting anyone else from settling in the village. Khaba Fort is about a 30-minute drive outside of Jaisalmer, amid the desert. When planning an overnight camel safari, it is frequently included. Check with your tour operator when making your reservation.
7. Bada Bagh
Bada Bagh, located 6 kilometers outside of the city, is mainly a royal family cemetery. Most people come to see the wonderfully carved cenotaphs, which have even been featured in several Bollywood films. Despite being one of the most popular spots to visit in Jaisalmer, we were unable to visit Bada Bagh on this occasion due to a lack of time. It is, nevertheless, at the top of our list of things to do when we return.
8. Patwon ki Haveli
Take an auto or walk to Patwon ki Haweli, which is only 500 meters from the fort, once you've finished seeing Jaisalmer Fort. You won't believe what you'll find tucked away in the small streets of Jaisalmer. Built in the 18th century, this is one of Jaisalmer's most beautiful havelis and an interesting piece of architecture because it is actually a cluster of five havelis known as Patwon ji ki Haveli or the mansion of brocade merchants,' the other two being Nathmal ji ki Haveli and Salim Singh ji ki Haveli. Beautiful paintings, beautiful mirror work on the walls, complex carvings on the wooden doors, arches, and other noteworthy details can be found within. It won't take you more than 2 hours to get here, and if you're carrying a camera, you'll have to pay extra.
9. Kuldhara Village
Travel to Kuldhara village, which is around 20 kilometers from the city center. You can get a cab and spend an hour exploring this abandoned village on your own. The village, which is mostly in ruins, is known as one of India's and Rajasthan's most haunted locations. You'll have to pay a minimal entry fee to an 83-year-old guard now that Rajasthan Tourism is promoting it as a heritage village! The government posts a sign immediately outside the settlement that reads, "Entry within is not permitted after sundown," which may give you pause.
10. Sam Village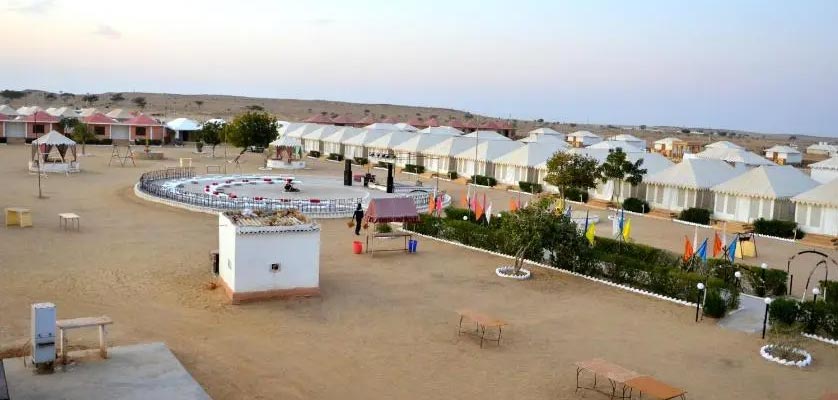 Sam village is about 35 kilometers from Kuldhara. Arrive to your campsite, unwind, and prepare to explore Sam village. The entire region is surrounded by a serene silence, and all you can see is a never-ending mound of desert. Sam town is the ideal location for the most realistic sand dune experiences. You can mix with the villagers, talk to them, get to know them, and learn about their culture and traditions here. They are friendly folks who will welcome you into their homes and offer you food and water. There are several tents set up near the dunes, as well as a handful of camels roaming around.
Conclusion
As previously stated, there are several different itineraries to choose from, so pick the one that most interests you. Some individuals relish the opportunity to spend a night in the desert, while others find it too chilly and prefer the warmth of a hotel room. Many excursions also include the opportunity to watch or participate in a Rajasthani folk dance and music performance before or after dinner.
Just fill in the form here with all necessary details and we will provide you the perfect, tailor-made itinerary at the best possible price, one of our travel experts will contact you shortly.
Recent Posts