Jodhpur, also known as the "blue city" of India, is a captivating destination steeped in historical and cultural significance. Rajasthan holds a special place in the hearts of travel enthusiasts, and Jodhpur's rich heritage and iconic blue-colored monuments have a magnetic appeal. The city boasts well-preserved ancient temples and exquisite palaces that retain their original grandeur.
Visitors to Jodhpur have a plethora of destinations to explore, each offering a glimpse into the glorious past of the Maharajas. The lush green gardens of Mandore, along with the majestic Umaid Bhawan Palace and Moti Mahal, present a paradise for travelers seeking architectural marvels. Don't miss the opportunity to witness the captivating Mehrangarh Fort, the intricate craftsmanship of Jaswant Thada, the imposing Khejarla Fort, the elegant Sardar Samand Lake Palace, and the serene charm of Mandore and Rai ka Baag Palace.
As the peak season approaches, it's the perfect time to pack your bags and embark on a journey to Jodhpur, where the allure of these historical monuments awaits your arrival.
Mehrangarh Fort
---
Mehrangarh Fort is a majestic fort situated in Jodhpur, Rajasthan. Perched on a hilltop, it offers breathtaking views of the city below. The fort, built in the 15th century by Rao Jodha, stands as a symbol of architectural brilliance and grandeur. Its massive walls, intricate carvings, and imposing gates leave visitors in awe. Inside the fort, one can explore its numerous palaces, courtyards, and museums, which house a remarkable collection of artifacts, weapons, and artwork. The fort also hosts cultural events and performances, immersing visitors in the vibrant heritage of Rajasthan. A visit to Mehrangarh Fort is a truly captivating experience.
Mehrangarh Fort Entry Fee and Timings.
| Monument's Name | Entrance Fee Per Person | Timing |
| --- | --- | --- |
| Mehrangarh Fort | INR 70 per head & Foreigners: INR 600 per head | 9 AM to 5 PM. |
Umaid Bhawan Palace
---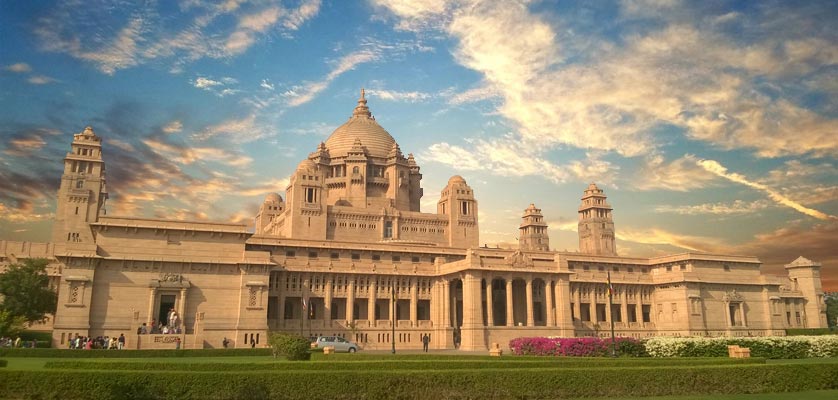 For those seeking luxury and a taste of sophistication, a visit to Umaid Bhavan Palace is a must in Jodhpur. This magnificent palace showcases the epitome of Indian architecture and culture. Explore the museum within its premises, where you'll be enthralled by the collection of regal ornaments and antique treasures. Each gallery represents a unique variety of historical items, attracting tourists from all over the world.
The highlights of Umaid Bhavan Palace include its status as one of the largest private residences globally, featuring 347 rooms, a vast museum, a private swimming pool, tennis courts, and a vintage library. Its grandeur and uniqueness make it an exotic destination to visit in Jodhpur, and many visitors love capturing memorable photos with this royal palace as their backdrop.
Umaid Bhawan Palace Entry Fee and Timings.
Monument's Name
Entrance Fee Per Person
Timing
Umaid Bhawan Palace
Native: INR 25 per head for Palace/ INR 50 for the museum.
Foreigners: INR 30 per head for Palace/ INR 100 for the museum.
Palace timings: 9:00 AM to 5:00 PM
Museum timings: 10:00 AM to 5:00 PM
Jaswant Thada
---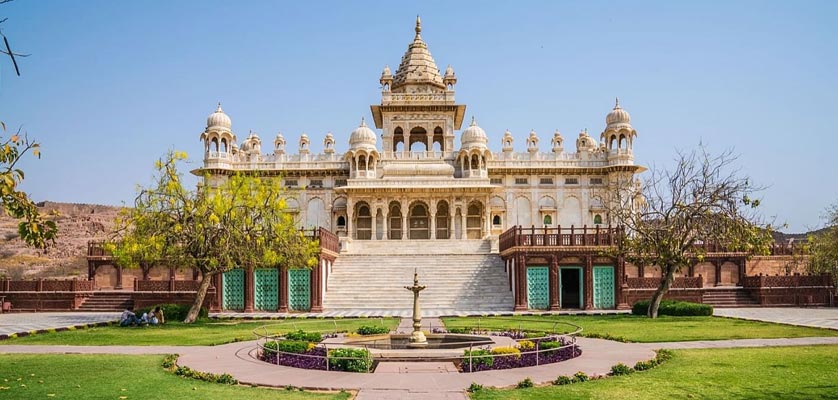 While visiting Mehrangarh Fort, it is highly recommended to explore Jaswant Thada, which is conveniently located on the fort's premises. This stunning monument offers a serene and beautiful experience. Adorned with domes that provide breathtaking views of the surroundings, Jaswant Thada is a haven for peace lovers seeking solace away from the hustle and bustle of the city. It is particularly enchanting on sunny days when visitors gather to offer prayers and seek blessings for a prosperous life.
The highlights of Jaswant Thada include its intricate jali work, carved gazebos, lush gardens, and historic carvings. Often referred to as the "Taj Mahal of Marwar," this architectural marvel, built with white marble, showcases the rich history of India. Many believe that Jaswant Thada has the power to fulfill wishes with minimal effort.
Jaswant Thada Entry Fee and Timings.
| Monument's Name | Entrance Fee Per Person | Timing |
| --- | --- | --- |
| Jaswant Thada | Native: INR 30 per head. | 9:00 AM to 5:00 PM |
| | Foreigners: INR 50 per head. | |
Moti Mahal
---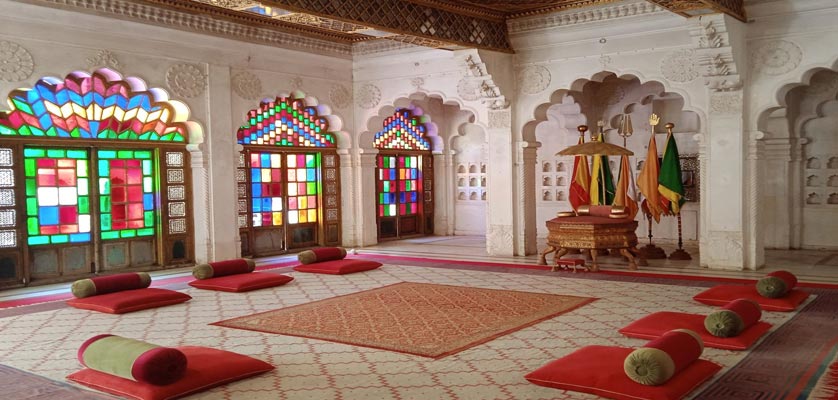 Moti Mahal, also known as "the palace of pearls," is the largest palace located within the Mehrangarh Fort. Constructed in the 17th century by Nawab Ali Sadaat Khan, its purpose was to provide a vantage point for monitoring enemy movements from a distance. Today, the palace's lawns serve as venues for cultural events, while the palace itself is under government control. Additionally, Moti Mahal offers a delightful culinary experience, featuring a variety of delicious Indian, Chinese, and Mughal cuisines.
The highlights of Moti Mahal include its enchanting beauty. The ceilings are adorned with intricate decorations such as gold leaves, seashells, and mirrors, adding a touch of luxury. The grand hall, with its expansive and exotic ambiance, has witnessed the coronation ceremonies of numerous rulers. Notably, the rooms feature five hidden balconies, designed as alcoves for the queens, adding to the palace's allure.
Moti Mahal Entry Fee and Timings.
| Monument's Name | Entrance Fee Per Person | Timing |
| --- | --- | --- |
| Moti Mahal | Natives: INR 25 per head. | 9:00 AM to 5:00 PM |
| | Foreigners: INR 250 per head. | |
Mandore
---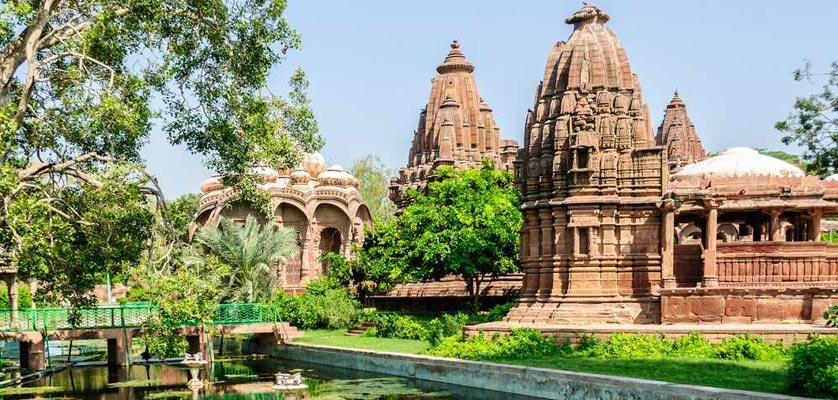 Mandore, located in North Jodhpur, is a historically significant town and a renowned tourist destination in Rajasthan. It offers captivating views of lush greenery and holds many fascinating historical tales. One intriguing legend is associated with Ravana, the demon king, who is said to have married here. A temple dedicated to Ravana can be found, adding to the mystique of the place. Mandore was once a significant capital of Marwar before it was shifted to Jodhpur by Rao Jodha.
The city's highlights include the stunning Mandore Gardens, adorned with temples and memorials in glistening sandstone. The government museum is also worth visiting, as it showcases the rich cultural heritage of the region. Notably, there is a Hindu temple that houses images of 33 crore gods (a significant number in Hindu mythology), beautifully depicted on its walls. Exploring Mandore promises a blend of history, natural beauty, and architectural wonders.
Mandore Entry Fee and Timings.
Monument's Name
Entrance Fee Per Person
Timing
Mandore
No entry fees for Gardens.
Natives: INR 50 per head for the museum.

8:00 AM – 8:00 PM for gardens.
8:00 AM – 8:00 PM for museum.
Foreigners: INR 50 per head for the museum.
Clock Tower Jodhpur
---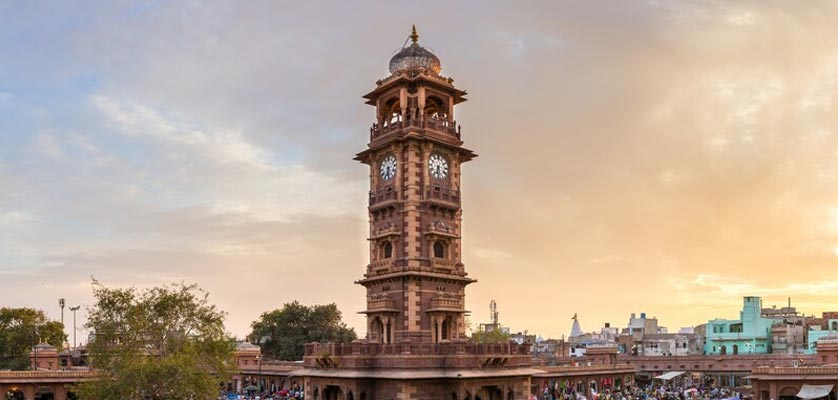 The Clock Tower in Jodhpur is an iconic landmark that stands as a testament to the city's rich heritage. Also known as Ghanta Ghar, it is a bustling hub of activity, surrounded by vibrant markets and bustling streets. The tower itself is an architectural marvel, with its intricate design and a large clock that proudly displays the time.
Visiting the Clock Tower offers a unique experience, as it immerses you in the lively atmosphere of Jodhpur. The surrounding markets are a shopaholic's paradise, filled with a wide array of goods, including textiles, handicrafts, spices, and jewelry. The aroma of street food fills the air, tempting visitors to sample local delicacies.
The Clock Tower is not just a landmark but a gateway to the vibrant culture and vibrant lifestyle of Jodhpur. Whether you're exploring the markets, admiring the architecture, or simply enjoying the lively ambiance, a visit to the Clock Tower is a must for anyone seeking to immerse themselves in the essence of Jodhpur.
Clock Tower Jodhpur Entry Fee and Timings.
| Monument's Name | Entrance Fee Per Person | Timing |
| --- | --- | --- |
| Clock Tower | No entry fee | 10:00 am – 6:00 pm |
Mahamandir Temple
---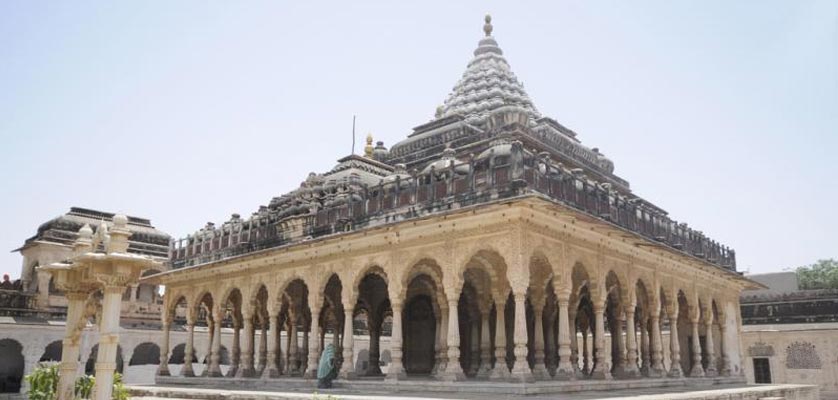 Located approximately 3 km from Mehrangarh Fort and 4 km from Jodhpur Junction, the Mahamandir Temple is a renowned Hindu temple situated on Mandore Road in Jodhpur. It stands as a popular attraction for visitors to the city.
Built in 1812 CE, the Mahamandir Temple showcases remarkable architecture, highlighted by its 84 intricately carved pillars. These pillars feature exquisite stone carvings depicting various yoga postures, adding a unique element to the temple's charm. Dedicated to Lord Shiva, the temple is adorned with traditional motifs that embellish both the pillars and walls.
The temple attracts a large number of devotees who not only come to worship but also appreciate the beauty and artistry present within its walls. The depiction of different yogic postures not only enhances the temple's aesthetic appeal but also enriches the knowledge of yoga enthusiasts, offering insights into the actual postures.
Mahamandir Temple Entry Fee and Timings.
| Monument's Name | Entrance Fee Per Person | Timing |
| --- | --- | --- |
| Clock Tower | No entry fee | 5 AM to 12 PM and 4 PM to 9 PM |
Just fill in the form here with all necessary details and we will provide you the perfect, tailor-made itinerary at the best possible price, one of our travel experts will contact you shortly.
Recent Posts