Alwar may not be on everyone's list of places to visit. The 13th year of exile for the Pandavas was claimed to have been spent in the oldest of the Rajasthani kingdoms, which happens to make up a substantial chunk of Matsya territory. Not only does it have a storied past, but its picturesque location in the Aravalli Ranges is a treat for visitors. There are lakes, palaces, temples, forts, and gardens in Alwar, making it a great place to visit. Because of its proximity to Sariska National Park has gained a considerable deal of notoriety and monetary value.
Alwar is notable for what?
As one of the earliest Rajput states to join the British Empire, Alwar has a long and rich history in the Indian subcontinent. In addition to its milk cake, Alwar is famed for its fort called 'Alwar-ka-away in Hindi.
Is Alwar an excellent place to visit?
One of the oldest cities in Rajasthan, Alwar has a rich history that can be seen in its palaces and forts, many of which were built by the royal family. With a beautiful lake in the middle, these are some of Alwar's top attractions:
Bhangarh Fort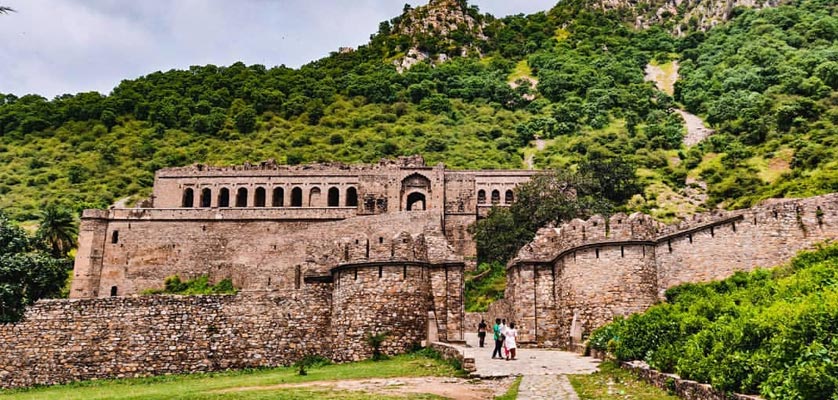 This "most haunted place" in Alwar should be on everyone's "bucket list" if they're looking for some thrills when visiting the city. Bhangarh Fort, located on the outskirts of the Sariska Tiger Reserve, is considered to be one of India's most haunted locations. Many people avoid the fort because of the supernatural happenings that have been reported there, even though it is in excellent condition. Bhangarh Fort, despite its scary reputation, is one of Alwar's top attractions.
Bala Quila Fort
The Bala Quila Fort, also known as the Alwar Fort, is a must-see tourist site and one of the most historical places in Rajasthani. With 15 large and 51 tiny towers and 446 musketry holes, the fort appears stern and threatening at the height of 1000 feet. Initially constructed in 1550 by Hasan Khan Mewati, the city of Alwar has passed through the hands of several other dynasties since then, including the Khanzada, Mughal, Pathan, and Jat dynasties. The fort is an excellent site to spend an evening in the city.
Sariska Wildlife Sanctuary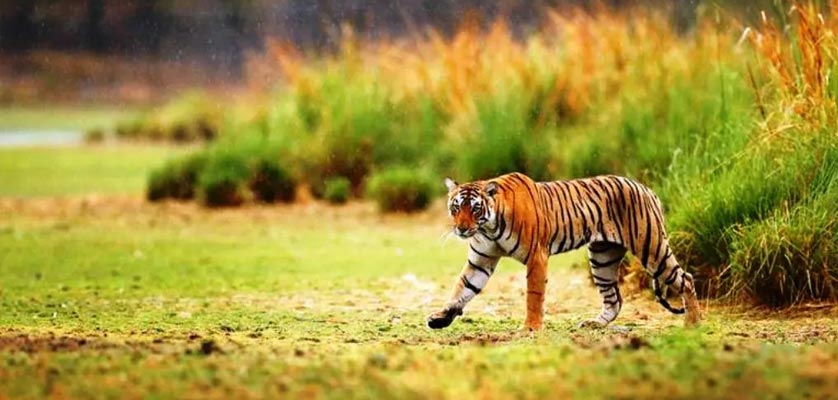 Tourists flock to Alwar to visit Sariska Wildlife Sanctuary, one of the most popular tourist destinations. The majestic Royal Bengal tigers of Alwar have a sanctuary to call home, and it covers an area of more than 800 square kilometers. Dry deciduous trees and steep rocks make up the majority of the sanctuary's landscape. The refuge is home to various animals and birds, including the Wild Dog, Jungle Cat, Chital, Nilgai, Chausingha, Sambar, Chinkara, Four-Horned Antelope, Hanuman Langur, and Rhesus Monkey, amongst many others.
Biodiversity Park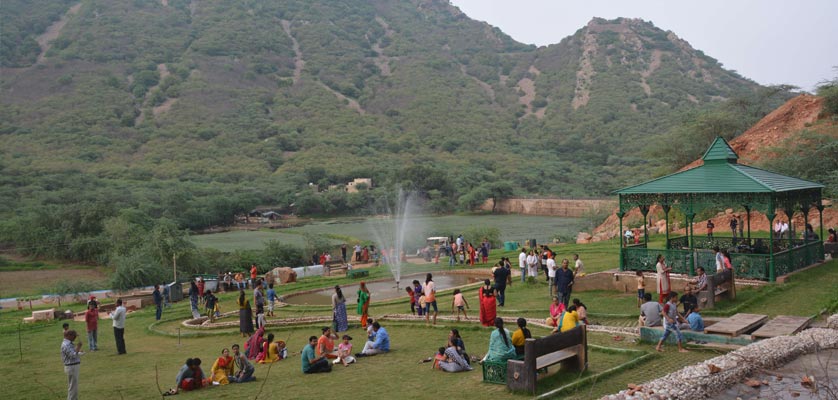 In search of a spot to relax amid nature's surreal expanse in Alwar? If you answered yes, Biodiversity Park has a lot to offer. Tourists can relax in this park, which is surrounded by imposing mountain ranges and rich greenery. The Biodiversity Park is a one-stop shop for all your travel needs, whether it's a family picnic or a leisurely stroll in the cool mountain air. This is a great place to take pictures if you're a fan of photography. Taking pictures with your loved ones and friends is a great way to keep a memento of your Alwar vacation forever.
Karni Mata Temple
Alwar's Karni Mata Temple, also known as the Rat Temple, is a revered Hindu shrine that can be seen near the city's iconic Sagar Palace. Visitors revere the rats that live here because of the countless traditional tales about them. They are called "Kabbas," and the food they eat serves as "prasad" for the believers. For its upcoming architecture, which shows a resemblance to Mughal architecture, it has become a popular destination. Beautiful marble carvings cover the temple's walls, further enhancing its allure.
City Palace Alwar
The City Palace of Alwar is actually a fort positioned below the Alwar Fort. This 18th-century fort, a fusion of Mughal and Rajput architectural styles, displays the region's rich cultural legacy. The City Palace in Alwar, Rajasthan, is a must-see attraction despite its current use as a government office complex. On the grounds of the palace, you'll find a state-of-the-art museum and an artificial lake. Alwar's main attractions, including the City Palace, may be found there.
Siliserh Lake Palace
The Siliserh Lake Residence, formerly a royal palace and hunting lodge, is now a heritage hotel maintained by RTDC on the banks of the lake. The hotel's stunning exteriors and understated elegance within transport guests back in time to a more idyllic time. Fishing, sailing, and boating are all excellent options on the lake. Those on a tight budget who yet want to treat themselves to a bit of luxury can do so with this perfect low-cost choice. The on-site restaurant serves a wide variety of hearty Indian and Continental dishes.
Moti Dungri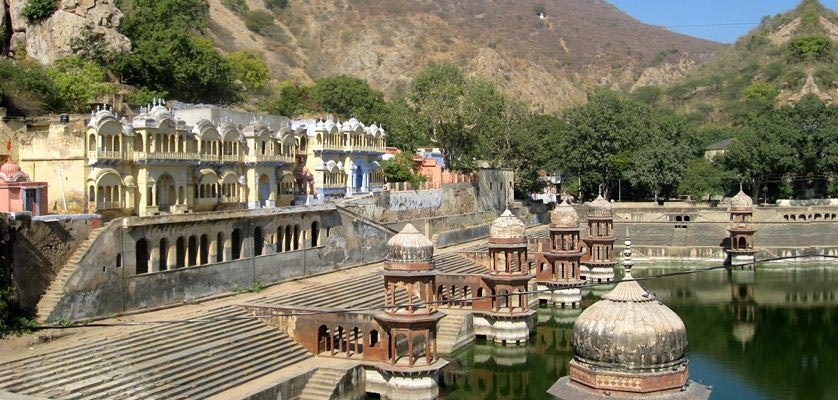 One-of-a-kind sacred site in Alwar, Moti Dungri, is where Hindus and Muslims come together to pray. There is no separation between the Sankat Mochan Vir Hanuman Mandir and Sayyed Darbar, which are both located in the same complex. On Thursdays, bhajans and qawwali are alternately played over the loudspeakers. The scents of camphor, ghee, and lobaan are all combined in this blend. In addition to the Tricolor, the Saffron and Green flags are unfurled. The place has a wonderfully enchanting atmosphere!
Moosi Maharani chhatri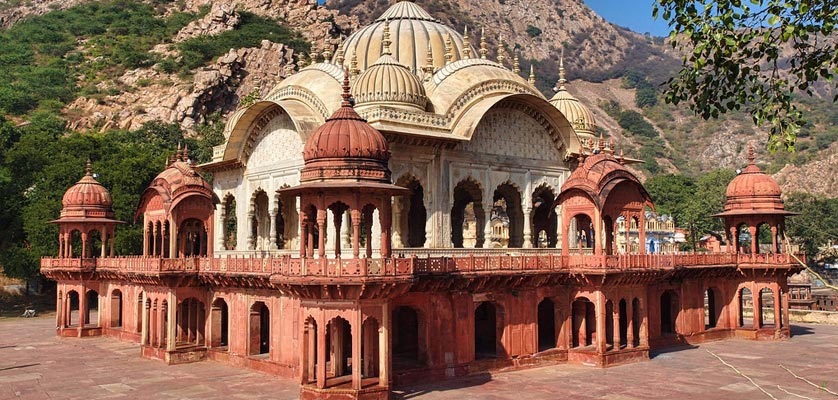 The Indo-Islamic design of this cenotaph, erected in honour of Maharaja Bakhtawar Singh and his queen, Rani Moosi, can be seen throughout. It's composed of red sandstone in the lower half with columns and domed arches, while marble is used in the upper area. The memorial is regarded as one of the best examples of its kind in the world.
Neemrana fort Alwar
Neemrana Fort, a 15th-century palace located in Alwar, has been transformed into a heritage resort and is open to the public. The fort palace sits atop the Aravalli Hills, the oldest fold mountains globally, and is a stunning example of both beauty and architecture. In the modern era, the fort is a luxury resort where visitors can reserve rooms or simply pay a charge to enter. Prithvi Raj Chauhan III was the Rajput Maharaja of Neemrana at the time. The fort was constructed in 1464 and served as the king's twelfth capital.
Just fill in the form here with all necessary details and we will provide you the perfect, tailor-made itinerary at the best possible price, one of our travel experts will contact you shortly.
Recent Posts