Sariska Tiger Reserve Safari : Times, Prices, and Essential Tips
---
Exploring the possibility of an affordable tiger safari in Rajasthan during your trip to India? While Ranthambore is renowned for its abundant tiger population, there's another option that won't break the bank – Sariska Tiger Reserve. Situated in off-the-beaten-path Rajasthan, Sariska offers a hidden gem for budget-conscious travelers seeking a tiger safari experience.
Located in Alwar, Rajasthan, Sariska Tiger Reserve provides an excellent alternative to the more popular and crowded Ranthambore. This lesser-known destination still offers the chance to spot majestic tigers in their natural habitat. With the right guide, you can have an unforgettable safari experience without straining your wallet.
Opting for a Sariska Tiger Reserve safari presents a unique opportunity to immerse yourself in the beauty of Rajasthan's wildlife while enjoying cost-effective travel. So, if you're seeking an affordable yet captivating tiger safari adventure, consider exploring the uncharted territory of Sariska – your gateway to a memorable and budget-friendly Rajasthan experience.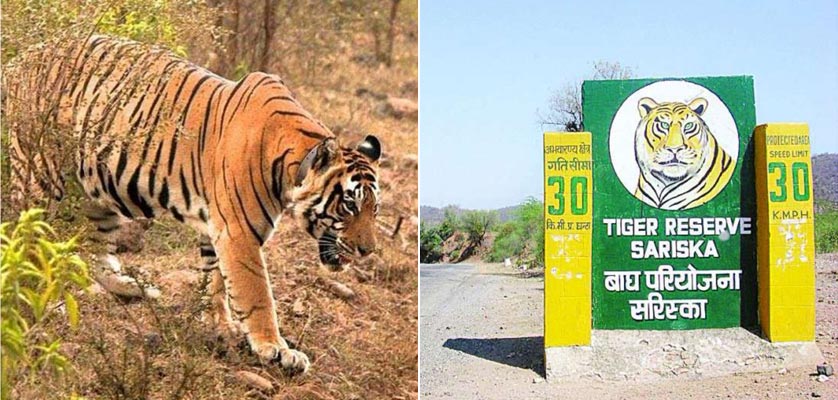 ---
Exploring Routes to Reach Sariska Tiger Reserve in India
Nestled within Rajasthan's Alwar region, Sariska Tiger Reserve presents an enticing destination for wildlife enthusiasts. However, accessing this natural gem requires strategic planning due to its limited transport options. Here's a guide to help you navigate your journey:
Choosing the Road to Sariska:
Unfortunately, Sariska lacks convenient air or rail connections, making road travel, specifically by car, the most practical choice.
Reaching Sariska via Alwar Junction:
Alwar Junction stands as the nearest railway station to Sariska. Traveling from Delhi to Alwar Junction takes approximately three hours by train, while the journey from Jaipur takes about two hours. After arriving at Alwar Junction, you can readily find cabs stationed at the station, providing an hour-long ride to Sariska.
Smooth Train Booking with IRCTC:
For train reservations, the Indian Railway Catering and Tourism Corporation (IRCTC) website (irctc.co.in) offers user-friendly functionality. Unlike the conventional Indian Railway Central booking system, IRCTC allows same-day booking, albeit at a nominal premium.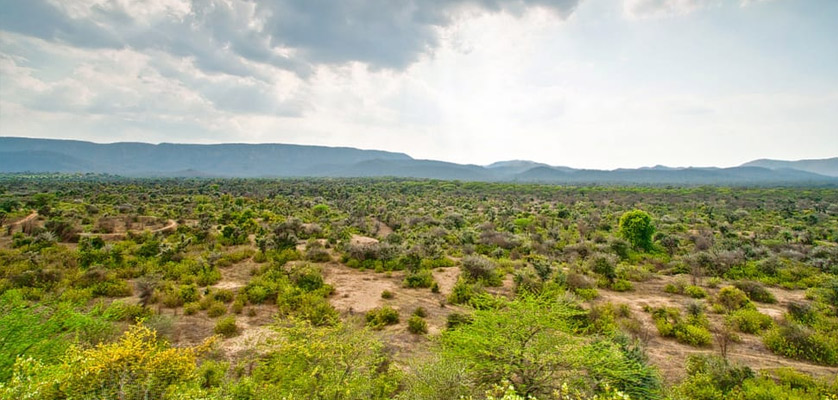 Considering Private Taxi Options:
When train travel isn't your choice, consider a private taxi from New Delhi, resulting in about a four-hour drive to Sariska. Alternatively, departing from Jaipur entails a roughly two-and-a-half-hour journey.
Your Sariska Tiger Reserve adventure ensures distinctive nature encounters. Verify transportation options for a smooth journey.
---
Sariska Tiger Safari Timings: Making the Most of Your Visit
The timings for Sariska Tiger Safaris offer three options daily, available from May to October.
Morning Exploration:
Kickstart your day with the first safari departing around 6 am, ensuring an early rendezvous with wildlife wonders.
Afternoon Adventure:
Alternatively, opt for the afternoon safari at approximately 3:30 pm, granting you a chance to witness the reserve's charm under the gentle sun.
Duration and Planning:
Each safari extends for approximately three hours, demanding careful time allocation in your day's itinerary.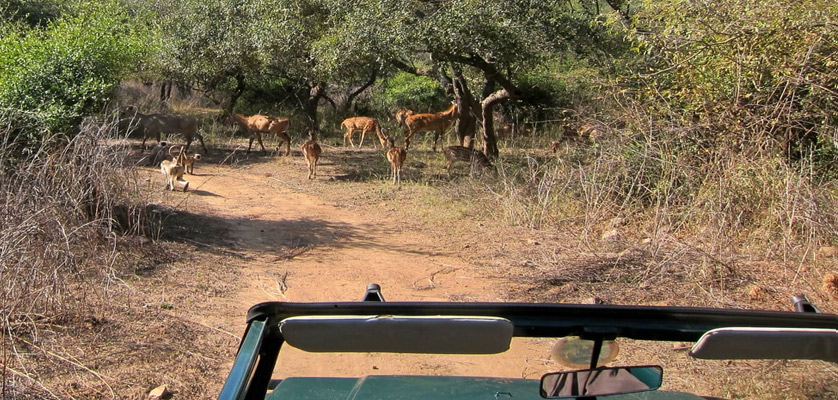 Timing Lessons from Fellow Travelers:
My friend and I embarked on a spontaneous trip to the reserve without checking the timings, a mistake we later regretted. We arrived around midday, facing the intense Indian summer heat.
Midday Dilemma:
Confronted with two options—returning in the morning and wasting a taxi ride, or enduring the heat—we opted for patience. Ticket sales only commenced promptly at 2 pm.
Learning from our experience, I advise you to carefully plan your Sariska Tiger Reserve visit, taking full advantage of the safari timings to savor the best of this wildlife haven.
---
Booking Your Sariska Tiger Reserve Safari: Tips and Options
Obtaining tickets for a Sariska Tiger Reserve Safari can present a bit of a challenge, particularly when attempting to secure them in advance.
Online Booking Convenience:
For a streamlined approach, consider utilizing the government's official website for reservations: https://fmdss.forest.rajasthan.gov.in/. Booking through this portal offers both security and convenience, ensuring a hassle-free experience.
On-Site Booking:
Alternatively, if you prefer a more spontaneous approach, arriving at the reserve and purchasing your safari tickets directly from the ticket office is a feasible choice.
Essential Fees:
To fully enjoy your safari experience, remember to account for various fees including the park permit fee, jeep fee, and an additional photography fee, if you plan on capturing the memorable moments.
By exploring these booking options and understanding the associated fees, you can make a well-informed decision for your Sariska Tiger Reserve Safari adventure.
---
Sariska Tiger Reserve Safari Ticket Prices: Exploring Costs
When planning a Sariska Safari, understanding the ticket prices is crucial to managing your budget effectively.
Entrance Fees:
For foreign nationals, the entrance fee stands at 470 rupees, while Indian nationals are charged 80 rupees for the National Park entry. This covers the essential park entry fee.
Additional Charges:
In addition to the entry fee, you'll need to account for the jeep cost and potential fees for videography permits if required.
Breakdown of Prices:
Here's a comprehensive list of the prices to anticipate:
Entry Fee for Foreign Nationals: 470 rupees
Entry Fee for Indian Nationals: 80 rupees
Canter Cost (shared with 20 people): 400 rupees
Gypsy Jeep Cost (shared with 6 people): 600 rupees
Videography Permit: 400 rupees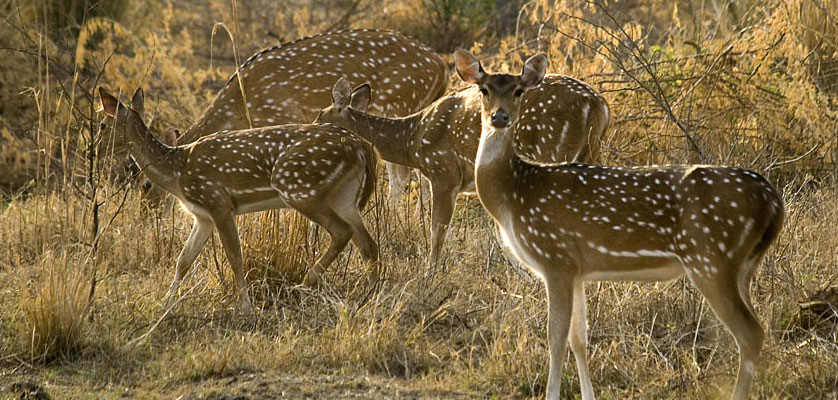 Planning Considerations:
Remember to keep some extra cash on hand to tip your guide and driver, ensuring you have a well-rounded and appreciative safari experience.
Being well-versed in these ticket prices empowers you to plan your Sariska Tiger Reserve Safari with transparency and financial confidence.
---
Exploring Sariska's Jeep Options: Gypsy and Canter Choices
When embarking on a Sariska Tiger Reserve Safari, you're presented with two distinct vehicle choices: the Gypsy and the Canter.
The Gypsy Experience:
Opt for the Gypsy, an open-air 4x4 vehicle that accommodates up to 6 passengers. While a pricier choice at around 600 rupees per person, it offers an intimate safari experience. Should you wish to reserve the entire jeep for yourself, the cost totals 6500 rupees. Most visitors opt to share the ride with fellow explorers, reducing costs. Your initial payment at the ticket counter, along with additional fees settled directly with the guide after the tour, amounts to an economical total of around 1200 rupees.
Choosing the Canter:
If budget-consciousness is your priority, the canter presents a more affordable alternative at 400 rupees. This spacious, open-air vehicle accommodates around 20 passengers. Opting for the canter translates to an approximate total of 1000 rupees.
Photography and Videography Fees:
It's important to note that the safari now includes additional photography and videography fees. Videography costs 400 rupees per foreigner.
By understanding these options, you can tailor your Sariska Tiger Reserve Safari to match your preferences and budget, ensuring a memorable wildlife encounter.
---
Gypsy vs. Canter: Maximizing Your Tiger Spotting Chances
When it comes to enhancing your likelihood of encountering a tiger, the Gypsy takes the lead from my personal perspective.
While the Gypsy might come with a slightly higher price tag, its agility is worth the investment. Capable of navigating through dense vegetation and venturing off the conventional paths, the Gypsy accesses secluded areas where tigers may be concealed.
In contrast, the canter resembles a sizable bus, limited to major routes. Maneuverability is compromised, hindering the chase if a tiger is glimpsed. This results in a diminished chance of spotting these majestic creatures.
Though the Gypsy entails a little extra expenditure, its versatility far outweighs the cost. Opting for the Gypsy promises an experience marked by flexibility, increasing your prospects of tiger sightings.
---
Private Vehicle Entry to Sariska National Park: Weekend Option
Indeed, private vehicles are granted access to the park, but this privilege is limited to Saturdays, and it comes with certain conditions.
Entry on Saturdays:
On Saturdays, private vehicles can enter the park upon payment of a fee amounting to 250 rupees.
Restrictions and Destination:
However, it's important to note that the allowance comes with restrictions. Private vehicles are confined to a designated 20-kilometer strip, leading to a temple located within the park.
Road Conditions:
As you venture into the park, be prepared for a somewhat rugged road. Ensuring that your vehicle is equipped to handle the bumpy terrain is essential for a smooth journey.
Taking your own vehicle on this limited route offers a unique opportunity to explore the park at your pace and access specific attractions. Just remember to assess your vehicle's capability before embarking on this adventure.
---
What to Anticipate on a Sariska Tiger Reserve Safari
Your assigned guide's name is typically indicated at the top of your ticket. Guides commonly assemble near the ticket office before departure time. Ensure you're aware of the vehicle you'll be riding in before your departure. If you require aid, don't hesitate to approach anyone nearby—they'll gladly assist you. If you've opted for the Gypsy, you'll share the ride with 5 others. Once everyone is settled, your expedition to the reserve will commence.
---
Sariska National Park's Diverse Wildlife
On your Sariska Tiger Reserve Safari, you'll join a convoy of vehicles departing together, each heading to different areas to respect wildlife tranquility. This dispersal ensures an intimate safari experience.
An advantageous aspect of this arrangement is that guides maintain communication via radio. Thus, if a tiger sighting occurs, your driver can navigate the group to that very spot.
Within the captivating Sariska Jungle, a variety of vibrant wildlife roams freely across the reserve. Our journey treated us to sightings of wild boars, deer, monkeys, and even a delightful peacock dance.
---
Accommodation Options Near Sariska Tiger Reserve
When it comes to lodging near Sariska Tiger Reserve, there are several choices that cater to different preferences and budgets. Here are a few options to consider:
Sariska Palace: This heritage hotel is situated near the reserve and offers a regal experience with modern amenities.
Sariska Tiger Camp Resort: A nature-focused resort providing a blend of comfort and wilderness experience.
Sariska Wildlife Camps: These camps provide a rustic experience, allowing you to be closer to nature.
Sterling Sariska: A contemporary resort with facilities and services for a comfortable stay.
Sariska Courtyard by ARMR Hospitality: A convenient option for those seeking proximity to the reserve.
Hill Fort Kesroli: Located a bit farther, this heritage property offers a unique stay in a historic fort.
Remember to check reviews, amenities, and proximity to the reserve when choosing your accommodation near Sariska Tiger Reserve.
---
Sariska Tiger Reserve Safari Guide:
If you're eager to see a tiger in India without breaking the bank, Sariska is the ideal destination. Keep in mind:
Tiger sightings are unpredictable, regardless of budget.
Luck plays a crucial role in encountering tigers.
Sariska offers remarkable wildlife experiences beyond tigers.
The passionate tour guides enhance your experience.
Remember, even though tiger sightings are uncertain, the adventure itself is worth the journey. The dedicated guides at Sariska ensure a memorable visit. Give it a try and enjoy the unique wildlife encounter!
Just fill in the form here with all necessary details and we will provide you the perfect, tailor-made itinerary at the best possible price, one of our travel experts will contact you shortly.
Recent Posts