Discover Shekhawati: Rajasthan's Timeless Treasure of Havelis and Artistic Marvels
---
Shekhawati, a captivating region in Rajasthan comprising Churu, Jhunjhunu, and Sikar, transports visitors to the charm of yesteryears. Once the mighty stronghold of Rao Shekha, this magnificent land in North Rajasthan draws its name from a glorious past.
A true paradise for tourists, Shekhawati adorns itself with an abundance of beautiful havelis, each an enchanting masterpiece that sparks the imagination. Art and architecture connoisseurs find solace here, as the vibrant landscape bursts with colors, reflecting the very soul of the region.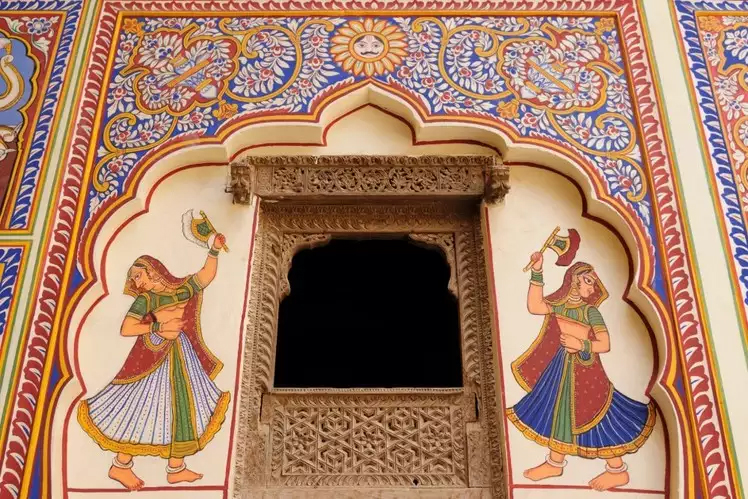 During the 18th and early 20th centuries, exquisitely embellished havelis flourished, showcasing marvelous art rooted in mythology and fauna. Within these majestic mansions, tales of Lord Rama's valor and Lord Krishna's miracles come to life, weaving a captivating narrative.
Amidst the havelis, Shekhawati boasts towering forts, baoris (stepwells), and sacred shrines, further enhancing its historical allure. Embark on a transformative journey to Shekhawati, and immerse yourself in the timeless beauty of havelis and heritage.
The sprawling old havelis of Shekhawati are architectural marvels, crafted between the late 18th and early 20th centuries by local Marwari merchants who sought their fortunes in Mumbai and Kolkata. Their interaction with the British and exposure to modern urban and industrial trends influenced the exuberant frescoes adorning the walls. The result is a unique and sometimes amusing blend of subjects like gentlemen with hats, brass bands, soldiers, trains, steamers, motor cars, aeroplanes, and telephones. These captivating frescoes signify the urbanization of a traditional genre of painting, leaving behind Rajasthan's most unusual artistic and architectural legacy - the largest open-air art gallery in the world.
Shekhawati, situated along an important caravan route, comprises a cluster of small, sand-blown towns amidst the expansive parched lands and dunes of the Thar Desert's easternmost edges. While the region is crossed by a railway line, road travel is more convenient. A highlight worth exploring is the Tal Chhapar Sanctuary, famous for its black bucks. As you venture through Shekhawati's enchanting towns, keep in mind that every second home is a haveli, making it impossible to see them all as a traveler. Dressing conservatively is advisable in these quaint, small towns, where Rajasthan's rich history and cultural heritage unfold at every turn.
---
Shekhawati Delights: Top Attractions and Places to Explore
Embark on an enchanting journey to discover the wonders and sites that Shekhawati, Rajasthan, has to offer. There's always something captivating to explore!
Sethani Ka Johara: A Tranquil Reservoir Oasis in Churu, Rajasthan
Discover the splendor of Sethani Ka Johara, a remarkable reservoir located on the north side of the road, around 5 km west of Churu, Rajasthan. Built in 1899, it serves not only as an attractive site but also as an efficient water storage system, providing relief during challenging times. This tranquil haven allures various birds and animals, including the majestic Nilgais, especially during the winter months. Embrace the beauty and historical significance of Sethani Ka Johara as you revel in its serene ambiance and natural charm.
Kanhaiyalal Bagla Haveli: A Timeless Masterpiece in Shekhawati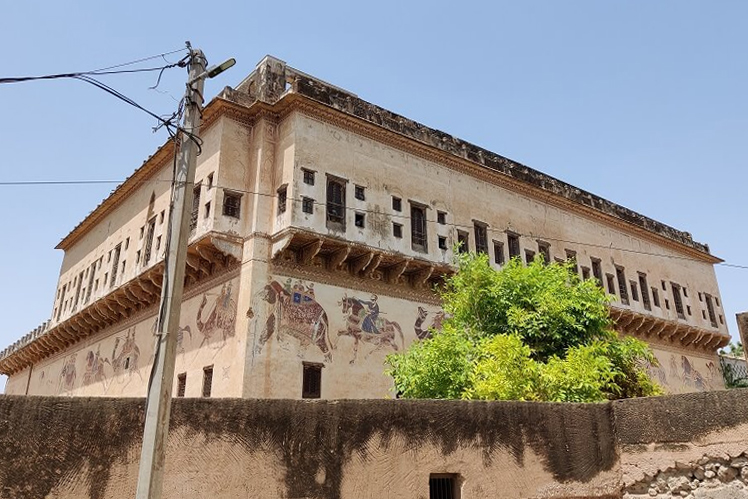 Explore Kanhaiyalal Bagla Haveli, a stunning 19th-century masterpiece located south of the main bazaar in Shekhawati. This haveli showcases the region's finest lattice work and architectural styles. Admire captivating murals and wall paintings depicting the romantic tale of Dhola and Maru, the beloved couple from folklore, riding on a camel. The haveli's walls come alive with the episodes of Dhola-Maruthe's adventurous escape. As one of Shekhawati's architectural gems, Kanhaiyalal Bagla Haveli is a must-visit destination for those seeking artistic splendor and a glimpse into the timeless love story of Dhola and Maru.
Aath Kambh Chhatri: A Historical Marvel in Shekhawati
Aath Kambh Chhatri, an architectural gem steeped in history, stands as an eight-pillared dome on the northern side of the town. Thought to be built in 1776, it lies amidst the premises adjacent to the western side of the vegetable market. While the windswept sands have nearly buried its base over time, the chhatri's interiors still boast breathtaking murals and intricately carved stone paintings. Despite the sands of time, Aath Kambh Chhatri preserves its allure, inviting visitors to witness the rich heritage and artistic splendor of Shekhawati.
Laxminarayan Temple: A Serene Marvel in Churu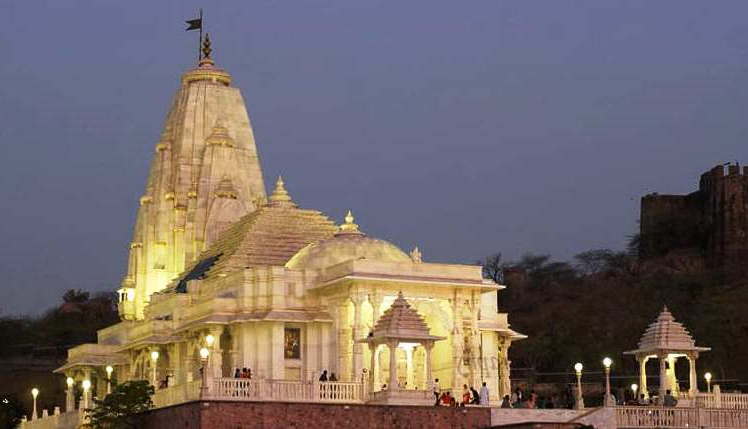 The Laxminarayan Temple presents a delightful contrast – unassuming from the outside, yet boasting grand architectural splendor within. The entrance features a projected foliated arch adorned with captivating mural paintings that soothe the eye and captivate the soul.
Located in Churu, this temple is easily accessible from all parts of the town. Step inside to be mesmerized by the serene ambiance and the intricate beauty of its architecture. Laxminarayan Temple is a must-visit on your itinerary, offering a tranquil escape and a chance to immerse yourself in the divine atmosphere of this sacred place. Experience the serenity and charm of this architectural gem as you explore the heart of Churu.
Digambar Jain Temple: A Masterpiece of Art and Elegance
The 150-year-old Digambar Jain Temple is an architectural marvel that can be best described as a living piece of art. Its interiors exude a lavishness reminiscent of a royal court rather than a traditional temple courtyard. The temple houses magnificent paintings, adorned in gold, predominantly centered on moral living ideals.
The walls and interiors of the Digambar Jain Temple boast exquisite glasswork, reflecting the opulence of the Rajput era. As you step inside, you'll be enchanted by the splendor of its design and the artistic finesse that brings history to life. Immerse yourself in the beauty and elegance of this captivating temple, a treasure trove of rich heritage and artistic brilliance.
Tal Chhapar Sanctuary: A Haven for Wildlife and Birdwatchers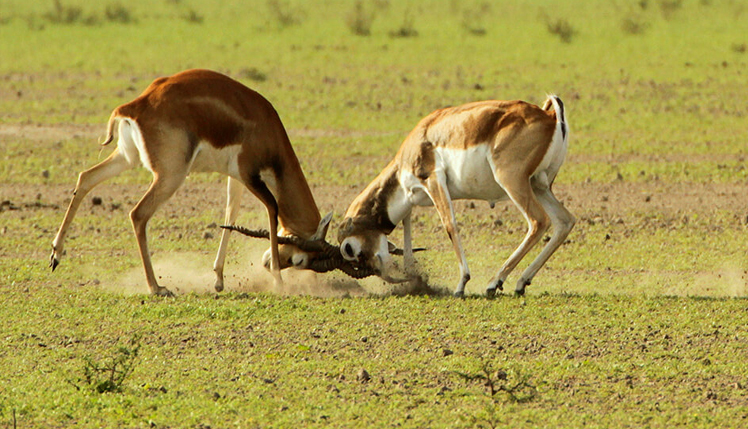 Tal Chhapar Sanctuary, named after the Chhapar village, is a renowned safe haven for black bucks and a diverse range of bird species. Located in Sujangarh Tehsil of Churu, this sanctuary lies 210 km away from Jaipur.
With its open grasslands scattered with trees, the sanctuary resembles a picturesque savannah. Nature enthusiasts and birdwatchers will find delight in the diverse avian population, including the eastern imperial eagle, black ibis, demoiselle cranes, skylarks, ring doves, and more.
Moreover, the sanctuary is home to fascinating creatures like the desert fox and desert cat. For a mesmerizing encounter with wildlife and an unforgettable birdwatching experience, Tal Chhapar Sanctuary is a must-visit destination in Rajasthan.
Laxmangarh Fort: A Majestic Citadel Overlooking Laxmangarh Town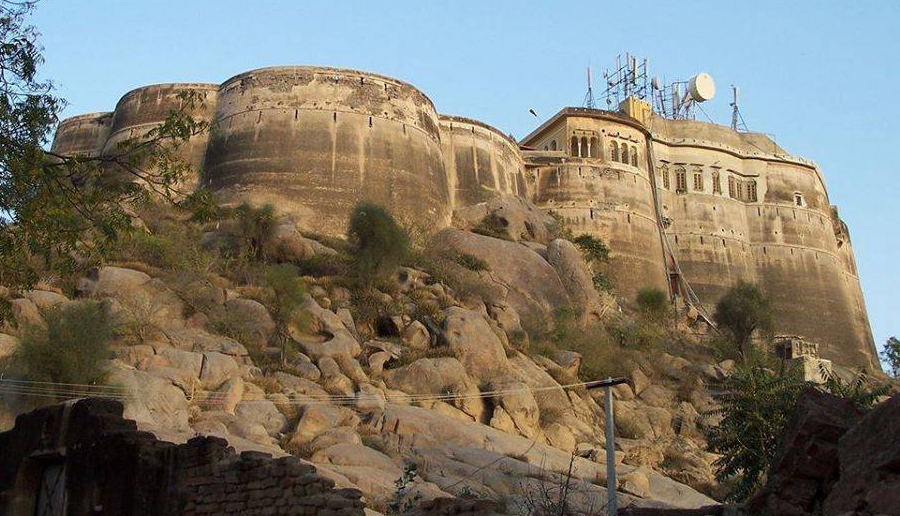 Dominating the town's western side, Laxmangarh Fort stands as the most impressive structure in the area. A remarkable feat of fort architecture, it is an exceptional specimen worldwide, constructed on scattered colossal rocks.
From the ramp's summit, a mesmerizing bird's eye view of Laxmangarh town unfolds, resembling the layout of Jaipur – the vibrant capital city of Rajasthan. Laxmangarh Fort offers a captivating glimpse into history while providing an awe-inspiring panoramic vista. Explore this regal citadel and delve into the rich heritage of Rajasthan's majestic past.
Mansa Devi Temple: A Serene Abode in the Hills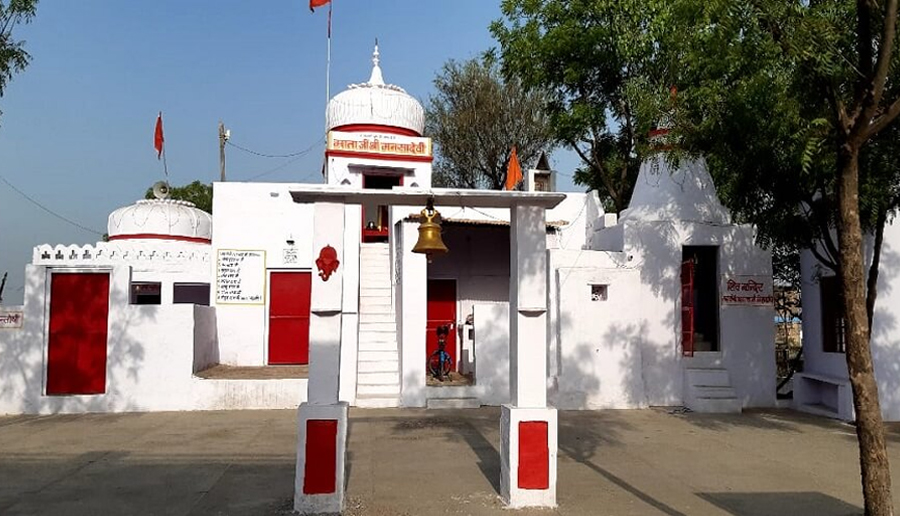 Nestled amidst the tranquil hills of Khoh-Guda village, about 25 km from Udaipurwati in Jhunjhunu district, lies the Mansa Devi Temple. This sacred sanctuary is enveloped in the lap of nature, far from the chaos of urban life, approximately 5 km west of Khoh village.
Devotees flock to this serene temple during the auspicious Navratras, seeking blessings from Mata Mansa. Surrounded by scenic beauty, the temple offers a spiritual retreat where one can connect with divinity and find solace in the embrace of nature. Embark on a pilgrimage to Mansa Devi Temple and experience the profound sense of peace it offers amidst the enchanting hills.
Raghunathji Mandir: A Divine Abode of Lord Rama
Raghunathji Mandir, also known as Bara Mandir, is nestled near the town of Ratangarh. This sacred temple is dedicated to Lord Raghunath, an incarnation of Lord Vishnu, and is believed to have been constructed in the early 19th century.
The single-storied temple boasts an elevated entrance and a series of cupolas adorning its top. Devotees believe that seeking solace here can free one from the burdens of life, offering a path to liberation. As a divine abode of Lord Rama, Raghunathji Mandir invites pilgrims to experience profound spirituality and find respite in the devotion to the benevolent Lord.
Fatehpur: The Cultural Gem of Shekhawati
Founded by Kayamkhani Nawab Fateh Mohd in 1508 AD, Fatehpur holds a rich historical legacy. The illustrious Fatehpur Fort, constructed in 1516, stands as a testament to its past glory. Once serving as the capital of Sikar, Fatehpur has now evolved into the cultural capital of Shekhawati.
This vibrant city abounds with captivating attractions. Notable among them are the Dwarkadheesh Mandir, Singhania Haveli, Nadine Le Prince Cultural Centre, and Fatehchandka Haveli. Each site offers a glimpse into the splendid art, architecture, and cultural heritage of the region.
Embark on a journey to Fatehpur and immerse yourself in the captivating blend of history, art, and culture that defines this cultural gem of Shekhawati.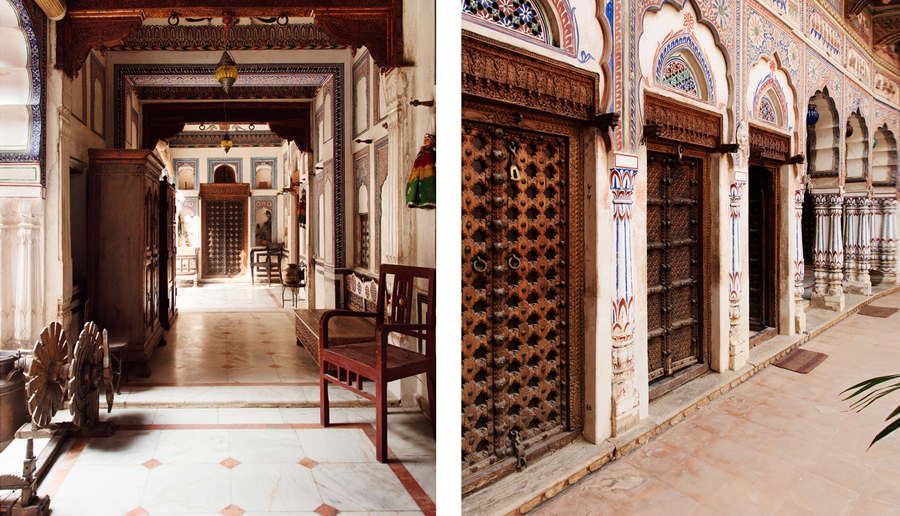 Ramgarh: A Historic Treasure of Art and Architecture
Founded in 1791 by the Poddar family, Ramgarh once stood as one of the wealthiest towns in 19th-century India. This enchanting destination is renowned for its exquisite paintings, ancient temples, ornate cenotaphs, and magnificent havelis.
Ramgarh's sightseeing offerings are captivating, with the Ramgopal Chhatri (cenotaph) and Poddar's Haveli stealing the hearts of tourists. These architectural marvels offer a glimpse into the opulent past and artistic finesse of the region.
As you wander through the streets of Ramgarh, immerse yourself in the rich heritage and be captivated by the allure of its artistic treasures. Explore the timeless beauty of this historic town, where every corner echoes the grandeur of its illustrious past.
Khetri Mahal: The Artistic Wonder of Shekhawati
Located in Khetri, Jhunjhunu, Khetri Mahal stands as a remarkable masterpiece of art and architecture in the Shekhawati region. Also known as the Wind Palace of Jhunjhunu, it was built in the year 1770.
A unique feature of Khetri Mahal is its lack of windows or doors, despite its name. Instead, its distinctiveness lies in the constant flow of wind that perpetually surrounds the structure, setting it apart from other buildings. The Mahal's rooms are ingeniously interconnected through a chain of pillars and arches, creating a visually striking spectacle within the fortress.
Embark on a journey to Khetri Mahal and experience the captivating blend of artistic excellence and ingenious design that defines this architectural gem in Shekhawati.
Rani Sati Mandir: A Testament of Bravery and Magnificence
Located in Jhunjhunu district, Rajasthan, Rani Sati Mandir is a renowned temple with a history spanning over 400 years, standing as a symbol of feminine bravery and spirit. This majestic temple is celebrated for its grandeur and extraordinary paintings, captivating visitors with its artistic brilliance.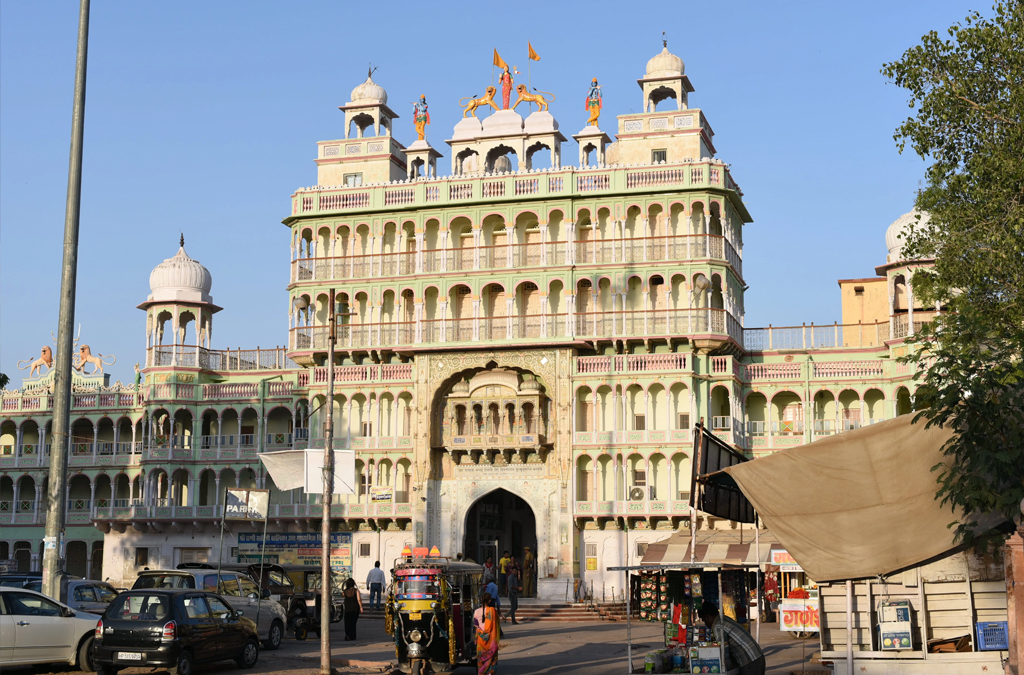 It holds a significant place among the oldest and most revered Indian pilgrimages, drawing devotees seeking blessings and inspiration from the valorous spirit of Rani Sati. As you step into this sacred abode, immerse yourself in the rich heritage and devotion that surrounds Rani Sati Mandir, leaving you enchanted by its enduring splendor and cultural significance.
Mandawa: A Captivating Tapestry of Art and Heritage
Nestled between Jhunjhunu and Sikar in Rajasthan, Mandawa is a treasure trove for art lovers. Renowned for its splendid havelis, this town exudes the charm of ancient artistry. The havelis in Mandawa showcase some of the finest frescoes, captivating visitors with their intricate designs and vibrant colors.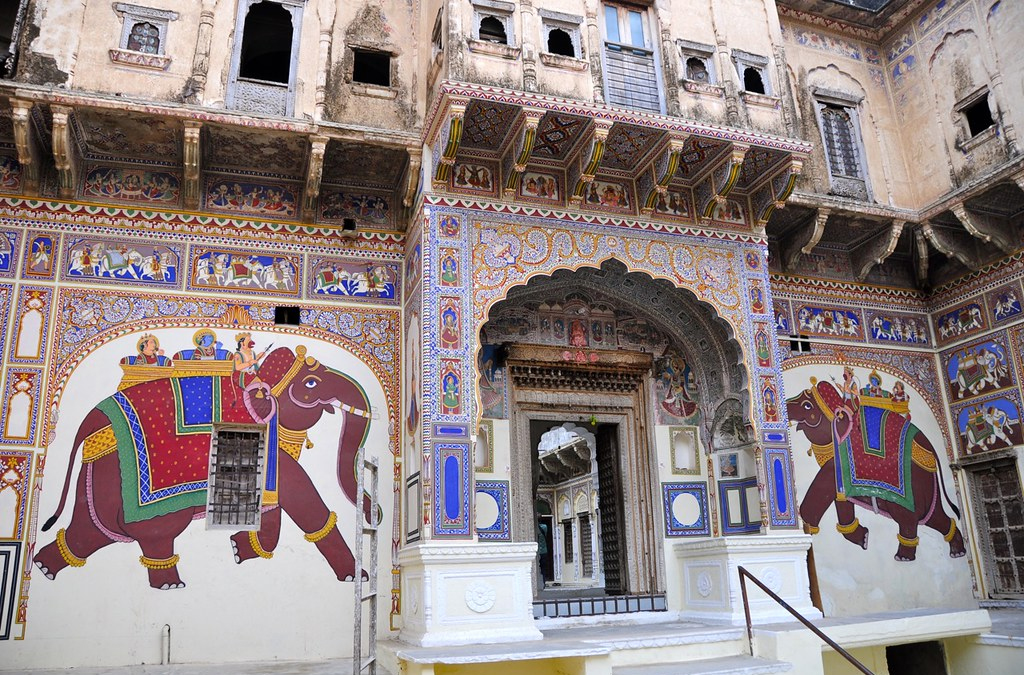 Among the famous havelis, Bhagato Ki Haveli, Morarka Haveli, Grand Haveli, Koolwal Kothi, Roop Niwas Palace, and Aaath Haveli stand as architectural marvels, each narrating its unique story through artistic expressions.
Mandawa's allure extends beyond its artistic heritage; it has also served as a captivating shooting location for numerous Indian and foreign films, adding to its cinematic allure.
To delve deeper into the cultural richness, the Dr. Ramnath A. Poddar Museum in Nawalgarh beckons art enthusiasts. This fascinating museum offers a captivating insight into the historical and artistic legacy of the region.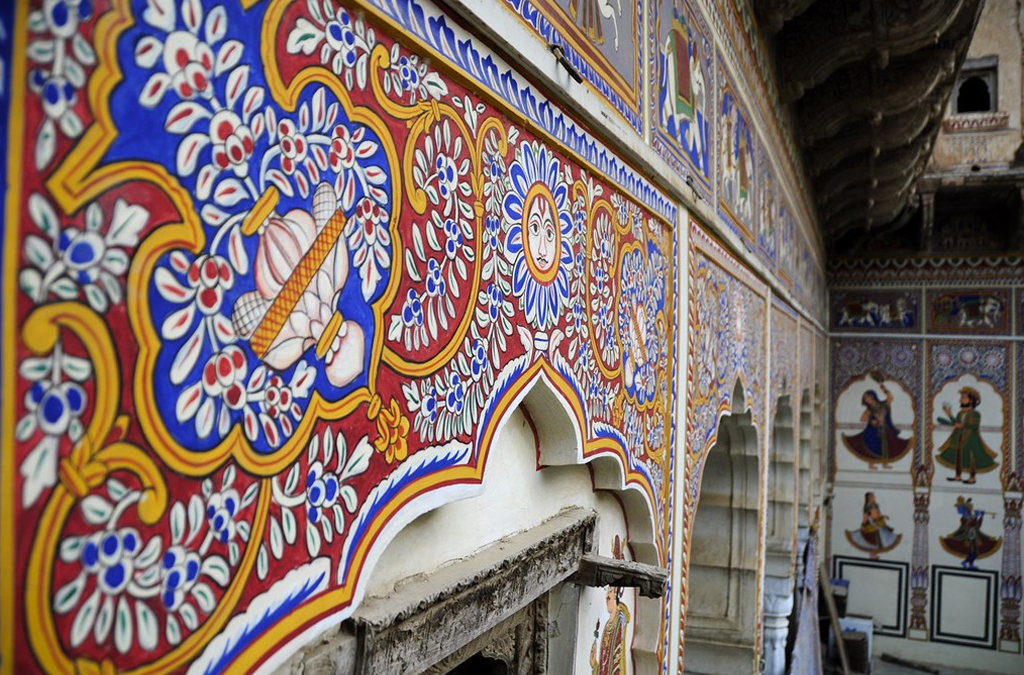 Embark on a journey to Mandawa, where every street is a canvas of artistic brilliance, and every haveli unfolds a tale of heritage and grandeur. Witness the captivating tapestry of art and heritage that makes Mandawa a true gem of Rajasthan.
Dundlod: Where History and Heritage Unite
Dundlod, a picturesque village in Jhunjhunu, Rajasthan, is renowned for its majestic fort and exquisite havelis. The grand Dundlod Fort, constructed in 1750 by Keshari Singh, son of Rajput ruler Sardul Singh, stands as a magnificent testament to the region's rich history.
Easily accessible by road from Delhi, Jaipur, and Bikaner, Dundlod welcomes travelers with its captivating blend of Rajput and Mughal art and architecture within the fort's walls.
Nearby, the Chhatri (cenotaph) of Ram Dutt Goenka stands as another prominent attraction. Built in 1888, its dome adorned with floral motifs and extending banners captivates visitors.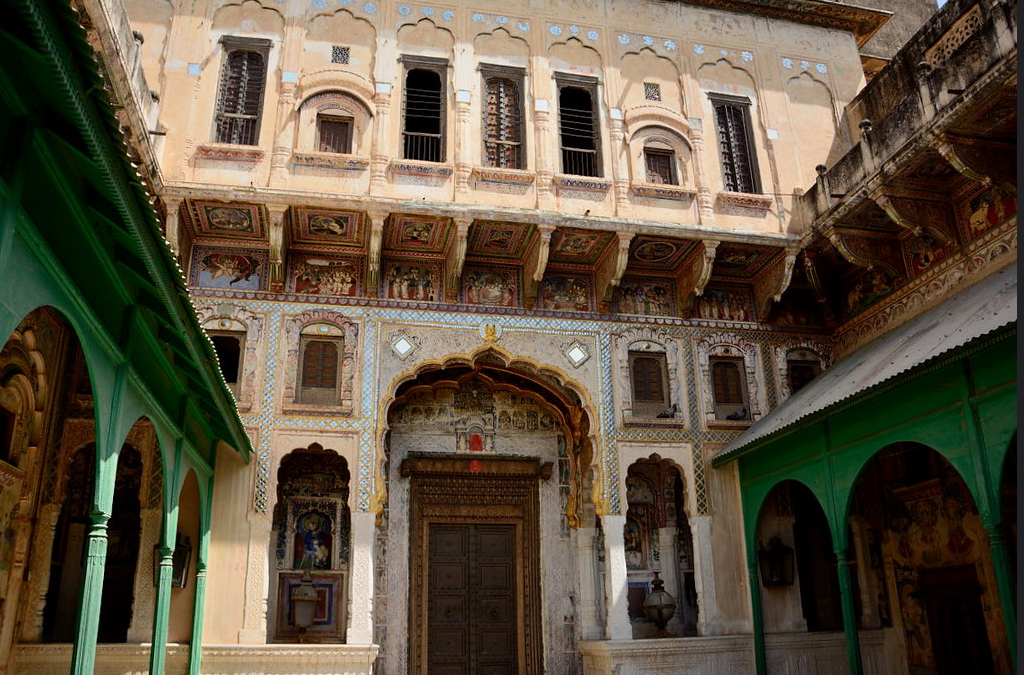 Dundlod's heritage extends to the renowned Marwari breed of horses, celebrated worldwide for their exceptional qualities. Witness the proud legacy of history and the allure of heritage that unites Dundlod, making it a cherished destination for explorers seeking the essence of Rajasthan's illustrious past.
Alsisar: A Historical Gem in the Arid Desert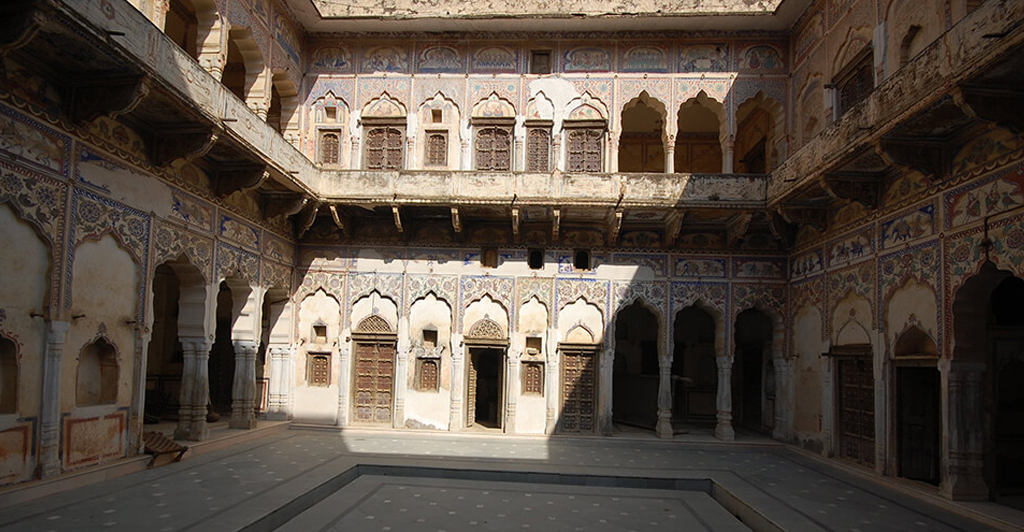 Nestled in the arid desert, Alsisar is a small town in Jhunjhunu with a captivating history. Thakur Samarth Singh, awarded the town by his father Thakur Pahad Singh of Heerwa, established Alsisar as his capital in 1783 AD.
A prominent attraction in Alsisar is the exquisite Alsisar Mahal, a stunning example of Rajput architecture adorned with intricate fresco carvings and historical depictions on its walls. This magnificent palace was built by Shekhawat Thikanedars, adding to the town's regal charm.
Alsisar is renowned for its warm Rajasthani hospitality, attracting tourists who seek a taste of the region's rich culture and heritage. The town's famous castles, havelis, and cenotaphs provide a glimpse into its illustrious past.
Don't miss a visit to Kejriwal Haveli, Laxmi Narayan Temple, Thakur Chaatu Singh's cenotaph, Ram Jas Jhunjhunwala Ki Haveli, and more, each contributing to the tapestry of Alsisar's historical legacy. Experience the allure of this historical gem in the heart of the desert, where history, culture, and architecture converge to create an unforgettable journey through time.
Bissau: A Village Steeped in Heritage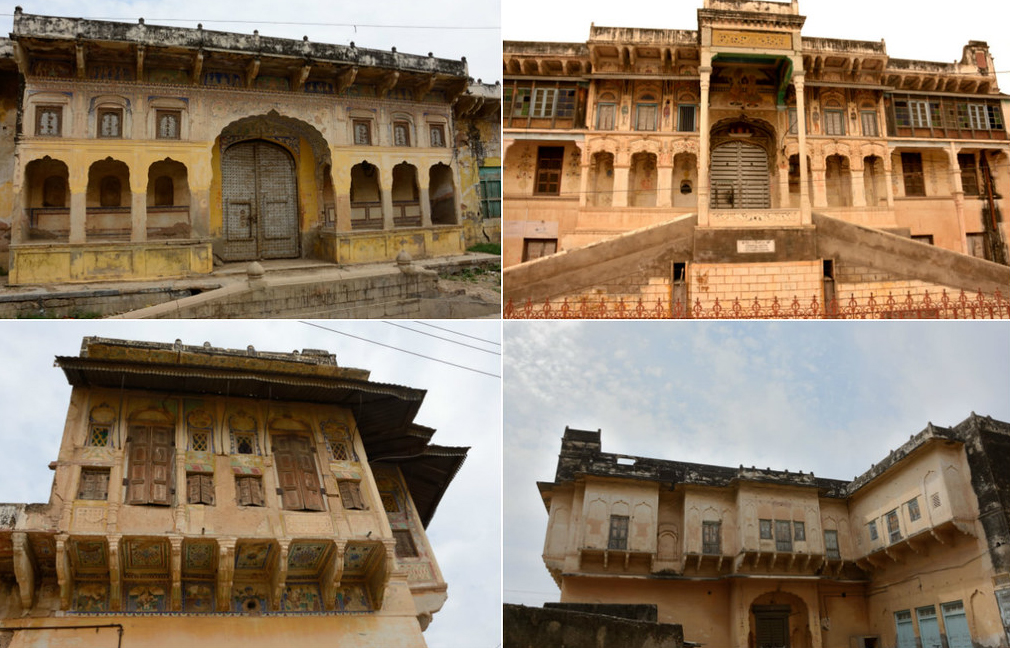 Nestled in Jhunjhunu, Bissau was once known as Vishala Jat Ki Dhani. Thakur Keshri Singh, awarded the village by his father MahaRao Shardul Singh Ji, made significant contributions to its history and legacy. In 1746 AD, he fortified Bissau with a war fort and a defensive boundary wall, giving it the name it carries today.
The rulers of Bissau belong to the esteemed Bhojraj clan of Shekhawats, tracing their lineage back to the renowned ruler Maharao Shekha.
As you wander through Bissau, the echoes of its heritage resonate in the air. Immerse yourself in its historical essence, where tales of valor, rulership, and culture intertwine. Bissau invites you to step back in time and experience the charm of a village steeped in history and tradition.
Nawalgarh: Where Heritage and Filmmaking Unite
Situated between Jhunjhunu and Sikar, Nawalgarh is a treasure trove of magnificent havelis that captivate visitors with their grandeur. Beyond its historical charm, Nawalgarh has also become a favored destination for filmmakers, both from India and abroad, who have found its picturesque settings ideal for their cinematic creations.
A prominent attraction in Nawalgarh is the Nawalgarh Fort, a testament to the architectural brilliance of Thakur Nawal Singh. The fort stands as a proud reminder of the town's royal heritage.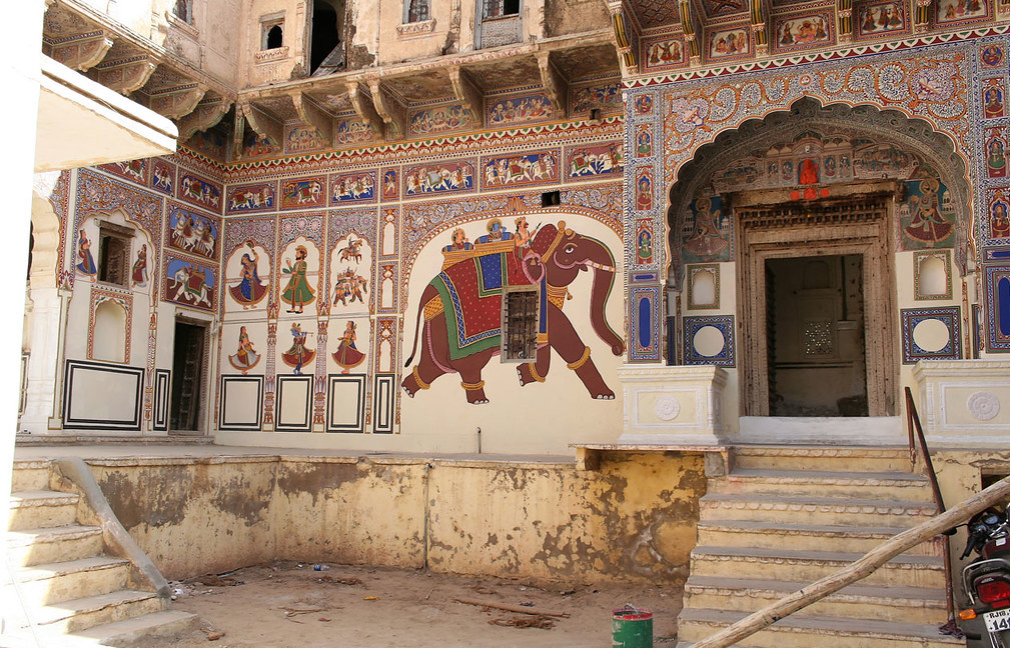 Just one kilometer from the fort, the Roop Niwas Palace awaits with its enchanting gardens and dancing fountains, now transformed into a heritage hotel, offering a glimpse into the opulent lifestyle of the past.
Step into Nawalgarh's realm of heritage and filmmaking, where history intertwines with cinematic magic, creating a unique blend of experiences that captivate every visitor.
---
Reaching Shekhawati: A Travel Guide
Shekhawati, located in the northeast part of Rajasthan, is a captivating region known for its rich cultural heritage and stunning havelis. If you're planning to visit this gem of Rajasthan, here's a helpful travel guide to assist you in reaching Shekhawati.
By Road:
Shekhawati is well-connected by roads, and there are numerous private buses and state transport corporation buses linking it to major cities and towns in Rajasthan and the rest of India. Hiring a taxi or a luxury van is a convenient option to travel by road and explore the villages and attractions of Shekhawati.
By Train:
The nearest railway station to Shekhawati is Jhunjhunu, which lies on the Broad Gauge line between Mumbai and Delhi, connecting it to various cities across India. Tourist taxis are readily available from the railway station to take you to Shekhawati.
By Air:
Jaipur International Airport, about 150 km away, serves as the nearest airport to Shekhawati. Travelers coming by flights can easily hire a taxi or avail state transport bus facilities from the airport to reach Shekhawati.
Distance Chart to Shekhawati:
Jaipur: 143 km
Delhi: 274 km
Bikaner: 337 km
Ajmer: 131 km
Pali: 292 km
Jodhpur: 238 km
Udaipur: 418 km
Jaisalmer: 566 km
With this travel guide, you can now plan your journey to Shekhawati and immerse yourself in the beauty and heritage of this remarkable region. Enjoy the exquisite havelis, vibrant culture, and the warm hospitality that Shekhawati has to offer!
---
Shekhawati Tour Travel Tips
Shekhawati, with its enchanting havelis and rich cultural heritage, is a captivating destination to explore. To make the most of your Shekhawati tour, here are some travel tips to keep in mind:
Best Time to Visit: The ideal time to visit Shekhawati is during the winter months, from October to March, when the weather is pleasant and suitable for sightseeing.
Transportation: It is recommended to hire a car and driver for easy touring of the region. This allows you to explore various havelis and attractions at your own pace.
Local Attire: As Shekhawati consists of small towns, it's advisable to dress conservatively, especially while visiting temples and traditional places.
Haveli Visits: Shekhawati is renowned for its beautiful havelis. While you may not be able to see all of them due to their abundance, prioritize the most significant ones for a more enriching experience.
Cultural Experience: Embrace the local culture by trying traditional Rajasthani cuisine and engaging with the warm and hospitable locals.
Tour Guide: Hiring a local tour guide can enhance your understanding of the region's history, art, and architecture, making your tour more informative and enjoyable.
Photography: Shekhawati offers numerous picturesque spots, so keep your camera ready to capture the stunning frescoes and architectural marvels.
Accommodation: Opt for heritage hotels or havelis converted into accommodations to experience the true essence of Shekhawati's grandeur.
Safety: While exploring the region, be cautious of your belongings and ensure to follow safety guidelines, especially during excursions to less frequented areas.
Visit Local Markets: Don't miss the vibrant local markets to shop for traditional handicrafts, textiles, and souvenirs that showcase the rich artistic heritage of Shekhawati.
By keeping these travel tips in mind, you can have a delightful and memorable experience exploring the timeless beauty and heritage of Shekhawati. Enjoy your tour!
Just fill in the form here with all necessary details and we will provide you the perfect, tailor-made itinerary at the best possible price, one of our travel experts will contact you shortly.
Recent Posts